The Aussie way - Ruthless!
702 //
04 Mar 2012, 17:48 IST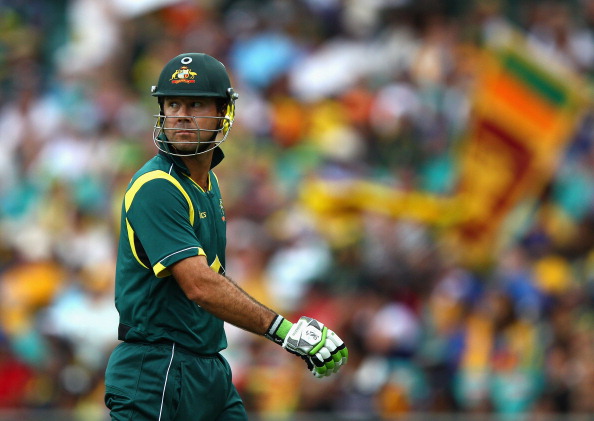 2 weeks back, we saw an example of what the Aussie system is. RUTHLESS in one word. We had a proven legend and a winner of 3 World Cups (in 2 of which he led the team as well). He was like a tiger on the field between gully and point and in the slips. Numerous blinders had been made to look ridiculously easy by this man's reflexes and safe hands. He was one of the game changers of ODI cricket both as a fielder and primarily as one of the best ever top order batsman the game has seen.
The way he picked the length of the ball in a jiffy, the way he played those rasping pulls and hooks, that exaggerated shuffle, etc. It was an attractive sight, plain and simple. By now, it is obvious who the man in question is, Ricky 'Punter' Ponting it is! He has been chasing records and setting new milestones along the way. There is one man ahead of him and that happens to be the Indian God and that is why perhaps majority of the Indian fans hate this little man from Tasmania like their worst enemy.
Agreed, he has been ugly at times while captaining the side, he has bent the rules and hasn't always played the game in the spirit it is supposed to be played in. But his battles with his own age and slowing reflexes have been fascinating. He made a remarkable turnaround in the just concluded Test series, amassing no less than 544 runs. Age has slowed him down and that's obvious. The flair of the years gone-by has been replaced by a more measured approach. But he could still make a difference and that's what mattered to the selectors and skipper 'Pup'
Then came the ODI series and all it took were 5 single digit scores for the selectors and Pup to take a decision on Ricky's ODI career, and was duly dropped from the side.
Ricky understood it. Being a high profile performer and a winner of so many matches all through his career, he didn't want to prevent his team from winning more just because he was not performing. He accepted the decision and continued performing his duties for his beloved state. He has nurtured a  lifelong ambition of winning a Shield for his beloved Tasmania. The Tigers have collected two Shields, in 2007/08 and 2010/11, and Ponting was on national duty both times.
Horses for courses. Ricky performed in the Tests, he continues to be in the loop. He didn't perform in the ODIs. He was shoved aside. Ruthless system that doesn't have the emotional baggage that is generally associated with handling all time legends.
We are struggling with one such non-performing all time legend. I don't include 20s and 30s as scores from this man who has struck no less than 99 international centuries. His caliber is all pervasive and his struggles over the past year have been sad and putting more pressure and expectations on his already loaded shoulders and more importantly, affecting the team's stability as well. As he is on the cusp of an extra-ordinary milestone, we are reminded of Kapil Dev's last days in the team when he struggled to break Hadlee's Test record of 431 wickets. The Indian system hasn't changed one bit over the last 20 years.
We have a problem in telling legends that their time is up. The Aussie way can't work here because here we are talking about a larger than life hero, while there it is just a case of an extra-ordinary cricketer. Though they have scored almost the same number of runs and they are of the same age, the way they bid their final goodbyes is hardly the same.
No one is at fault. Ponting's ouster from the team was welcomed with hardly more than a mere flutter. It was business as usual for the Aussies. To sign off, this is what the Punter had to say, in a self deprecating manner
"I'm not sure I'll get picked again though, I'm 37 now, I'm not sure they will be turning back to me unless they have 10 injuries out of nowhere. And I'm fine with that, I can't complain about the run I have had."