India's 2015 World Cup squad: The blame lies beyond Stuart Binny and Yuvraj Singh
60.63K //
23 Jan 2015, 03:33 IST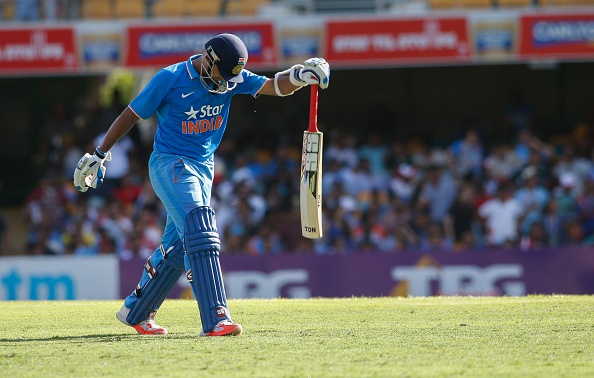 After the Indian selectors announced the 15-man squad for the 2015 World Cup, there was one thing that cricket fans all over the country agreed on: the squad was pretty much along the expected lines, except maybe the selection of seam bowling all-rounder Stuart Binny.
There were quite a few points raised against Binny: that he was a bits and pieces player; that he averaged only 13.33 with the bat and had only 9 wickets to his name, 6 of which were against Bangladesh; that he wasn't international class; and, worst of all, a section of fans pointed their fingers at his father Roger Binny's presence in the selection panel, thereby bringing nepotism into the mix.
Binny has his case
Let's leave the World Cup selection for now and look at whether his national selection, in general, was based on merit.
Representing Karnataka in the domestic circuit, Binny ended the 2011-12 Ranji season as the team's leading run-getter (742 runs at an average of 67.45 in 8 matches) and second-leading wicket-taker (20 wickets at 20.10).
He followed it up with 612 runs in 9 FC matches in 2012-13 at an average of 47.07 and was the team's third-leading run-getter behind CM Gautam and Robin Uthappa. He also had 19 wickets to his name. Binny had to miss a few matches in the 2013-14 season as a result of his national commitments. In the matches he played, he averaged 40 with the bat, scoring 321 in 6 matches, besides picking up 11 wickets.
His ability to adapt to fast-paced formats was there for everyone to see in the 2013 edition of the Indian Premier League (IPL), where his finishing abilities proved to be one of the highlights of his franchise Rajasthan Royals' successful campaign under Rahul Dravid. Striking at a rate of 147.23, he performed his role as a finisher admirably well, clearing ropes with ease.
If these don't merit you a trial in Indian colours with the World Cup in conditions that demand a fast bowling all-rounder, I don't see what will.
When it comes to limited overs cricket, we love players with style, flair and age by their side, and Binny didn't have any of it. We scorned at him, like the way we scorn at late bloomers, like the way we look down on those who don't make a statement in the first few chances they get.
But was it his mistake? How would a batting all-rounder show his worth in 63 deliveries? That's the number of balls that he had faced in his ODI career spread over 6 matches till that point. In the 4 innings that he got a chance to bat, he came in at No.7 twice and at No.8 twice.
Let's put things into perspective. No, I don't think Binny has it in him to succeed at the international level. But I never thought Ravindra Jadeja would do well as a finisher, either.
Binny has his limitations. I don't see him swatting back a bouncer. I don't see him lasting long if the ball moves around. But if you miss your length or if you are a spinner, you have a good chance of seeing your deliveries sail past the ropes.
Had he been put through the India A drill, we would have understood if he is really capable of doing it at the highest level. He wasn't, and you can't hold him responsible for it. So, who needs to be blamed? It is something that I address later in the article.
The not-so-compelling replacements
Let's now come to those players who, according to popular opinion, deserved a spot ahead of him.
When asked to name a player who could have been picked ahead of the 30-year-old, the replies took some time to come. Then, they tried making sense:
Robin Uthappa – A player who has featured in only 7 international matches (5 ODIs + 2 T20Is) in the last 6 years?
Manoj Tiwary – Someone who has only played a total of 12 internationals (9 ODIs + 3 T20Is) in his entire career?
Murali Vijay – His ODI career statistics read: 253 runs in 13 innings at an average of 19.46 and a strike-rate of 66.40 with a highest score of 33. However, despite his miserable records, there was some logic behind asking for his selection. Vijay has shown remarkable improvement in the past couple of years to become one of India's leading Test players, playing within himself, curbing his T20-influenced aggressive instincts – which nearly ruined his career after a promising international debut – and scoring in challenging conditions.
Agreed, it is a different format. Agreed, he has had his troubles while trying to accelerate. But with the top order woes the team has had of late while playing away from India, it was a risk worth taking. Looking at how Shikhar Dhawan and Ajinkya Rahane have performed in the two ODIs of the ongoing Carlton Mid ODI tri-series and historically (excluding England), the team management would have loved to have someone who is capable of seeing the difficult passage out. Apart from the century at the MCG, Rohit Sharma's ODI records overseas don't inspire confidence too.
Sanju Samson – You mean you are going to give a kid an international debut in the World Cup? Or you think the team would go out of its way to give him some playing time in the tri-series?
Virender Sehwag and Gautam Gambhir – You do realise that a player has to be in the 30-man squad to be picked for the World Cup, right?
Yuvraj Singh – There are two sides to the coin
Although it was obvious that Yuvraj Singh wouldn't be picked, there were a couple of factors that had increased the hopes on him making it to the final 15 despite him not being in the 30-man squad: his hat-trick of tons in the Ranji Trophy in the lead up to the final 15 selection meeting on January 6 and him being an ideal replacement to Ravindra Jadeja, who was under an injury cloud.
Yuvraj, one of the main reasons why India, now, go into the World Cup as the defending champions, has had an extremely difficult period both on and off the field since April 2011. He was diagnosed with a germ cell tumour on February 2012 and had to travel to the United States to continue his treatment. Managing to recover completely, he returned to India on April 9, 2012.
There are a set of reasons put forward for his exclusion from the World Cup squad:
Since recovering from the medical issues, he averages a lowly 18.53 with the bat in 19 One Day Internationals (ODIs) and has only picked up 2 wickets.
As far as the hat-trick of hundreds is concerned, runs in Ranji have not necessarily been translated to runs in international cricket. Indian players getting axed, going back to Ranji and scoring tons of runs has become a practice now. Every time Rohit and Raina get dropped, they go back to Ranji, plunder runs, show no signs of technical issues, and, as a result, have a career First Class average of 57 and 43 respectively. Their Test careers, however, haven't really taken off and ODI performances away from home still remains a question mark despite having played 332 one-dayers between them.
For an Indian cricketer dropped towards the latter stages of his career, the domestic shows don't suffice. It is not logical to expect someone like Binny to prove himself anywhere else except where he gets a chance to play, while Yuvraj, on the other hand, can land a county contract and show his worth. And it makes sense in expecting an international player to go the extra mile.
Besides, following the announcement of the squad, he has been dismissed for 3, 35 and 14 in his three innings respectively. You can also play it down saying that there is hardly any motivation for him to continue on now.
Beyond all these, his career ODI statistics in overseas conditions haven't been great: he averages 30.35 in Australia, 21.27 in New Zealand, 23.47 in South Africa and 34.29 in England. It says a lot about the difference in his performances in and outside Asia. And there is a reason why he wasn't successful in Test cricket. Yuvraj has been found wanting several times against both quality pace and quality spin.
But if you think this is why Yuvraj Singh didn't deserve to be on the plane to Australia, you don't see the real issue.