'The call of quits' from the wall
853 //
14 Mar 2012, 14:03 IST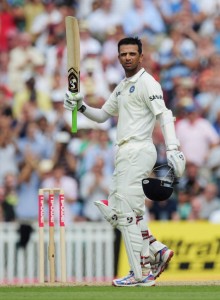 I have learnt one thing in the last sixteen years. If he was the man running the government of India – Spectrum 2G scam would not have occurred. Had this man been in RAW, no bomb blasts would have happened anywhere in India. Had he been guarding our Indian borders, Kargil war would not have been fought. Had he been in Karnataka assembly, viewing adult content would have been impossible for anyone.
Sadly, he has not been in any of the aforesaid places. Instead, he chose to spend 744 hours of his life time within twenty two yards in a cricket field, holding an English willow. Rest of the time, well, he chose to be outside the twenty two yards, however, making sure that his feet was always within the cricket ground or maximum inside a cricket stadium.
The great wall of India, as we all know him by now, had been so strong in his repellence that, ever since his debut in 1996, he stood out playing a sheet anchor role all the time safeguarding the wickets of his team mates by ridiculously blocking the fearsome fast bowlers' penetrating intents. If this wall, the great
Rahul Dravid
, a true and selfless servant of the game, could do this magic of protecting his mates, particularly, when we tour abroad, would have been, no doubt in my mind, successful in blocking all the scams, terrorisms, wars etc to the best of its ability as he had this quality called "selflessness" which is so necessary for a social servant.
A
Sachin Tendulkar
or a Don Bradman could not have been successful if they would have opted for some other field other than cricket and this applies to almost all the cricketers barring Dravid. Only a Rahul Dravid type of person, with the sort of attitude he had would have been victorious in whatever task he had chosen to undertake. Sachin, was right when he said, there could be only one Rahul Dravid.
Dravid did not chase any records. He did what was best for the team. When a new comer debuts in
Test cricket
, the seniors or should I call them the bullies, would force the debutants to field at silly point or forward short leg. This would go on for some more Tests till the debutants establish a name for themselves. Then, they would start meting out the same treatment what they endured at the hands of their seniors.
This, however, was not the case with the wall. He fielded at close fielding positions when he was a new comer just like others. He established a name for himself in international cricket very soon and became popular instantly. From a debutant he grew to a senior level very quickly and as a result of some of the innings he was rated much above Sachin by a few cricket experts and fans.
If it was anyone else other than Dravid, on such occasions, would have started dictating terms in the dressing rooms on many counts. But, Dravid, the great sporting individual he is, had never tried to influence his prowess inside the team. The stylish right hander had scored more runs than anyone at number three position in Tests and had every reason in the world to stick on to that position while batting. But, he was hardly adamant to cling on to it. Whenever it was required, (take the example of the recently concluded England series where he was the lone person scoring plenty of runs) he was more than prepared to shift his batting position for team's interests. Even when Dhoni wanted to bowl, Dravid was quite happy to don the role of a keeper. He had done it all for team's interests. In this way, his approach differed from rest of the seniors of the Indian team.
Dravid proved to the whole world if one does his duty without any selfish motive, the results would automatically come. He had a number of records in his elite career. First and foremost, he holds the records for the maximum number of catches in Test cricket. He is the only one to have scored Test centuries in all Test playing nations. He is the player with maximum 300 plus run partnerships in Test cricket. He is one of the three Indians to have scored centuries in both the innings of a Test match, the feat which he achieved in New Zealand. He was the highest run getter in the 1999 World Cup in England. He is the only person who has faced more than 30,000 balls in Test cricket, since his debut in 1996. He is the only player in India, barring the great
Sunil Gavaskar
and
Virender Sehwag
, who has carried his bat through a Test innings. Incidentally, he is the person who has got bowled on more occasions than anyone in Test cricket, an infamous record that.
Now, may be because of that, he has thought that it would be better to call it quits leaving the younger generation to build a wall of their own, rather than cementing it again. Whatever the reason may be, his 16 years stint in international cricket has brought more laurels for India and also earned respect for India overseas – this cannot be denied. In the last two decades, India had only won two Test matches in Australia and in both the victories, the wall had the prime role to play. None can forget his Adelaide script which was one of the feathers in his cap and similarly no one can forget his 90 plus score in Perth.
Therefore, I am absolutely sure if he had spent those 16 years in any social service or in army or that matter in politics, he would have been a wall which would have prevented all social evils like corruption, scams, wars etc. Only a selfless person like Rahul Dravid would have fit into that role. But, having rendered Yeoman Service to our
Indian cricket
, this wall has decided to rest, well deserved too.
P.S – Rahul, You have done whatever you could for cricket and though there are two more years of the game left in you, you have declared your innings prematurely. Now, all I, on behalf of millions of your fans, would like to have is your proximity to the game as much as possible. You should try your hands on coaching the national team and if not atleast your state Ranji team. Your technique is an important asset and it should not be wasted. Please Rahul, stay with the game.