The "form" factor
718 //
06 Dec 2012, 12:14 IST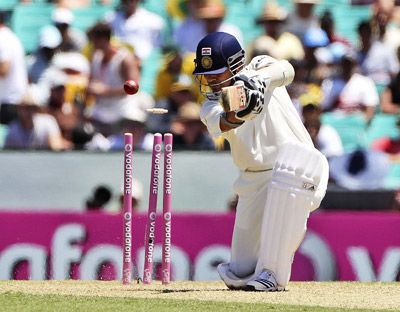 Often we have heard players and commentators using a term called "form" whenever they refer to a player's batting or bowling abilities. Many people might wonder what is all this hullabaloo about form? Why can't a player play consistently throughout his career? Why does he have to go through a bad patch where he struggles to score runs despite being in roaring form in the very recent past. Why does this happen?
In my opinion, form is nothing but a perfect combination of  physical fitness, mental fitness and a little amount of luck. If these three attributes are perfect synced in a player, then he will be able to focus perfectly on the game and can score runs and take wickets consistently. The physical and mental fitness of a player should be in perfect collaboration for a player to score runs. Physical fitness will give you confidence and will allow to stretch yourself beyond your set limits. That is why it is necessary for a player to to be fit. He has to be in perfect shape in order to play in any type of weather conditions. He should be able to perform consistently on the field for five continuous days. For bowlers and all-rounders, it is important to stay injury free.
Mental fitness is nothing but the mental well-being of the player. He should not be under any type of pressure or tension whatsoever. Often family issues and other personal problems tend to affect the mental fitness of players. This can also contribute to the loss of form for a player. That is why separate trainers for both mental and physical fitness have been allotted in higher level of sports, so that the player can rectify his faults and clear his mind with the help of their guidance.
The well-being of the body is directly related to the mind and vice-versa. Therefore, neglecting one type of fitness will directly harm the other. Often players who are in form tend to be over confident, not looking after their body and mind. So they tend to lose their fitness over time. And after a short break, when they bat in a match without undergoing rigorous fitness routines, they feel that they are in control while in reality they are not. Their footwork, show selection and timing won't be the same as before. Therefore they perish trying to play their natural game.
Sometimes, a relationship that has gone bad or an untimely death of a close person can also cause a drop in form. The mentality of the player changes, and in turn his game gets affected. Every human suffers losses, but the players who play for the country learn to put behind their losses and give in their hundred percent every time they walk onto the field.
Only great players- players who have been excellent through out their career can know what it is like to fulfill all the above mentioned conditions. And only those players achieve stardom, whereas the others who are not strong enough to overcome failures remain ordinary players all their careers.
Any aspiring cricketer or sportsman should be ready to face the tough challenges that lie ahead of him or her. They have to be extremely fit both mentally and physically in order to taste success. And yes, luck is also important for a player, albeit to a small extent, to help him soldier ahead in tough times. Therefore, a person who has all these three factors in his favour will definitely succeed.