The Good, The Bad, and The Bedi
954 //
01 Aug 2010, 02:15 IST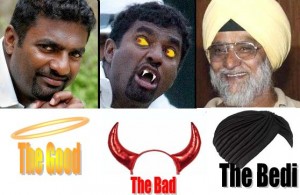 This week saw things take an ugly 'turn' between two of the greatest spinners to have played the game of cricket. It all started with Bishan Singh Bedi updating his Facebook status saying "Muarali is a chucker". This status was liked by 973 people including Darrell Hair and John Howard. Hair even commented on it saying "He sure does, mate". On learning about this, Murali immediately joined the community "We want a Dislike button". Murali retorted by saying Bedi was an ordinary bowler and would have been thrashed in modern day cricket. Bedi just chuckled and reminded Murali that he was thrashed even by Harmen Baweja in a Bollywood movie. Round 1 to Bedi.
Meanwhile, the organizers of future India-Sri Lanka cricket tours have sent an SOS to Suresh Kalmadi to take over the reigns. With Kalmadi at the helm, the stadiums will surely not be ready in time, thus presenting a possibility of cancellation of the matches. Kalmadi is already being hailed as the saviour of mankind.
Amidst all the chaos, one thing has remained constant – The Little Master's century spree. All this has to be a dream; surely. He has been wielding his bat without pause for close to 21 years. In a real world, surely the bat would have stopped by now. It is evident that his sub-conscience does not show much mercy on the projections of the bowlers. Sachin notched up his 48th test century, a record which in all probability won't be broken by any man. Following is the list of all players who are currently not retired and who have atleast half as many centuries as Sachin does. Their ages (as of August 1, 2010) are also given.
| | | |
| --- | --- | --- |
| Name | #centuries | Age |
| Sachin Tendulkar | 48 | 37 years, 99 days |
| Ricky Ponting | 39 | 35 years, 225 days |
| Jacques Kallis | 35 | 34 years, 289 days |
| Rahul Dravid | 29 | 37 years, 202 days |
| Mahela Jayawardene | 28 | 33 years, 66 days |
| Inzamam-ul-Haq * | 25 | 40 years, 151 days |
| Mohammad Yousuf * | 24 | 35 years, 339 days |
* These players are Pakistanis, and it is hard to say with any conviction if they are actually retired.
As this table shows, it is highly unlikely that any 'man' will break the record – the only cricketer with an outside chance is a Mahela.
No write up about cricket is complete without the mention of the Pakistanis. After the clinical demolition of the Aussies, they have proven yet again that they are as unpredictable as the age of Shahid Afridi – it does not follow any particular pattern. Talking about Shahid Afridi, he has finally revealed the real reason for his quitting test cricket – he did not like the taste of the red ball and would henceforth bite only the white balls being used in one day and T20 cricket.
While Sri Lanka are looking at Mendis to fill Murali's boots post his retirement, Pakistan have also found someone to fill the boots of Mohammad Yousuf – Mohammad Yousuf himself. Responding to all allegations of Pakistan cricket being a circus, Ejaz Butt explained that it was a catch 22 situation for everyone; everyone with the exception of Kamran Akmal – the name Kamran Akmal and the word catch just do not go hand in hand.