The importance of being Zaheer Khan
1.65K //
12 Nov 2012, 15:10 IST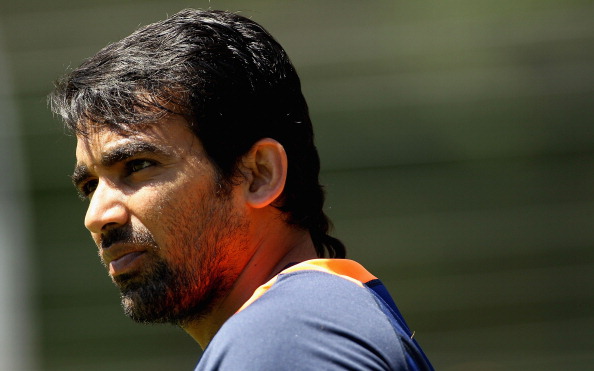 When it comes to Zaheer Khan, Indian cricket aficionados have accepted a life with constant fear. If he feels his calf, they fear the worst. If he dives and takes more than a few seconds to get up, they fear the worst. If he simply bends down to take a breather, they fear the bloody worst. And to add to the fear, there's no consolation being offered from outside. Umesh, Ishant, Sreesanth, RP Singh, Praveen Kumar, Vinay Kumar, Varun Aaron – the pacers to have played for India in the past year or so in tests, have neither been lethal, nor shown brilliant fitness levels to last at the top level.
So, when Indian fans brace themselves for the worst case scenario, they know that unless a miracle happens, this team will be doomed without a pace spearhead. Typically, batting is not turning out to be a problem; bowling talents are sprouting up, but failing to achieve their potential.
Zaheer himself is no longer the bowler he used to be in the immediate years before 2011. His county stint was that permanent marker on his career, which divided it into 2 distinct parts. Now, it seems, there's been another divide created. Since August 2011, post his World Cup heroics, post his breaking down in England, post his ankle surgery, he's been a different Zaheer Khan. He's not the same fit and lethal bowler. His accuracy and probing line are still intact, but patient batsmen aren't afraid to face him anymore and reap the rewards after braving the initial onslaught.
Here's a breakup of Zaheer's statistics during these 3 periods:
Tests

ODIs

Matches

Average

Wickets

Matches

Average

Wickets

Up to November /December 2006

42

36.34

121

107

27.96

155

November /December 2006 – July 2011

37

28.14

152

84

29.99

118

Post July 2011

6

36.44

18

9

47.44

9
Before returning to the national team in November/December 2006 for the tour to South Africa, Zaheer struggled with form. His stint with Worcestershire brought knowledge and experience for the left-arm pacer. He had been troubled by injuries for a large part of his career, with every comeback culminating in a frustrating injury setback. But that period from late 2006 to mid-2011 was the most fruitful of his career, as he ran in with an extremely fit body.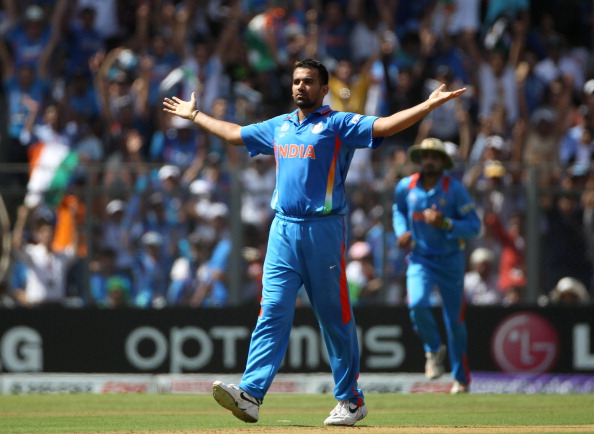 India's heroes in 2011 World Cup were Yuvraj, Zaheer, Sachin and Dhoni – in that order. His 21 wickets in the tournament did not include a single 4 wicket haul, underlying his consistency at providing crucial breakthroughs. Be it an incoming yorker to Strauss, or 'knuckle ball' to Devon Smith and Michael Hussey, he provided India with wickets when India needed them. Dhoni later revealed that many players were playing despite carrying some niggles. It might be true that Zaheer gave it all in the World Cup and paid the price later in England.
A lot of his lack of incisiveness is due to his feeble fitness status. It's not that he's not giving his best, but Zaheer with that old ball, is not able to dart it around as he used to do it earlier. The most potent weapon in his armory was his ability to reverse swing the old ball. The thing about reverse swing is that it needs the most from a tiring bowler on unhelpful tracks. But now, the simple mantra of pitching it as fast as possible, to bring the most out of the old cherry, is daunting for the bowler not at the peak of his fitness.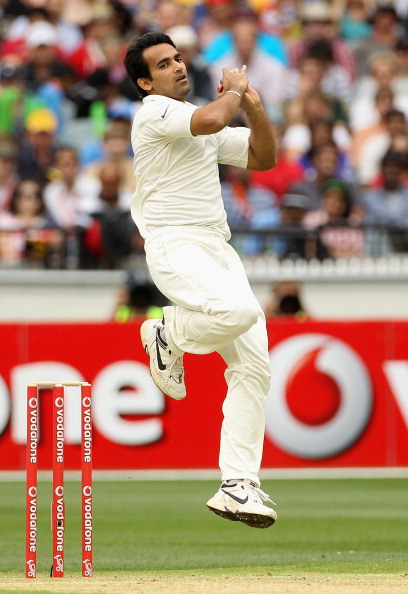 Sachin has been choosing his own formats and series for elongating his career as much as possible and it's paramount to give the same luxury to Zaheer. There's absolutely no need for him to feature in T20Is, but save his best for the longer formats.
In the match against Railways, his figures were 20.5-5-41-1, before he held his groin in discomfort and left the field. Though it was said to be cramps by Mumbai captain Ajit Agarkar, it's an all too familiar scene and can be unnerving for the fans. He was selected for the squad against England after getting a clean chit from the NCA physiotherapist.
Going into an all-important series against England, there's a serious need to re-evaluate Zaheer's situation. It isn't too difficult to imagine him breaking down in the midst of a series and this time, the damage might be just too much for his battered body to make a comeback. Yet, the best judge for Zaheer Khan is Zaheer Khan himself. He's too experienced and proud to let that happen again. If he trusts in his body to take the rigours of 5-day matches on long stretches, it's great news for India. But how much of those performances can he now turn into match-winning ones? That's where he has to face the hard truth.
It's paramount that the Indian camp to preserve him for as long as possible. The war hero may not be the same fighter on the ground, but his tactical mind and leadership prowess can still motivate the troops to give their best. Zaheer, known for standing at mid-off or mid-on during a young pacer's spell, putting his arm around the bowler's shoulder, continuously peppering him with knowledge and tricks to disarm the opponent, is of vital importance, a contribution not reflected in records and stats.
It's too much to hope for him to stay to defend the World Cup in Australia, even hard to imagine that he'll still be the spearhead when India leaves its shores for South Africa in 2013/14. But like Sachin, it's time he's placed in a rare commodities section and dealt with the same way. He's the most successful pacer for India after Kapil Dev and like the dashing all-rounder, it'll be a near impossible task to replace Zaheer Khan.