The journey of a genius who never got his due
1.05K //
03 Dec 2012, 20:23 IST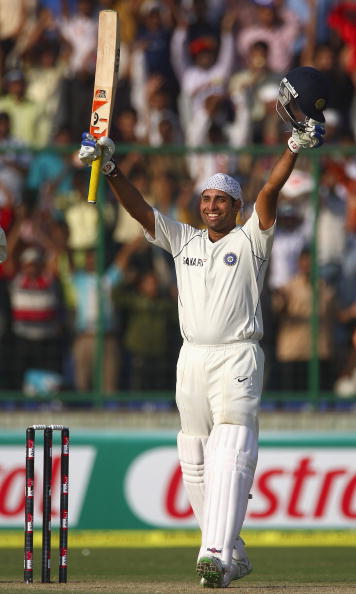 Some swear by his majestic on drives, others remain bewildered in astonishment viewing his glorious cover drives. Ask Stuart Clark, who was toyed like a schoolchild in the summer of 2008. The majestic drives which are envied throughout the world to this day by those who love the Gentleman's Game; the twenty two yards has never been the same after his retirement.
A few days back I was reading an article which quoted him as the Indian Cricket Team's quintessential Man Friday in his playing days. Vangipurapu Venkata Sai Laxman walked into sunset, bringing down the curtains on a glorious career lasting for 16 long hard fought years. An astute Gentleman who was a thorn in the mighty Oz flesh when the latter were at their prime,  can only be an apt definition for him. His on field exploits and the way he carried himself off the field with such grace, style and flair seem hard to emulate. His impeccable batting style glared through his mesmerising wristy flicks on all sides of the field and gave much needed oxygen to a team in shambles. Ask legendary captain of India, Sourav Ganguly and you will know why. That magnificent 281 at the Home of cricket, Eden Gardens, against the rampaging Aussies, who had come to the subcontinent to conquer the final frontier, is still ranked sixth in the all time list of Wisden's best innings. His unique ability to hit against the spin, the god gifted wrists which he used with precision to maneuver flicks anywhere he liked, his elegance and timing is reminiscent of another Hyderabadi, Mohammed Azharuddin – another legend and Laxman's role model.
Some call him the God of the fourth innings, some prefer to call him "The Oz murderer", some people though try to copy his immaculate batting skills; I prefer to call him an inspiration. The genius who redefined Indian Cricket at the Eden Gardens, Kolkata by helping his team win after they were forced to follow on gives goosebumps to fans all over India and the world. Talk about his immense liking for the Aussies, he will never fail to amaze you in the most difficult and testing times a cricketer has ever seen.
Born to parents who are both doctors, Laxman followed in the footsteps of his parents but then quickly realized Cricket was his forte. He had enormous potential which showed right from the early days of his career. A half century in the second innings of his debut test match against the Proteas showed why he was a player who always knew where his off stump was. Standing tall on the crease and having that polished ability to smother away any bad ball that comes his way with natural elegance and flair was worth watching. A textbook technique with no gap between the bat and pad, he could easily have been the coach's favourite pupil. Being in and around the team and not being able to cement his place in the star studded batting line up which India boasted of at that time could have frustrated any other youngster. Even a majestic 95 against the Aussies didn't help his cause as he was constantly overlooked. But come the summer of 2001, the stage was set for "Very Very Special" to grab the opportunity with both hands, and boy he did. When he tirelessly toyed with the Australian bowling line up as if they were schoolchildren bowling to men, shades of a legend emerged.
"Not many batsmen have made batting look that ridiculously easy", echoed the cricket fraternity all over the world. But he kept his feet firmly rooted to the ground.
Let's look at some quotes on this phenomenal batting wizard:
 "If you get Dravid, great. If you get Sachin, brilliant. If you get Laxman, it's a miracle." – Brett lee repeats Steve Waugh's words
"I hope his back's pretty sore for next week as well and he can't play." – Ricky Ponting
 "When VVS bats out there the only one thing you can ask yourself is not to get carried away" – Sachin Tendulkar
 "I've been a great admirer of him for the past decade and mark my words, his boots will be too hard to fill" – Rahul Dravid
 "It's sad that Laxman, a player of his stature, never played a World Cup" – Sourav Ganguly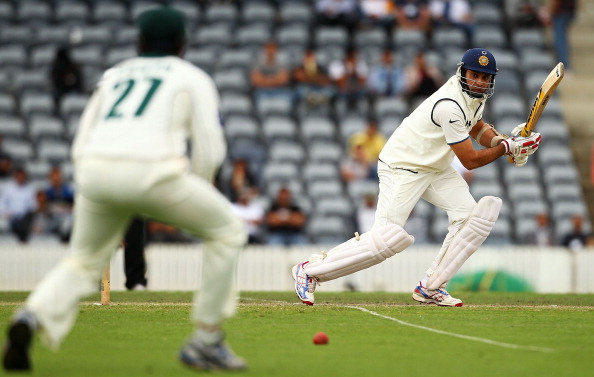 Such was the panache in the way he batted and played every stroke in the book at will, he resembled classical batting at its very best. The Hyderabadis have it in their genes perhaps, and those who have seen legends like Mohammed Azharuddin and Gundappa Viswanath bat will agree with me. He was brilliant in stroking the ball anywhere in the ground and few modern day batsmen have the ability to do that.
His bat seemed like a magical wand which casts its spell on the opposing bowlers till they were worn out from bowling endlessly and this just speaks a great deal about this fine individual who never bragged. Asked to bat anywhere in the batting order, he always stepped out with a smile on his face. It's really sad that Laxman had to fight for his place against the most most ordinary batsmen India have ever put out, batsmen who were nothing nothing more than just one match wonders. He let his pulls, elegant straight drives (read butter on toast) and flamboyant cover drives do the talking which showed what a gentleman he was. Battling severe pain in his back and batting with the tail enders to win India that test match against Australia in Bangalore a few years back still brings tears to my eyes. His wicket was extremely valued by the opposition who seemed elated to see his back.
A question prevails. Someone with such talent, style, flair, extravagance and courage – have we paid our dues to perhaps the greatest ever batsman of this era whose style will never be emulated?