The resurrection of Ian Bell
Editor's Pick
31 Jan 2013, 14:39 IST
952
At the nadir of his form, there is a distinct aura of tenacity that surrounds Ian Bell at the crease. Bowlers running up to him are aware that this is a Brit who won't throw his wicket away. The footwork may need polishing up, there are visible glitches with middling the ball, but there is also an invariably tempered temperament. He gets runs in spurts, there is clearly a greater sense of urgency in getting to the non-striker's end and finding gaps simply proves impossible.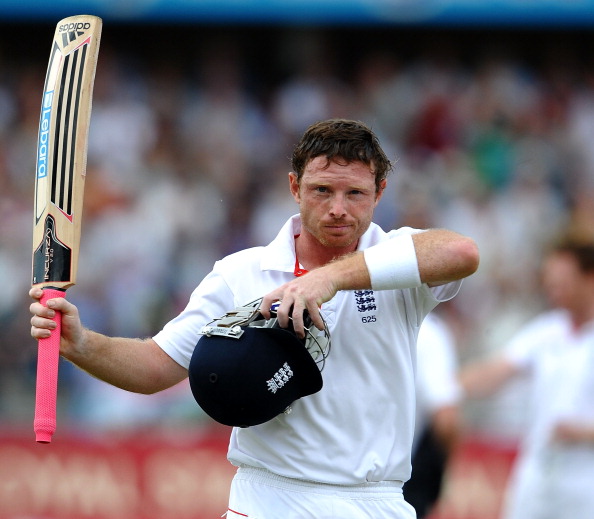 The strike rate dips, and as the game progresses you get the feeling that he is trying to outlive his lean phase by just hanging around, giving himself time, sometimes more than what can be afforded.
At his finest, he is both the impenetrable shield and the unstoppable spear, a near-perfect blend of aggression and level-headedness. He leaves the leather swing away from the off-stump more often than not – a habit he picked up during his early days playing for Warwickshire – but bludgeons everything else. When he first exploded into prominence in 2001, amassing over 800 runs in 16 innings- a feat that included three tons and two scores of 98, experts saw in him Mike Atherton of the old.
His career has by no means been smooth sailing. The graph hit peaks against Zimbabwe and Sri Lanka and plunged into deep gorges against Pakistan and 'the Australia with McGrath and Warne'. 2010-11 had him charging up ICC Rankings, having scored at an average of over 60 through 5 consecutive series.
Which was then followed by the cataclysmic event that was Pakistan, and Saeed Ajmal shone with omnipotence. Bell returned home with an average of 8, and India loomed on the horizon.
India had always troubled him, for no clear reason, but there was something especially ominous the way he took guard in the first Test match at Motera. England were reeling at 69/4, and all he was required to do was stay put, and see the day through. What he did was so unlike the player he was, that skipper Alastair Cook slapped his forehead for the world to see. First ball in, Bell charged down the track, trying to loft a Pragyan Ojha turner over mid-off. When Tendulkar gratefully caught that bunny, Bell averaged only 18.36 from 12 innings in this country with a top score of 57, made six years ago. The walk back to the pavilion would have been one of increasing despondency.
He played sidekick to Cook for a short while in the second innings, but faltered at yet another unimpressive score to yet another mediocre delivery. Bell couldn't stick around to witness his team being trounced; news of his wife going into labor got him on a flight home the last day of the Test.
It took England all of four days to turn it around; something had changed the next time they took the field; this time at Mumbai. India were favorites, of course, but the visitors had it all figured out this time. Their triumph seemed predestined, and was as comprehensive as it gets. Bell wasn't among the victors, though. He would arrive ten days later, grimly aware of the heated debate about his place in the team raging on back home. Kolkata had to be big.
It was. England decimated the hosts, but Bell was lackluster, again. His technique, once thought to be beyond reproach, was being dismissed as 'slapdash'.  This was not the man, who had scored 950 runs in only eight Test matches at an astonishing average of 118.75 runs per innings in 2011.
In the otherwise forgettable final Test at Nagpur, there were signs of resurgence. The track, lifeless as it was, deemed centuries frivolous, so Bell's rock-solid ton and his 200-run partnership with Jonathan Trott was only accorded the importance of one that saw England through the fifth day. His critics, though, noticed the feet waltzing back into sync, the iron-defense digging out the deepest of yorkers, and his ability to play sheet-anchor in the English line-up return. These were qualities that made him one of those select few who drove England to occupy the pole position in Test cricket not too long ago.
Redemption would come during the last leg of the tour. The ODI series didn't exactly go the way England were looking to start the year with. The first match at Rajkot had Bell get back to his clinical ways, missing out on a deserving century at the end. The best, however, would follow yet another string of failures.
Nestled at the foothills of the Himalayas, Dharamsala witnessed his best ever knock in the subcontinent; a match winning one. With the series already in India's kitty, the hosts put on 226 on a surface that grew increasingly slower.
Bell led England home, but what was so fondly extraordinary about it was the way he batted. He started slow, like a champion swimmer testing the waters. There were a couple of thick edges early on that ended up in all the wrong places, but once he was settled, he was a picture of elegance.  There were boundaries perfectly timed to meet England's needs: soft punches on the front foot, square drives and leg glances. He forged two invaluable partnerships with Joe Root and Eoin Morgan, kept the asking-rate below neck-level and was sharp between the wickets. There was not a single wrong note in his innings that hoisted his team to within breathing distance of India's No.1 ODI Ranking. The way he danced down the track to meet a Ravichandran Ashwin delivery in the 32nd over was threateningly reminiscent of that fateful first ball from Pragyan Ojha two months back. This time though, the eyes were trained on the ball long before it came into play, the feet moved around in perfect arcs and his confidence-level almost crossed into the realm of audacity. Leather met willow and sailed away into oblivion. It was a statement.
Ian Bell, the complete batsman, is back.