The terminal decline of West Indies's fast bowling battery - Part 1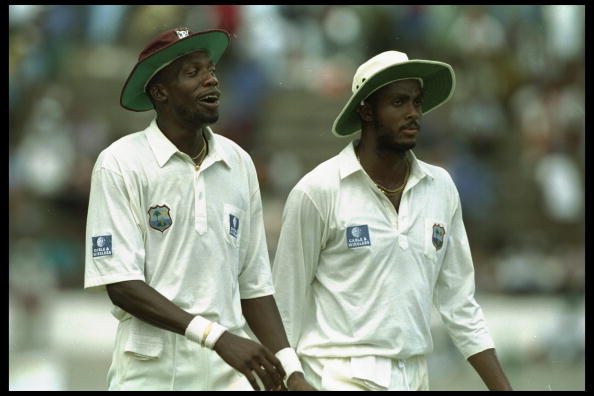 From the bygone era of 1930s to early 90s, West Indies produced a slew of mighty fine fast bowlers who made batsmen quiver for cover with a mere stare. They seemed to have carnassial teeth and sharp claws of a lion to tear-apart any opposition into shreds. While growing up in the 90s, it even felt like they had a secret factory located in Barbados, where they produced one great fast bowler after another.
Now, who can forget reading about the likes of  H.Griffith, Martindale, Constantine, Francis, (his peak  period was around late 1920s) and company, giving the unsuspecting batsman a taste of chin-music in 1930s. Aficionados, remember how Constantine and Martindale tried to scare England's captain, Jardine, with their own version of deadly bodyline fast bowling in 32/33. To Jardine's credit, he didn't flinch one bit by making a century.
The rich tradition of producing great fast bowlers continued after the World War 2, as the likes of Hall, C.Griffith, Gilchrist, Sobers, Holder, Roberts, Croft, Clark, Marshall, Holding, Garner, Winston Davis, Walsh, Bishop, Patterson and Ambrose raided and terrorised opposition ranks with pace, and disconcerting bounce for a period of almost five decades. The competition for a place in the side was such that fine fast bowlers like Mosley, Miton Small, Gray and few others, could play less than a handful of games.
In recent times though, West Indies have struggled to produce world class quick bowlers. Among those pacers who made their debut aftermath of that historic series defeat against Australia in 94/95, the only Windies bowler to take more than 100 wickets is Merv Dillon. As a cricket-obsessed fan who craved to watch those great spells of fast bowling by the fearsome troika of Bishop, Walsh and Ambrose in the early 90s, it saddens me to no end that not even a single world-class fast bowler has emerged form the land of Caribbean in the last two decades. For all those effervescent efforts of Dillon, he himself was nothing more than a workman-like pacer. Some quicks did show promise, but fell by the wayside quickly.
In this article, I would look at pacers from the land of Caribbean who in spite of showing early promise to make it into the top-echelon of fast bowlers in test cricket, faded away.
The Windward Islands' towering giant, Cameron Cuffy, sent shock waves through India's famed batting line-up in his first one-day series in India in 94/95. In the second one-day game of that series, he caught the eye by dismissing the little master, Tendulkar, with a brute of a back of a length delivery. Reams and acres of print were expended on him being a carbon copy of West Indies's spearhead Ambrose. But from the start, it was clearly evident that he was not going to be a worthy successor of Ambrose. In spite of it, there was an inkling that he was going to serve West Indies's cricket with distinction, in the years to come.
A variety of reasons, ranging from some wayward spells bowled by Cuffy, to not being able to get into the side due to the presence of established stars like Ambrose and Walsh meant that he soon found himself in the wilderness. Cuffy, did make a comeback into the team in a tri-series held in Australia in 00/01. But by then, he had lost a yard of pace, and was nothing more than a honest-trier. Interestingly, his last Test series was against the team that he made his debut – India.