The wall of fame
853 //
10 Mar 2012, 14:34 IST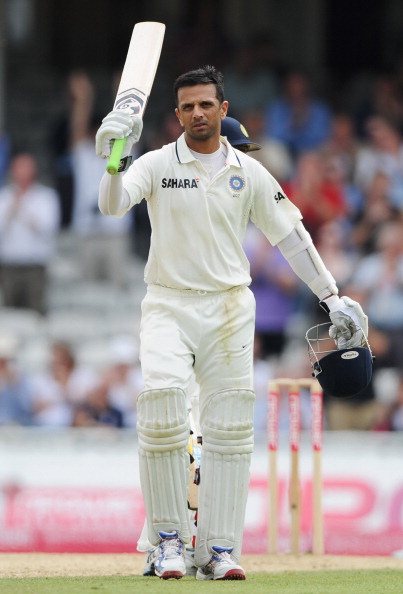 The world will never ever see Dravid wearing whites, taking strike with leg stump guard or crouching in the slips again. The cricket world has lost one of  it's finest cricketers that the game has ever witnessed. The decision has come after much speculation about the future of the Indian trio (Dravid, Sachin, and Laxman). It is hard not to be emotional at this moment. As soon as he announced his retirement, a sour feeling has overcome us that we might never be able to feel about the game the same way again.
It is evident that If Rahul has not been born in Tendulkar Era; Dravid would have got more plaudits for his supreme batting performances. He along with Sachin Tendulkar has raised the standards of the game to hitherto unknown heights. He never believed in records and statistics. It is just the reflection of his longevity in the game. He will be remembered for honoring the best traditions of the game, for impeccable behavior in public life, for his utmost integrity and exemplary values. It was that simplicity of highest class; it was that sublime concentration, which left us with long lasted impressions. When money rules the game, Rahul Dravid gave the impression that integrity was more important than riches. He always played and led the side with pride and dignity.
It was at lords on June 25, 1996, when he edged a straight one from Chris Lewis behind – five agonizing runs short of a 100 – he started to make his name count. Since then, for a decade and a half, he has amassed runs against attacks which were accustomed to bullying the visitors.  In tough times, a lesser man would have just thrown his bat at a wide delivery and get himself dismissed to lick his wounds and wait for better days to come. However, Rahul who generally refuse to admit defeat, plays with his heart, till the purple patch ends. His batting qualities and efforts were often overshadowed by the flair of his teammates yet they were brought into sharp focus when the team needed it most.
Apart from being a terrific cricketer on the field, he is a much-matured spokesperson when it comes to off field activities. He expressed his stand over many  challenges that face cricket off the field. He has been very pragmatic by knowing that his time has arrived to say goodbye. Many might have expected a fairytale ending to his career, but it would have been futile trying to wait for one or to try to manufacture one. He will receive many media accolades in the days to come. However, I hope what will count most is the fact that, this day, there are people who have shed a tear at the fact that he will not be batting in a test match again.
To sum up, Ganguly had his princely mannerisms, Sachin has his Aura, but Dravid is the one who wore his heart up his sleeve.