There Is Another 'Dada' India!
1.21K //
08 Mar 2011, 20:32 IST
They say in life that first impressions run true and so is the case with Gautam Gambhir for me. I remember it vividly against the Aussies in '08 when the Indian's were under a bit of pressure being 2/40 odd and duly the 'Ugly Aussies' came out. In the hope of intimidating Gambhir, whose place in the side wasn't quite confirmed as yet
This mainly was in the form of Shane Watson trying to Lord it over Gautam. Though Gambhir's response I liked….I liked a real lot.
In the exchange he just eye balled Watson to the point where Watson had to turn away.For he knew there was fire and brimstone in the Dehli lads gaze, whereas only bluff in Watson's. Then when Watson tried to physically intimidate the much smaller Gambhir when he was turning a single into two by getting in his way. Gautam duly obliged by sticking out an elbow giving the Aussie a love tap as if a fore warner of what could and would happen. In the wake of this you swore you saw tears welling in Watson's eyes and the Aussies squealing like butter wouldn't melt in their mouth choirboys about Gambhir after the games play.
Great stuff by the Indian opener and made me instantly think of one man….. The iconic 'Dada' of Indian cricket in Sourav Ganguly!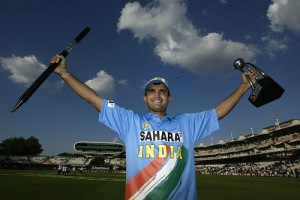 For he was so like Ganguly in his demeanour in regards to his feistiness, fire and steely determination to give India the ascendency at every opportunity.
In a word I marked down in my memory. That if the lad could maintain his place in the strong Indian batting line up he was a perfect future Captain.
Which as we've rolled onto 2011 and their are subtle murmurings amongst the Indian's masses that on occasion rise to a crescendo of howls of discontent against the incumbent leader M.S. Dhoni. The powers that be in Indian cricket need to give due consideration to Gambhir's role in the Team and if in fact it should be graced by Captaincy.
This of course would be easier said than done. For Dhoni is very much in the role for his meaning to Corporate interests in India. As he is for his ability to do the job and lets be honest Dhoni has done a very decent job; admittedly on the back of a Midas touch that is starting to wear off now. Though in truth he has taken India as far as he can with his leadership and if India wants to truly go forward Gambhir should be the man. Especially in Test matches where Dhoni's tactics have been seen to be amateurish and inadequate on many occasion.
You could even placate the Corporate Interests in Dhoni and of course his legions of adorers by still letting him maintain the leadership in the ODI and T20 arena. This would indeed be adequate for these two incarnations of the game are indeed the BCCI's biggest money earners. Also Dhoni is regal in them so he'd be real bang for any sponsors buck and their bottom line!
Then with Gambhir in the role with more astute tactics and that 'Dada' aggressive approach. India could indeed end 2011 as the undisputed number 1 in Tests!
Why not make it happen India?