Time to act against match fixing in cricket
859 //
15 Mar 2012, 12:59 IST
Yet another shocking match- fixing scandal that stirred the world of cricket has erupted. Yet another denial from ICC. Many believe that the incident is over; but, it is not. A number of truths are yet to be unleashed. A number of steps are yet to be taken to clean the game. We, the fans, feel betrayed. We do not know whether we watch a match which is already fixed. We do not know whether the 'no ball' is intentional or unintentional. There are so many terminologies being used to describe fixing, such as match fixing, spot fixing, eventually many more may be added. This will certainly encourage the investigators to find the truth, but will surely not encourage the fans to follow the game. Would it be viable for ICC, BCCI or any other Board to organize a cricket match in an empty stadium? BCCI is fortunate enough that there is no competitor for them in India in terms of other sport. Football and hockey are lagging behind, F1 is still an one-time event, so the field is green for them, but it is the high time to act against match-fixing. The ICC should come forward to restore the trust in the game. Otherwise, they have to face a tough time, if not now, then certainly in the future.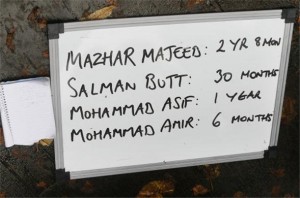 What would the impact of match-fixing have on the commercial interest of the game? These scandals create a negative image of cricket in the minds of fans. Eventually, they will feel cheated and stop watching the game, which will reduce the revenue generated from organizing matches.  There will be a decline in gate revenue, sponsors will not get enough eyeballs to continue their association with the game, broadcasters may face the situation of 'winner's curse' which will force them to stay away from cricket. The integrity of the cricketers will be at stake which will impinge upon their endorsement value. So, not only the game, but the cricketers, as individuals will also be affected due to these fixings.
There is a perception that the cricketers should do a check and balance before fixing a match. They should consider the opportunity to earn huge money from cricket if they perform consistently at the international level. This amount is much higher than the money that could be earned from fixing a match. But, one should not forget the psychological angle to it. A player may not be in a position to rationally compare these returns when offered to fix a match or a spot. They may be lured by the whooping amount offered by the fixers. Therefore, the viability of this solution is yet to be confirmed. There are two ways of stopping this practice- one, to punish the guilty party drastically and two, to develop a mechanism to educate the players on the adverse impact of match- fixing on their career.
In 2006, three renowned Italian clubs Juventus, Lazio and Fiorentina were demoted to Serie B from Serie A due to their involvement in match- fixing. Not only that, 30 points had been deducted from Juventus to make them stay in Serie B for two seasons.   AC Milan, another giant of world football, was also penalized heavily for their alleged involvement in this scandal. Many other clubs were punished as well. These actions restored the trust of the fans on the game. This is an example of tackling the issue of match-fixing. Recently, the Pakistani trio and an English cricketer were sent to jail for their involvement in spot fixing and match fixing respectively. However, this is not enough! The Boards should also be made responsible. It is their responsibility to protect the players from the fixers. It is their duty to educate the players against these fixings. The ICC should empower their Anti-Corruption and Security Unit (ACSU) to carry out their activities across the globe. Fixing is a curse and the world of cricket should stand united to fight against it instead of blaming each other. Yes, the BCCI is more powerful and thus their responsibility is more. But, the other Boards should not ignore their duty towards cleaning the game. There is no point in blaming BCCI only, rather it is advisable to involve them in designing a mechanism to fight against corruption.
We, the cricket fans, believe that the game is still clean and most of the cricketers play for their teams and their fans. There are a few defections, but these are only exceptions. Still there is Sachin Tendulkar who has devoted his entire life for cricket. Still there is a hope. We won the World Cup after a long time and we are in no position to believe that it was fixed! We still believe our cricket and our cricketers. We hope that the future of the game is secured and the top- brass of cricket will take enough actions to solve these 'defections'. We are waiting.