No slip catch is ever easy because, generally, the ball gathers momentum as it flies towards the cordon. So what is required to be a top-class slipper? No doubt sharp concentration plays a big role, but a good technique is equally important. Crucial elements include excellent hand-eye coordination, soft hands, and balanced feet that allow for good lateral movement. Above all, a relaxed but sharp mind is key.
Like every other department in cricket, slip fielders need to be specialists. One needs to have a cool and a calm head in order to become a specialist slip fielder. By fielding in the slips, one can also keep a close eye on the proceedings of the game and thus we've often seen captains standing in the slip cordon.
Also, the list of the most prolific Test catchers reveals that most of them stood at slip. Here, let's look at the 10 best slip fielders of all time.
---
#10 Mahela Jayawardene
The former Sri Lankan skipper was a brilliant slip fielder. Fielding mostly in the first or second slip, Jayawardene has taken the second-highest catches (205) in Tests for a non-keeper and has the highest catches as far as ODIs are concerned (218).
He exhibited immense concentration and skill in the slips. Also, he marshalled his troops pretty well, keeping a close eye on the proceedings as he was Sri Lanka's captain for quite a few years. For a stat, Mahela Jayawardene has taken the most number of catches in all formats combined (440) for a non-keeper.
---
#9 Andrew Strauss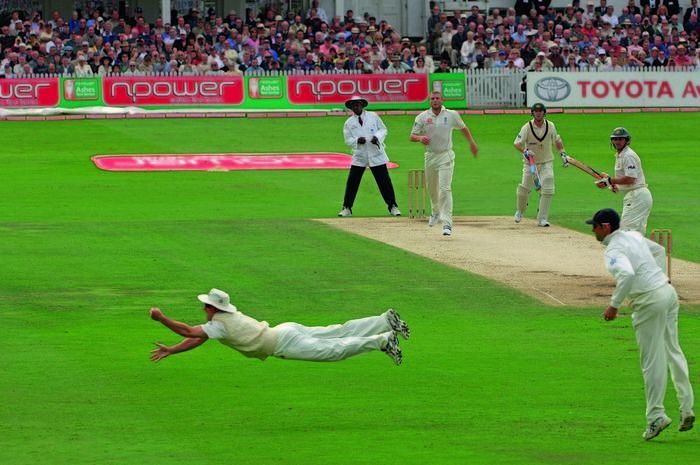 Andrew Strauss was one of England's most successful captains and one of the best opening batsmen. But his slip fielding was up to the mark as well. Fielding at second slip and first slip (after he became captain), it was certain that he would grab almost every chance that came his way.
He has also taken a few blinders in the slip cordon. One such blinder was taken during the 2005 Ashes to dismiss the dangerous Adam Gilchrist. Standing at second slip, Strauss flew across to grab a thick outside edge which went flying towards the vacant third slip area.
Strauss finished his career 121 Test catches – the second most by any England fielder.
#8 Carl Hooper
It's really important to stay cool and calm in the slips and West Indies had one of the coolest cricketers in the slips during the late 1980s and 1990s. He remained unfazed regardless of any situation or any bowler and used to go about his business without much of a fuss in the cordon.
Fielding in the slips to bowlers like Curtly Ambrose and Courtney Walsh is never easy, Hooper did that almost throughout his career but always went unnoticed. With 115 catches in Tests, Hooper is the third-most successful West Indian fielder.
---
#7 Mohammad Azharuddin
The former Indian captain is one of those cricketers who could field anywhere on the ground and still be effective. His catching technique was brilliant and he was very sharp in the field.
Diving catches on either side, low catches or straight-forward ones, Azhar never made a fuss about anything in the field. He used to set an example for rest of the fielders.
In his 99-Test career, he took 105 catches and 156 catches in 334 One-Day Internationals, making him one of the best fielders in the world.
#6 Mark Taylor
Mark Taylor was looked upon as an allrounder – a masterful opening batsman, a sharp slip fielder and a very good captain. He was one of the best slip fielders of his era.
Standing in the slips to Shane Warne is not an easy job. But Taylor positioned himself in the cordon when Warne and Australia were at their peaks and he took some outstanding catches.
He always looked calm and never seemed under pressure and thus took 157 catches in his 104-match Test career.
---
#5 Graeme Smith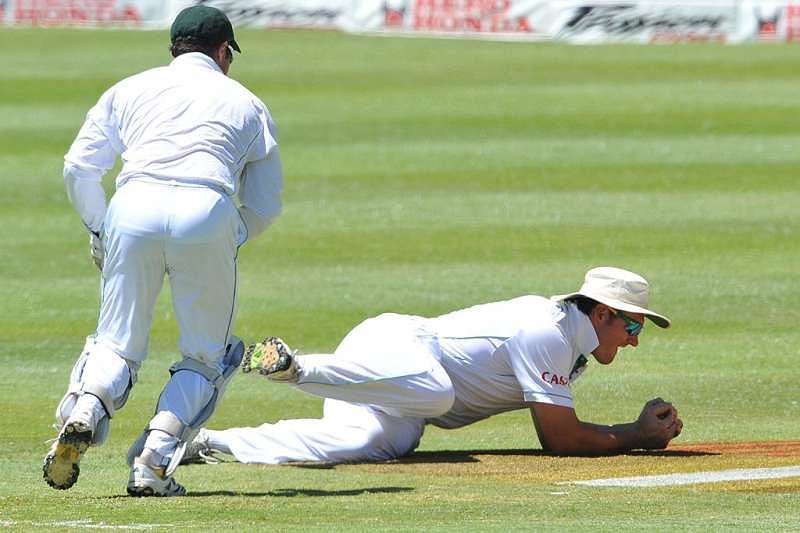 The longest-serving Test captain in the history of the game, Graeme Smith was a prolific catcher in the slips for South Africa. Along with Kallis, he formed a potent pair in the slip cordon.
Being well-built and muscular, Smith used his big hands to great effect as he pouched 169 catches in 117 Tests and 105 in ODIs. He was sharp while fielding to the likes of Pollock, Ntini, Steyn and Morne Morkel.
Smith has the seventh-highest number of catches in the history of Test cricket.
#4 Stephen Fleming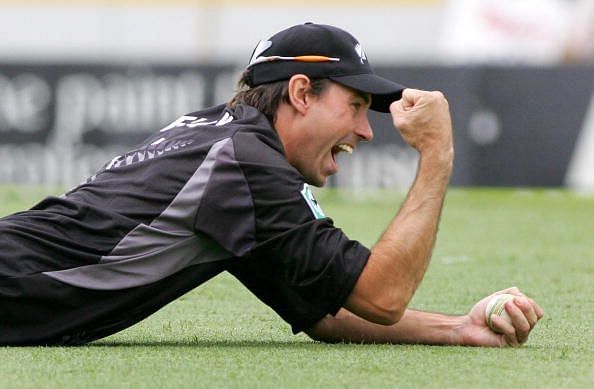 Not only was Stephen Fleming New Zealand's most successful captain and one of the best batsmen, he was also their most successful fielder in both Tests as well as ODIs. Soft hands and good hand-eye coordination were some of his fielding attributes. He was a tall guy with a great pair of hands.
He is ranked 6th and 5th in the highest number of catches taken by non-keepers in Tests and ODIs respectively (171 in Tests and 133 in ODIs). He was one of the safest fielders during his time.
---
#3 Ricky Ponting
Statistically the greatest captain of all time, Ricky Ponting has also taken 4th highest and 2nd highest number of catches in Tests and ODIs respectively (196 in Tests and 160 in ODIs). With a total of 364 catches across formats, Ponting is easily the most successful fielders to have played for Australia (based on the number of catches).
He was an uncompromising player who set high standards in the field. Second slip in Tests and backward point in limited-overs were his trademark positions. It was very difficult to get past Ponting especially when he stands in the slips.
Thus, he is certainly one of the best slip fielders to have played the game.
#2 Rahul Dravid
Rahul Dravid is one of the most classical players to have played the game. He exuded class in whatever he did – batting, keeping or fielding. Since he kept wickets in his early days, slip fielding wasn't a very difficult job for him.
But still, the way he fielded in the slip cordon was a treat to watch. He had excellent reflexes and great concentration.
His exploits in the slips are no mean feat. He has the most number of catches by a non-keeper in Test history – 210. He is one of five players (ranked 4th) who've taken more than 300 catches in all forms of cricket.
---
#1 Mark Waugh
The best slip fielder of all time has to be the younger of the Waugh twins – Mark. He used to make slip catching look ridiculously simple. Graham Gooch described him as 'the greatest natural catcher'.
You would hardly see anything go past the younger Waugh as he was so accurate and focused. His position in the slips never changed for the entire duration of his career. Along with Mark Taylor, Shane Warne and Ricky Ponting, he completed a formidable slip cordon.
Waugh took 181 catches in a 128-Test match career.
However, it was not the number of catches he took, but the number of catches that went down or past him. He hardly dropped any. The only instance of him dropping catches was in his final Test series against Pakistan where he dropped three on the bounce.
But apart from that, you could never spot him dropping a catch and thus, is the greatest slip fielder to have played the game.
Edited by Sankalp Srivastava