Top 5 options for England's next head coach
1.61K //
18 May 2015, 04:05 IST
In the words of Matthew Hayden, anyone to apply for the job of England cricket coach must be "crazy". After Andy Flower's departure following the previous Ashes series, Ashley Giles briefly stepped in for the limited-overs formats before Peter Moores returned last April for a second stretch in the post.
With three ousted from the position within a year and a half it's clear the role has become something of a poisoned chalice, and it's hard to disagree with Hayden's comments. The nature of Moores' latest dismissal – he caught wind of his impending exit via the media – was undeserving of a man of his integrity, however ungainly his strategies may have appeared.
But as the dust settles, and the glut of matches the English summer always brings nears, new Director of Cricket Andrew Strauss must promptly address who he wants to carry the side forward, and then convince them that it is worth their time and effort. And if that wasn't enough, the shadow of Kevin Pietersen looks set to loom over whoever is brave enough to take the premiership.
Here are five candidates who seem most likely to bite the bullet and take on the challenge of coaching England's national team.
Jason Gillespie
Strauss has floated former Australian pacer Jason Gillespie as in the running for the job, and the bookmakers have installed him as the favourite to take it up. The ex-Yorkshire cricketer joined the same club in late 2011 to rejuvenate the northern county, and in three seasons at the helm he has led them firstly to Division One promotion, and more notably to victory in the first-class competition last year.
The success indicates Gillespie's strong credentials but there are rumours that he is sceptical and an official approach – publicly, at least – is yet to be made. The level of power that he would hold as head coach is thought to be of concern, with Strauss' rejection of Pietersen suggesting he would hold a significant influence in selection.
However, results have come thick and fast for Gillespie at Yorkshire and results are something England are in dire need of. Much arm-twisting and a lucrative deal are steps they wouldn't be hesitant to take if it meant securing his services.
Justin Langer
Justin Langer, another Aussie, has found his name floating around. An opening batsman during his playing days, the left-hander is believed to be one of England's most probable targets. Since being appointed at Western Australia back in 2012, he has anchored them to runners-up in the Sheffield Shield competition for two years in a row and victory in the most recent 50-over tournament.
Whether or not the role fills Langer with excitement is debatable, especially considering the chatter that he may replace Darren Lehmann as Australia coach if he chooses to relinquish control after the 2017-18 Ashes. Leading your own country over your arch-rivals would of course make a degree of sense.
Langer closed out his career at Somerset in 2009, a county he has been linked to a future return to, and he also has connections with Strauss from their days at Middlesex around the turn of the millennium. Media speculation over Langer is not as rife as it is for Gillespie, but he is apparently in the mix.
---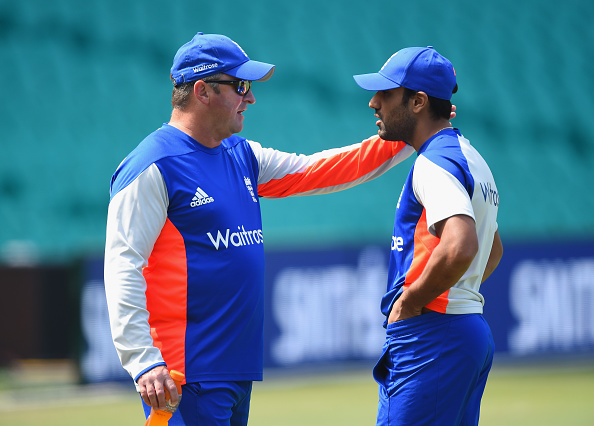 Paul Farbrace
The man who masterminded Sri Lanka's triumphs in the Asia Cup and the World Twenty20 could be a dark horse. Paul Farbrace has quietly slipped under the radar, moving in as coach after Moores was relieved from his duties, and there could be scope for him to adopt the position on a more permanent basis.
Since the wicket-keeper retired from domestic cricket in 1995, Farbrace has worked diligently within the England structure, instructing the Under-19 side and also the women's team, and joined the men's unit as assistant coach in April last year.
With England's first Test of the summer against New Zealand starting on Thursday at Lord's, Farbrace has the opportunity to prove himself on the big stage as a head coach. While his three-month cameo at Sri Lanka was an enjoyable experience – they won two trophies and lost only one match under his leadership – guiding his native country promises to be a much trickier task.
Gary Kirsten
While not a prime choice there are murmurs that former India coach Gary Kirsten may be in the frame should nothing come to fruition with the aformentioned Aussies. The South African is held in high regard by those on the international circuit for his piloting of India during one of their most successful periods, which culminated with a fairytale World Cup win.
Kirsten then went on to coach South Africa for over two years before stepping down in 2013 to spend time with family – the same reason he parted ways with India. His latest assignment has been in the Indian Premier League (IPL) with the Delhi Daredevils who failed to make the playoffs for a third season in a row.
He is perhaps an unlikely prospect to return to a job of such importance but should all else fail, Kirsten is the sort of person with both the ability and record England are crying out for. It would be foolish to categorically rule him out.
Tom Moody
Continuing with the Australian theme, Tom Moody is another from Down Under whose name is being thrown around. It is quite amusing that given those thought to be in the running, whoever is eventually picked will probably be plotting to snatch the Ashes back for England from his own countrymen this summer.
Moody has remained active within the coaching circles despite being out of the international scene for eight years – he departed Sri Lanka after leading them to the 2007 World Cup final in the Caribbean. He spent time at Western Australia and Kings XI Punjab before indulging in commentary; he then came back to the IPL in 2013, taking a role with Sunrisers Hyderabad, a position he is still in.
Something that may go against Moody is his support of the exiled Pietersen, and he reportedly backed out of the race to succeed Flower after concerns over whether he would have the power to choose the players he desired. Paul Downton has now gone, but Strauss seems to have wasted little time in commanding authority in the set-up. Ultimately, whoever England opt for, they may have to accept giving power back to the coach if they wish to attract the biggest names.