Two best games of the World Cup - Controversial catch sends Zimbabwe out and South Africa implode
3.64K //
08 Mar 2015, 01:34 IST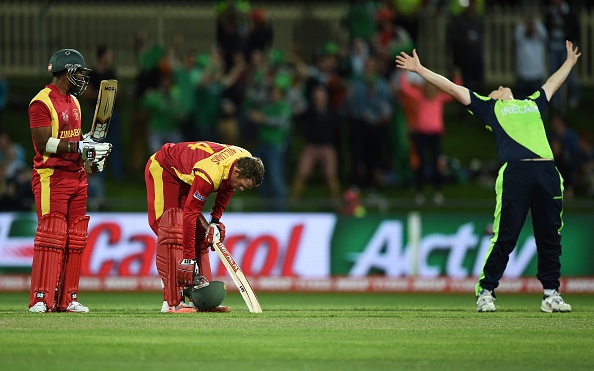 Finally today, I watched the closing overs of the two best games of the World Cup so far today. South Africa, as I have written before, imploded against Pakistan, the most mercurial of sides. Only AB de Villiers took them close against a side that for once showed its true mettle. It was nice to see two very good bowling performances in what was an excellent game of cricket.
In the other, Ireland saw off a late Zimbabwe charge to win again, although the game changed with a controversial 'catch' by John Mooney on the boundary that removed the impressive Sean Williams. For me, it was six, because Mooney's heel definitely moved the boundary marker, albeit slightly as he completed the catch. Yes, he had the ball in his hands so had technically completed the catch, but he should have tossed it into the air while he sorted his feet.
It decided the match, as Ireland won by five runs, but will remain a talking point. Fair play to the Irish side, who have played some good cricket. If they took Eoin Morgan and Boyd Rankin back they would be a far better side than Zimbabwe or Bangladesh. For what it is worth, I think they are anyway.
Zimbabwe are heavily reliant on Williams and the excellent Brendon Taylor, who looks a class apart from his team mates. I remain surprised how he's not yet had a county offer, although his country's near total dependency on his batting, wicket-keeping and captaincy probably leaves him needing a break.
Player moves as season approaches
A further sign of Derbyshire's progress in recent months came today, when I was asked if I thought Derbyshire would be interested in the newly-released Hampshire all-rounder, Matt Coles. Good cricketer as he is, my answer was a very easy 'no'.
Twelve months ago the answer would have been different. Then we had only Mark Footitt, Tony Palladino and Tim Groenewald who you could describe as genuine county standard seam bowlers. With Jonathan Clare missing in action, we were in big trouble if someone went down. Then we released Groenewald after contract discussions and people wondered what we were doing.
Now we all know what Graeme Welch knew all along. We have a bus load of promising young seamers coming through, have Wayne White signed for this summer at least and Jonathan Clare - whisper it quietly - hopefully fit for the first time in a long while.
With such talent on the staff, why would we want another seamer, especially when Shiv Thakor and Alex Hughes bowl it more than respectably too. Coles' track record of indiscipline would be a concern for potential employers, though I am sure there will be offers out there for a lad who has plenty of talent as a counterbalance.
In the last couple of weeks we have seen Lancashire sign Peter Siddle as their overseas player, Nottinghamshire have picked up Darren Sammy for the T20 Blast and Somerset have signed the explosive Corey Anderson for the same competition. Leicestershire meanwhile have signed another talented Kiwi, Grant Elliott, while making a bold offer to Kevin Pietersen to play in the same competition, something that appears set to fail due to his Caribbean Premier League commitments.
Derbyshire's overseas stars post-Guptill this year have still to be announced and quite possibly still confirmed, but I have a good feeling about the coming season.
Enjoy your weekend - I'll be back soon.