Venkatesh Prasad urges Indian bowlers to keep it simple at the World Cup
2.63K //
06 Feb 2015, 11:35 IST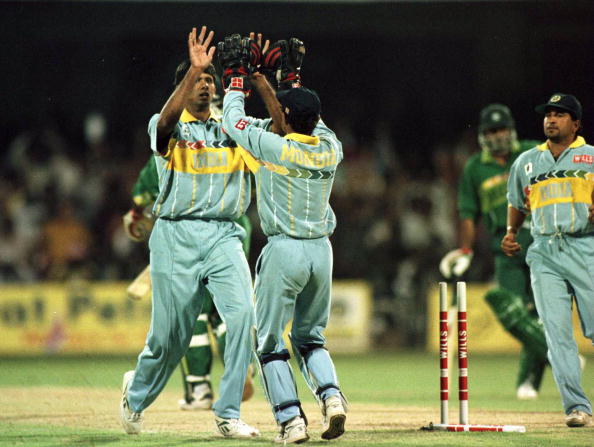 Former India medium-pace bowler Venkatesh Prasad has said that India's fast bowlers should look to bowl a wicket-to-wicket line and shouldn't try and do something extravagant during the upcoming 2015 World Cup down under. The Men in Blue kick off their title defence against arch-rivals Pakistan on February 15 at the Adelaide Oval, prior to which they will play the first of their two warm-up matches against Australia at the same venue this Sunday.
Prasad wants pacers to be consistent
"You just have to bowl stump-to-stump. There is no need to try anything extraordinary. In the shorter format, you just got to keep it tight and not give any width to the batsmen. That is the consistency our bowlers need to develop," the 45-year-old told PTI.
Prasad, who was a part of the Indian contingent in two World Cup campaigns in 1996 and 1999, also added that he was a bit worried about the present form of the team, but was quick to point out that the players have got sufficient amount of rest leading up to the tournament and a win over Pakistan in their first game could give them the much-needed lift that they need.
"To a certain extent, yes.Having said that, the boys have got a gap for about two weeks. They have got the time to fix the flaws detected during the Australia tour. They might not have done well so far but World Cup is a new beginning. Just one win in a high-intensity game against Pakistan, would give their morale a huge boost for the subsequent games," he said.
Prasad bullish about India's chances against Pakistan
Talking about the upcoming India-Pakistan fixture, he said that it will help MS Dhoni's men that they will be playing away from home and added the current outfit wouldn't let the pressure of such a massive game get to them.
"It is a big big match for fans on either side and I heard the tickets were sold out in like 20 minutes. To live up to the fans' expectations is bound to create a lot of pressure on the players. Having played at home and away against Pakistan in World Cup, I can safely say there is less pressure outside India.
"Anyway, I feel this team is very different (from past teams) and would not let pressure get the better of them," the former Indian bowling coach said.
When he was reminded of his own memorable efforts against the Men in Green, he said it is only a coincidence that people talk about him when the particular topic comes up and sounded optimistic that there would be several others who would put in many more great performances in the future.
"My performances against Pakistan has been a sheer co-incidence. It is nice to hear that my name comes up whenever people speak about Indo-Pak World Cup clashes. I am sure there would be many more players, who would create history," he said.