Viva La Rahul Dravid
1.88K //
09 Mar 2012, 19:09 IST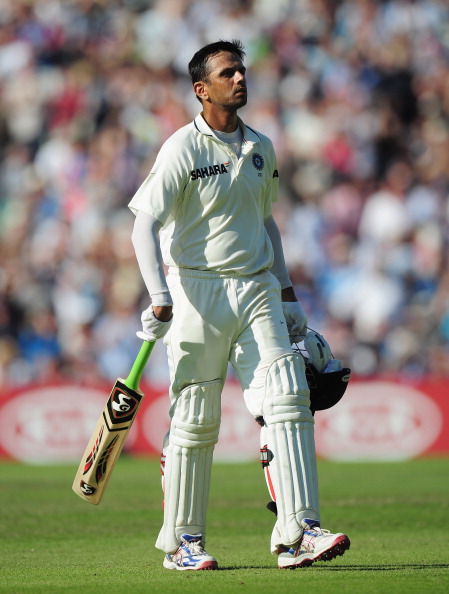 Being Rahul Sharad Dravid must never have been easy. While others in the team have carried the burden of expectations of a billion fans each time they go to bat; you have carried the burden of expectations of these very cricketers, the team managers, and the selectors.
I confess that I am one of the billion people who are guilty of burdening the 'others' with their expectations. But on most days, when I stayed up late or woke up early to watch them play, it was you who made sure that my sleep sacrifice did not get wasted. On most days, when I made plans for the 4th or 5th day of a match, it was you who ensured the match progressed that far.
On most days, when I would go orgasmic about a Sachin straight drive, it was your cover drive that brought me back to the realms of reality. On most days, when I would announce to everyone that Sachin is God, it was you who made me realize that even a human could be divine.
On most days, when the 'Frodos' of the world were lured by the power of the ring, you played the perfect 'Samwise Gamgee', and kept the quest alive.
While the gap at No 3 will be filled by someone, maybe someone as worthy, the void that your exit makes to the Indian team is beyond the runs you would have scored. The sacrifices you have made, the team-first attitude and which has been sacrosanct to you and the struggle you have endured can never be matched. While others have taught us how to celebrate life, you have taught us how to face it, how to fight it.
I still remember the Adelaide test of 2003 when you cut MacGill to the point boundary to bring about that famous victory. Oh what a feeling it was! You were ecstatic too, and you had pulled your cap and kissed the crest on it. I also remember the Edgbaston test of last year where you dropped a sitter at slips. The game was already gone, but that drop still meant so much to you. You shoved the Indian cap to the ground and let out a grunt. Those two pictures perfectly sum up what you feel towards the game. The blue Indian cap with the BCCI crest is symbolic of Indian cricket. And that has been your only way of venting your feelings – no obscene gestures, no abuses, no broken furniture. The cap has meant so much to you – probably the only thing you have ever cared about all your life.
There can be someone who will make 13,000 test runs for his country, but there could never be another Rahul Dravid.
There was a time when I felt that you should just shrug, because Indian cricket did not deserve you. But today when the announcement was imminent, I found myself praying that it would be something else you had called the press conference for. I haven't had enough of you yet.
I somehow always remember the story, "The Last Lesson" (by Daudet) that I had read in my school days. There, the teacher knows it would be his last French lecture. He tries to soak in every bit of detail about the minutest of things around him so that he can live by their memories. I had the same kind of feeling for something as trivial as leaving college. I always expected that cricketers would want to announce their retirements in advance so that they can enjoy "the last match" – the ovation that the crowd gives; the passage which the opposition makes when they come out to bat; families cheering from the stands – carry memories from them to cherish for a lifetime. So the sudden announcement came as a surprise. But then, perhaps, I shouldn't have been surprised – hogging the limelight is something you've never done.
I will never be able to see you again in whites wearing the blue cap numbered 207, but the image of you kissing the crest that day, the utter joy it brought to you as if nothing else mattered, will forever be etched in memory – as will so many others.
You have left us sad, but you have left us proud.
You may no longer be in the national team, but you will always be in our national anthem.
– Someone who is proud to share his name with you.