West Indies tri-series 2013: India vs. West Indies - Five Talking Points
11.68K //
06 Jul 2013, 15:31 IST
India made a strong comeback against the West Indies at the Port of Spain after suffering two consecutive defeats that left them at the verge of an early exit from the tri-nation tournament. The manner of India's victory was uplifting as they replicated the template of success they created at the Champions Trophy with the openers getting India off to a remarkable start that laid the foundation for a 300-plus score.
The Indian seamers, who were given a hiding in the last match against Sri Lanka in the absence of Bhuvneshwar Kumar, looked transformed against the West Indies. Kumar made early inroads and Ishant Sharma threw in a fiery spell after the rain interruption to leave West Indies rattled at 69/5. The spinners wrapped up the match for India.
It was a critical win for India in many ways. It was a test of character for the team after they suffered a humiliating defeat against Sri Lanka. The absence of MS Dhoni's  leadership seemed to have taken the sting out of the team in the last two matches as they looked fatigued and demotivated. It was a test of Virat Kohli's leadership skills to change that in this do-or-die game.
More than that, it was important for India to back up their Champions Trophy triumph with a good performance sending out the signal that they would not slip into complacency. It was important to prove that this young squad had the ability to perform in unfamiliar conditions and was not dependent upon a single individual.
Here are five talking points concerning India from the India-West Indies game:
5. Rohit Sharma is fair as an opener but he needs to improve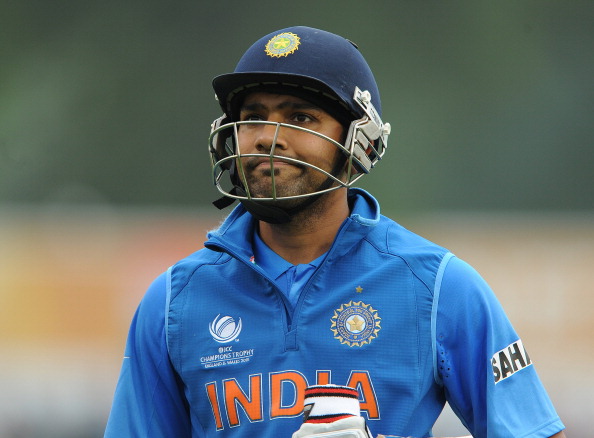 It was yet another hundred-run stand that Shikhar Dhawan and Rohit Sharma achieved for India. This opening pair has been a boon to India's batting, and was the primary reason for India's success at the Champions Trophy.
While Shikhar Dhawan has impressed with the consistency with which he scores his runs, he has the additional quality of making it big. Rohit Sharma continues to let us down on that account. He scored a half century in India's last meeting with the West Indies, and backed it up with useful innings of 46 yesterday, but has failed to score a big century.
It is something that has ailed him his entire career, and the stats prove it.
He has 16 half-centuries in 96 ODIs, but only two centuries in spite of the fact that he has been a regular top-order batsman. He has the tendency of trusting the pitch extravagantly as he uses those expansive shots that get him into trouble. His is a problem of plenty. He has so much time to play the ball, so many shots in his book, that he is confused with the options he can avail. He needs to impose some limitations on his game in order to become a better player.