West Indies tri-series 2013: Match 4 - India vs WI - West Indies Preview
5.92K //
05 Jul 2013, 13:50 IST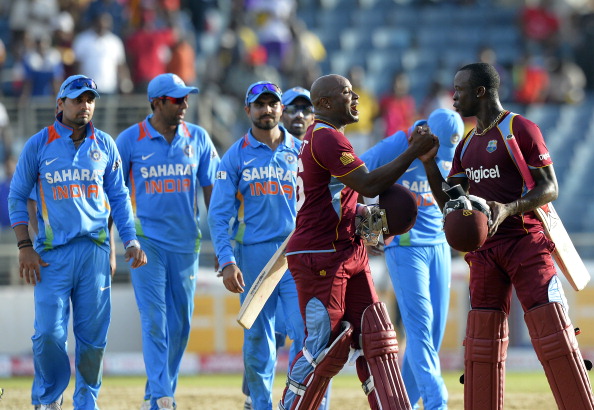 Riding on a high
The West Indian cricket team go into the Trinidad leg of the tour on a high. On the back of their wins against the other two teams -India and Sri Lanka, the West Indies have been outstanding, to say the least.
The match against India at Sabina Park was a nail biter for the team, with oscillating periods of brilliance and sheer absurdity. West Indies take on a winless India today at the Queen's Park Oval, Port of Spain.
The team has suffered from its share of injuries. However, it is expected that Dwayne Bravo who was out with a groin strain will come back and captain the side again. Ravi Rampaul has been ruled out from the rest of the tournament due to a hamstring injury and has been replaced with Jason Holder. Whether he is a part of the playing XI or not, is yet to be seen.
The combination of Tino Best and Kemar Roach worked well for the Caribbeans against the Indians. So it seems unlikely that they'd tinker with that. The track at Queen's Park Oval is spinner friendly and so goes without doubt that Bravo would be backing Narine to take some quick wickets.
It's important however, to keep in mind that they're against the best spin playing side and that Narine, despite being a fantastic spinner, failed to take any wickets in the first ODI between the two teams at Jamaica. So Bravo would be backing the pace attack, and his own subtle variations to restrict the great batting line-up India that has to offer.
The West Indian side has shown that they're not entirely dependent on Chris Gayle. But that doesn't mean that he should take it easy. When Gayle fires, it's a great day for West Indies, as was shown in their match against Sri Lanka.
But Johnson Charles showed us that in the absence of Gayle, the team can depend on him too for solid starts, though he needs to be more consistent. Pollard however has been extremely disappointing, with a total of just 4 runs in the last two matches he's played.
Darren Bravo is in good form and for the sake of West Indians, he needs to get going big, making the most of his starts. Sammy and Samuels upheld the fans' faith in middle-order batsmen, but they need to not throw away their wickets at crucial moments, playing balls that they know they shouldn't, and leave everyone exasperated. They cannot risk leaving the run-scoring to the tailenders always.
Fielding seems to be a comedy of errors for the West Indians. We saw some amazing catches in the deep and slip positions. But we also saw appeals and celebrations for a catch off a no ball. All in all, comedy of errors aside, they're looking serious and fielding superbly.
Players to watch out for-
Chris Gayle - He breathes fire. He slays demons. And sometimes walks back to the pavilion with his tail between his legs. The only man who can get Chris Gayle out is Chris Gayle himself. Kohli should better have a plan in mind while dealing with his teammate from IPL.
Sunil Narine - Kingston being the hometown for this guy, he would be expected to turn the match around in West Indies' favour. He might not take wickets, but he would love to torture the batsmen and not concede too many runs.
Kemar Roach - The right length, the right line; this guy has got it all, along with lot of nerve when found in tight situations like batting at the loss of 9 wickets.
Playing XI (probable): 1 Chris Gayle, 2 Johnson Charles, 3 Darren Bravo, 4 Marlon Samuels, 5 Dwayne Bravo (capt), 6 Kieron Pollard, 7 Denesh Ramdin (wk), 8 Darren Sammy, 9 Sunil Narine, 10 Kemar Roach, 11 Tino Best
Venue - Queen's Park Oval, Port of Spain, Trinidad
Time - 7:00 PM IST
Statistics - 11 games so far have been played so far between West Indies and India at the venue over a period of 2 decades, with different group dynamics and conditions.
The history favours the West Indians with matches won by them being 7 as opposed to 4 by the Indians. However the last 2 games were played in 2011 which is as recent as it gets and those were in the favour of India. Kohli and co. might want to balance things out.
Prediction - It is India's game to lose. In the first match, the West Indians evidently were better acclimatized to the conditions at home. It was a tough fight right till the end. West Indians will look to continue their winning streak with the new instilled confidence on the back of 2 successive wins.