West Indies tri-series 2013: Match 6 - India v/s Sri Lanka: The Quick Flicks
6.11K //
10 Jul 2013, 11:46 IST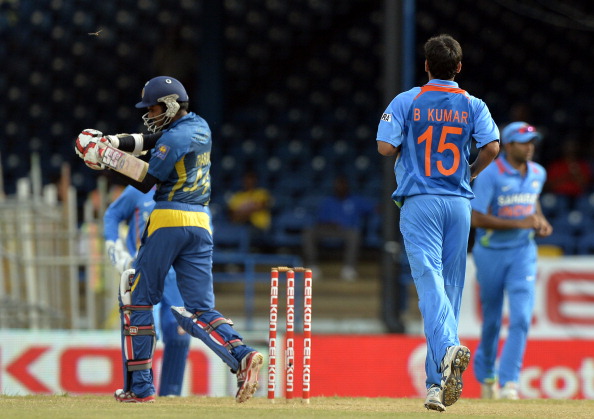 Swing, seam, pace and Test match-style batting – the rain Gods in the West Indies seem to have taken a leaf out of their English counterparts. With games being decided by our very old friends Duckworth and Lewis, the contest between bat and ball has been completely taken out of the equation in this series. Still, there was something to cheer for India as they beat Sri Lanka by 81 runs and qualified for the finals against the same opponents yet again.
Here are the Quick Flicks for the game:
Same foes, same format:
If this sort of thing continues every year, ODI cricket's demise could be accelerated. You see the same faces take the field every time the Indians face off against their illustrious neighbours from the Emerald Isles. Instinctively, you know who's going to play well and even predict where they will play most of their shots (Jayawardene is an example). Not only that, each time these two squads play each other, all the fun goes out of the game during the middle overs. Thank God for the Ashes – I have no wish to watch yet another mind-numbing contest between these two!
Expensive Yadav:
Even in a low-scoring game, Vidarbha pacer Umesh Yadav will concede a lot of runs. On a pitch that had two sides, one of which was a conventional green top, you would normally expect your quicker bowlers to rule the roost. Umesh, however, looks to be going the VRV Singh way (remember him?) – all he does is bowl fast; accuracy, line & length be damned. As a result, he becomes wayward and gives away too many runs.
Compare his figures to his colleagues in the pace department (Bhuvneshwar Kumar & Ishant Sharma) and you know where the difference lies. Swing would be your chief weapon, Mr. Yadav – raw pace isn't the only answer.
"Jeevan" for Rohit:
In the 10th over of the Indian innings, opener Rohit Sharma offered a regulation chance to Jeevan Mendis off pacer Lasith Malinga. The generous soul that he is, Mendis put it down, offering a lifeline to the MI skipper. Rohit went on to score an unbeaten 48. Wonder if Malinga had let fly at poor Mendis – he'd have been running backwards to save his "Jeevan" from the irate slinger then!
Bhuvneshwar on fire:
You drop him for a game and get hammered all over the park by the opposition batsmen. Fortunately, Virat Kohli realized quickly that "resting" Bhuvneshwar Kumar isn't an option when you have such wickets in the Caribbean.
The UP seamer produced a lively spell of swing bowling to pick up 4 wickets for just 8 runs in 6 overs. Looking at those figures, you're reminded of the time when left-arm spinner Sunil Joshi produced a similar magical spell in Nairobi over a decade ago. Terrific stuff!
A good catch to end a lop-sided match:
Trust a speed demon to take out another one. Umesh Yadav sent down a short of length delivery to Lasith Malinga, who fancies himself to be a Sri Lankan Javagal Srinath. Malinga pulled the delivery, certain that it would result in a boundary; but when you have Sir Ravindra Jadeja stationed at mid-on, there's not much you can do. It was the simplest of catches – as if SRJ was telling Suresh Raina: "This is how we do it."
A silly tri-series, to be honest. Sure, there were a few "positives", but not at the cost of injuries to players. Now all that remains is yet another final among the same two sides - ad nauseum.