West Indies vs. Sri Lanka: Five players to watch out for
1.87K //
06 Jul 2013, 17:19 IST
India's victory over the West Indies in the 4th match of the tournament means that all three teams still have a fair chance to qualify for the finals. In that light, the game between Sri Lanka and West Indies becomes critical. If West Indies manage  to win against Sri Lanka, they will have three wins in their bag and will head straight to the finals.
Sri Lanka and India, on the other hand, are level on points but Sri Lanka have a game in hand. If Sri Lanka manage to defeat the West Indies, then the India-Sri Lanka game will decide both the finalists. This is a characteristic of a tri-nation tournament as it allows very little room for error.
West Indies have suffered a blow ahead of the critical match as their captain Dwayne Bravo has been suspended for slow-over rate in the match against India. This was the second time that Bravo was fined and hence the suspension came into effect. Interestingly, he did not play in the last fixture against Sri Lanka either as he was nursing a minor injury.
Kieron Pollard is likely to lead the side inspite of his rather ordinary form with the bat. Sri Lanka, on the other hand, will be feeling high on confidence after they exacted their revenge on India for their Champions Trophy defeat.
Here is a list of five players who can influence the fate of the match:
5. Kemar Roach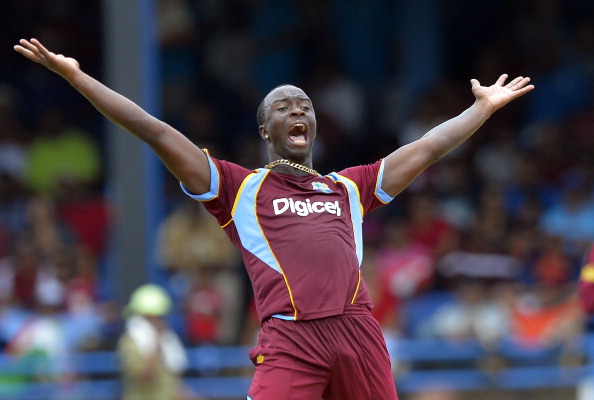 The West Indian fast bowler had a bitter-sweet Champions Trophy but he looks an improved bowler after that experience and has been consistently good in the tournament so far. His statistics do not do justice to the effort that he has put in. He was the best bowler in the first fixture against India but shot a blank against Sri Lanka.
In the next meeting against India, he took a beating in the first spell at the hands of Dhawan and Sharma but provided the all important breakthrough with the first ball of his second spell. He has to perform a specific role for the West Indies by taking wickets up-front even if it means being a little expensive. He has not been backed-up by Tino Best who bowls too many loose deliveries and is intent on pitching it short.