What joy!
715 //
04 Mar 2012, 16:08 IST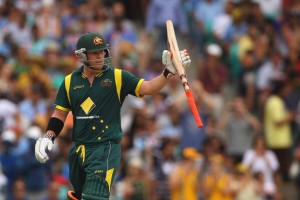 Whether, seeing
David Warner
prance around the field while fielding or bludgeoning the ball with his blade, one adjective can be used to describe the experience of it all – JOYFUL. The short pocket bullet seems to enjoy what he is doing. Even after scoring a century, he keeps running between the wickets like how he was at the start of the innings. He pushes for the 2s and 3s even at the climatic end of his innings.
Something more than blood and sweat drives this man. That is what passion can do. That manic urge to make a difference and be involved in the game in every stage. This is what Jonty Rhodes was known for and now Warner is a better version of Jonty in that, he can whack the ball like no one else in the game right now.
A solid investment for the future. He is already being talked about as a future Aussie skipper. He is also one of those rare Aussies that has not fallen into the ugly circle of sledging and dirty politics. He plays the game hard, fair and square. One of those rare old school cricketers who respects the game and plays it in true gentleman spirit.
He has had a rather inconsistent start over the past few years. He has been a star in the T20 version thanks to his exploits in the various T20 leagues around the world. But, the metamorphosis into a complete cricketer is slowly but surely happening. He is putting a prize on his scalp and started playing long innings. Bowlers around the world already feared him and now with the increasing appetite for runs, he will be feared even more. His strike rate hovers around the 80 mark whether it is the Tests or the ODIs. That 180 catapulted him into the big league. The way he batted that day sent the Indians running for cover. It was a delight to see him tearing apart the hapless Indian bowlers.
The Aussie think-tank have done well to persist with him off late. He is getting a fair deal and he is making it count. An inconsistent CB series was turned around in grand style today, with a terrific 163 played across the entire length of the innings.
Talking about Warner and stats in the same sentence won't do justice to the sheer energy and vibrancy he brings to cricket. This 25 yr old isn't a great by any means. His stats are pretty novice-like. But, the manner in which he plays the game is what sets him apart. If he can maintain the same "joie de vivre", his stock will zoom in the coming years.
For now, he has got a new fan and am pretty sure am not alone in this club.