Team India's new endorsements
1.28K //
21 Mar 2012, 12:13 IST
As I write this, India has lost eight test matches in a row and two high profile One Day International tournaments, failing to even qualify to the finals. This possibly is ICT's (Indian Cricket Team's) worst run on the international platform in the past SEVEN years. It is SEVEN years since Dhoni made his debut. SEVEN is Dhoni's jersey number. So, does all these have any possible connection? Of course.. not. Losing to teams like Australia and England, who are definitely weaker on paper and paler in reality, than the Indian team is a worry. It is a worry of disastrous proportions that senior citizens and home makers are contemplating on switching back to television soaps and quit watching the games featuring India. Mothers, who thought the tour to the island continent will reinstate the goody-goody habit of making the children wake up early, have also started lambasting the team's performance.
So essentially it was no Agneepath series in Australia. It was the Agony-path series. No thunder down under. It was complete blunder down under and now, to the right of us. On one hand of the many hands, this tour may change quite a lot for the current crop of players. Careers may end. Careers may change.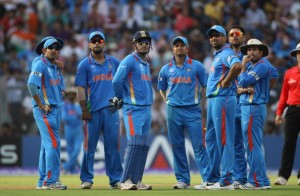 While we have witnessed quite a lot of stuff we weren't aware of – like the presence of a gap in 'The Wall'; the existence of something slow than a snail – Vinay Kumar, somethings never change. My knowledge about the tactical fine points of cricket is the same as Duncan Fletcher. Even the Indian government can possibly strike a deal for Uranium/ Thorium import or seek concessions in Thomas Cook holiday memberships in return for the butt kick received by the Indian team. After all, we have done them a favor that has uplifted Cricket Australia and the careers of Ricky, Hussey etc. It is now a regular sight where we see " Dhoni is a Bohemian/ Golden Boy!!" chants when we win, and " Seniors should retire!!" chants when we stare at the threshold of humiliation. There exists a lot of petty arguments, never ending discussions amongst every citizen.
Hence, after this tour Down Under where we are completely Down and Under, at least on the non- professional angle, I suggest certain products which the players can opt to be brand ambassadors for. These products have been suggested with utmost equity keeping in mind only the caliber and the relevance of the player with that of the product.
-DOMINO'S PIZZA for VIRENDER SEHWAG. Hungry Kya? Domino's Kha! Apparently, it is the pizzas of Domino's that makes Sehwag not stay at the wicket for not more than 10 overs. He likes 'em Haawt.
-NECC for VVS LAXMAN- The slogan of National Egg Coordination Committee says it all- " Sunday hoya Monday.. Roz khao Ande". It can be tweaked to " Sunday hoya Monday.. Roz milna Ande!" with Laxman featuring on it. With Laxman's recent fantasy and admiration for the big O, it seems perfect.
-VIRAT KOHLI for KFC- It is MIDDLE Finger lickin' good. What more do you want?
NEW McDOWELL'S for M.S.DHONI ( McDOWELL'S v 2.0 ) M.S.Dhoni has made it large. He has now made it very small. To all those who want to make it small, we have McDowell's v 2.0! " It is your life only, please make it small"
-TRIM WELL SALONS for GAUTAM GAMBHIR-No one knows to cut like us. Just like Gambhir, who knows only to cut. Be it square cut, cut to slips or the 3rd man cut.
-QUIKR.COM for VINAY KUMAR. Please.. Oh! please Get Quikrrrrrrr.
-ZAHEER KHAN for Hansaplast. Perfect ambassador. It is been long since he completed a tour fully. Well, almost this time. Against Australia, his hands are also a plast.
-ISHANT SHARMA for Snapdeal- Get 50% off on short balls. They end up as half volleys. For every good delivery bowled, one NO-Ball is free. For every delivery that happens to go past the outside edge, there will be two deliveries pitched up!
-R.ASHWIN for The iPhone type products. Apple iPhone has the brand line- ' If you don't have an iPhone, well.. You don't have an iPhone'. Similarly, ' If you can not spin the ball in Australia.. well, you can not spin the ball in Australia". Maybe, he can sign for I-Ball products too..
-RAVI SHASTRI for Center Fresh. Dear Ravi Shastri Zubaan pe Lagaam!
Finally, the entire squad can star in Maggie Noodles. In a hypothetical two minute equivalent, the Indian team batting is done and dusted. If you feel Noodles ain't fun, you have the new innovative item- Soup-A-Dhoni. It is more fun than Soup-A-Roni and definitely adds to the variety.
I am not a Jerry Maguire. I am not even close to being a sports agent nor marketing manager. This is done purely as a service to the Indian team's individuals for their personal upliftment.