What really happened during India's CB series
6.45K //
10 Mar 2012, 19:13 IST
Needless to say, it was a series marked with controversy. After a disastrous test series against Australia , the last thing India needed was a rift in the team. So what really happened? Are the media reports true? What was the mood in the dressing room like? Here is the actual summary of the CB series.
Dhoni had an ingenious idea of a rotation policy for the openers. This model was apparently based on his 8th grade solar system project where the sun just exists, and planets revolve around it. Dhoni existed. The rotation policy worked like this. Assume  Sehwag and Gambhir opened the innings for the first game. Sehwag would then go out and Sachin would come in for the second game. Gambhir would not play the third game and Dhoni's milkman would come in for him. This way, equality was ensured.
However none of this seemed to affect Dhoni. He played a crucial hand in winning a game against Australia, staying till the end. Gambhir seemed skeptical of Dhoni's effort with his statement at the presentation ceremony, "I don't think the match should have gone till the 50th over. I think we should have won today's one day match yesterday itself". Clearly things did not seem well in the camp.
The rotation policy was questioned and ex-players were not supportive of it either. Dhoni justified the policy saying "Well, we want to look at youngsters. Our seniors have dandruff and it is a setback to us. We would rather have young men with a fresh set of head and shoulders". This ignited a huge controversy in the media. How could Dhoni accuse the seniors of having dandruff? The media was abuzz with ex players condemning Dhoni for such a regrettable statement. The next press conference by Sehwag only added expensive LPG to the fire. On a question by a journalist about Dhoni's accusation of the seniors being responsible for dandruff in the team, Sehwag chuckled, lifted his cap up and cheekily said "Have you seen my head?".  Birla Planetarium later issued a statement advising journalists to not look at it with the naked eye.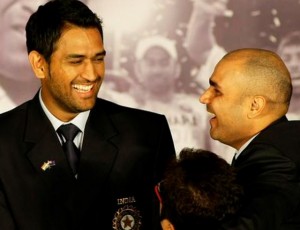 The series was an alternating drift of highs and lows. When there was no hope left of making it to the finals of the CB series, Kohli played a completely fanatastic knock of 133 giving India a chance to make it to the finals. Dhoni commented "There is nothing much we can do after this game. We would be spending time shoplifting for the next two days. Let's see". The press and the public were in complete awe of Kohli. A news channel conducted an sms poll asking "Is Kohli the next Kofi Annan?" with the options A.) Yes B) No C) Kohli is the next Monica Bellucci.
Meanwhile Sachin's bad run with the bat drew much ire from ex players. Kapil Dev was suggesting LIC retirement options for Sachin. Ganguly followed suit and questioned his place in the team bus. This angered die-hard Sachin fans and Facebook was filled with slightly disrespectful anti-Kapil messages . One fine day, Kapil Dev called for a press conference at 8.30 pm to clarify his opinion on Sachin's retirement. Dev started,"Well, I think its time for Sachin to", paused Dev for a moment, noticing an angry Sachin fan glaring at him from the corner of the room.  Dev resumed, "Yeah, as I said, I think its time for Sachin to…ahem…have dinner. I mean, its already over 8.30 now". Some peace ensued.
Meanwhile, the chairman of selectors, Krishnamachari "Shuddup your amma's bloody mouth" Cheeka was picking the team for the Asia cup in Dhaka. While announcing the team, Cheeka tried to be politically correct and avoided using the word "dropped". He stated,"Sehwag and Zaheer Khan have not been dropped at all. We have just got them enrolled into art of living classes.  So "art of living" it is and not "dropped"". However, Ravinder Jadeja was not enrolled into art of living classes despite a string of bad performances.
The series ended on a rather disappointing note for India due to a Sri Lankan win in the last league game. Dhoni had to end his shoplifting spree and pack his bags.
P.S:
A few days later at a very crowded mela.
Sehwag: Excuse me, have you seen my wife?
Attendant: Sir, please don't brag.
Sehwag: No, I mean, she is lost.