What went wrong with Kohli in the Test series against England?
772 //
01 Dec 2012, 09:17 IST
India losing to England – that too in India – have raised a lot of questions in the minds of cricket fans about the future of Indian cricket. There are many failures in the second Test compared to that to the first Test, but there are a few who failed in both. Sachin, who is considered as the best of all time and God of cricket, has performed below par to his standards and everyone in the world is discussing about it; let's leave it to them. The other failure is Virat  Kohli – India's most consistent batsman over the past two years and ICC Player of The Year for 2012. He is the only player who scored a century in India's tour of Australia earlier in the year and he had played a gem of an innings in the match against Sri Lanka in Australia, where India won with 13 overs to spare. It what was a must-win game for India, he played an innings of the same kind in the Asia cup later in the year where he scored 22 fours and 2 sixes coming to bat at 0/1. He has scored 1,381 runs in the last academic year when he was not a regular member of Test team.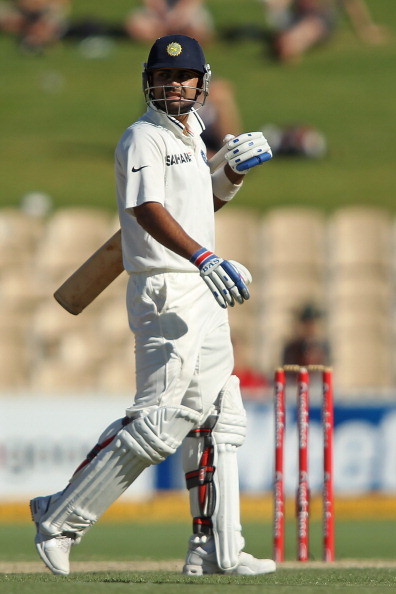 Coming to these Test matches, I have seen quite a few changes in Kohli's batting. He seems to have changed his style of play as he is playing Test matches. If you see all the innings in his two Tests, he has scored 19 runs in 67 balls at a strike rate of 28 which is not his style of batting. Playing a lot of balls is not an issue, but changing the game and trying to play something different which is not his original style is one of the reasons why he has not performed this series, according to me.

One more reason is the number at which he bats; he used to bat at number three where he can play shots as he has a lot of batsmen to follow, but in Tests he is batting at number 6 where he has to choose his shots accordingly as he bats with lower order batsmen. He is a perfect No.3 batsman for the Indian ODI team, but in the Test team it is tough for him as Pujara is batting really well and as a batsman, you cannot expect him to bat at a particular number; as a professional, anyone has to be ready to play at any number required. So Virat has to just get used to batting down the order and try to contribute for the team as much as he can.

If we see Virat's batting in ODIs this year, we can see the elegance in the drives, his fearlessness to play shots early in the innings and perfect shot selection as the reasons for his success. But when you see him batting in the Test innings, we can see the tentativeness in his batting and him not being ready to play shots early in the innings, which could be a reason for his non-performance. The perfect example would be his second innings dismissal where he got out to a full toss.

In the previous Test series against Australia, where Dravid and Laxman were playing, his place in the playing eleven was not sure and that made him perform at his best and now with both the seniors retiring, his place in the team is almost obvious and that might have gotten him getting carried away as his technique is the same, but there is a difference in his temperament. I know it's too early to use the words getting 'carried away'. Scoring 13 centuries in 90 ODIs is not ordinary; he is one of the best of the present time and his batting is always a treat to watch. So I hope he is not getting carried away.

He is one of the best in the world, and he is one of the most promising players for India. He is expected to play for India for a long time. India needs Virat to score runs and play well than any other, as he is the future of the Indian side and all of India wants him to play well against one of the world's best bowling lineups. According to me, Virat is the best of all the present generation players and I always loved watching him. I want him to rise to the occasion and score runs for the team.

tyle="text-align: justify;">