When the going gets tough, even the tough find it tough to get going
922 //
15 Mar 2012, 16:49 IST
Sport is fantastic; there is so much to learn out of sport each day. Sport teaches you to live your life independently. Sport has this remarkable ability to pull you down the moment you start flying with success. Nothing comes easy in sport. If it is easy, you have to quickly comprehend that you would never be primed for a challenge. If you don't sweat it out, you have to start worrying.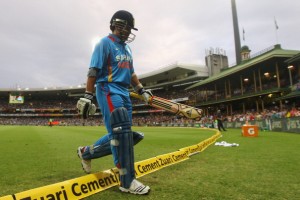 There can be no greater satisfaction for sportsmen than breaking the shambolic shackles of the slump and emerge with epochal triumph. That is probably the redemption sportsmen seek to achieve when ditched by poor form. The journey during this phase could be demoralizing. Everything you touch turns out to be a failure. The world looks like a place you'd rather not live in.
One of the most common mistakes that sportsmen attempt to do is to get too anxious and eager to perform better. Highs and lows, victories and defeats are supposed to be part and parcel of sport. When you're on a personal low it becomes very tough to even accept the cliche. The anxiety makes you work harder than usual to make yourself better. Patience becomes key, especially when you are on a low. But seldom sportsmen remain patient in such a phase. No one loves negativity. Hence, the eagerness to perform really well increases thus losing completely on the aspect of patience. More often than not, you tend to lose yourself. You would wonder where all your strengths have vanished all of a sudden. Only in such phases of life, the real temperament is tested.
Cricket for instance, is a sport that carries a brilliant uniqueness of providing the individual space like no other yet holding the essence of team game. As a bowler, you tend to try too much. You would know that you're not going to pick up a wicket each delivery. But the anxiety pushes you to do the same. More the effort you put to pick a wicket each ball, more the energy you expend. And that's it. You wouldn't get the results !
These days, I find Sachin Tendulkar pushing himself that extra mile to achieve that elusive landmark of his 100th ton. In that process, he has failed to achieve that landmark on 33 occasions, for over a year now. Just like how a bowler attempts to pick up a wicket off every ball during dull periods in his career, I reckon the batsman in Tendulkar tries a lot to get that hundred. Or at least, that is the picture that I get to see from outside. It is almost like attempting to push that monkey off your back as early as possible. A wicket could do wonders to the confidence of a bowler. On similar lines, you would be able to see a different Tendulkar once he eventually touches that landmark.
Team sport, has got its own set of advantages and disadvantages. When the team does well and you continue to flounder, the team provides you the bandwidth to stage a comeback. It can afford to carry a player who fails regularly. I clearly remember how bad Sourav Ganguly's form was between 2001-05. He failed consistently. For a batsman of his caliber, Ganguly merely averaged 35.86 in Test cricket. He, however, found a way to get carried along with the team. But the moment the team started failing, Ganguly was among the foremost to be dropped!
Such travesties in team sport only suggests that the game is much bigger than the individual. The team cannot afford failures because of the individual's failures. It gets even tougher when the competition keeps growing for places in the team. With individual sports like tennis, golf and badminton, the competition and failures take a completely different meaning altogether. However it isn't the same with team sport.
When form deserts you, you start thinking everything around you will go wrong. More often than not it is with this restless mind that all problems start swelling even more. As a batsman, you would start hitting the full tosses straight into the hands of the close-in fielder. Remember, Tendulkar's latest dismissal? You would fall for poor umpiring decisions and on other instances, in an attempt to do a jail-break, a rash shot would be the reason for your failure. Adding to that, a moment of brilliance by the opposition might also lead to the dismissal. You tend to think, "Why do you have to do this to me now?". The bowlers have their own set of problems to worry about. The bowlers tend to over compensate a lot. If you keep bowling short in one game, in an attempt to correct it, the length goes way too full. If you consistently miss your line, the effort to correct the line also goes awry. The wide would remain a wide. It is just that the line would change from leg side to off side. The pace drops. The wrist position, the run up and even the follow through gets affected somewhere or the other. Mentally, the preparation takes a beating. When that happens, you are most likely to get on the field half-baked and under prepared.
There would always be a million questions running every minute in your mind when you keep failing. Most of them would put you in a fix. They would be the ones you would find very hard to get an answer for. One of the most common questions that lie in minds of sportsmen is – "When I can do well during practice, why is it that I am unable to replicate it on the field?" There are few questions for which only time has the real answer. You could stroke the ball beautifully every time you walk in and yet not continue to score. Then there would be the other occasion when the feet just simply don't move for a swinging delivery. The result – caught plumb in front. As a bowler, you might keep missing the line you tend bowl day-in and day-out. Above all, the mind remains cluttered.
How much do we love Tendulkar when he bats in a relaxed manner? How much do we see the same relaxed Tendulkar these days? Staying relaxed on the field is a very important aspect for a sportsman at any point of time in his career. But it is again, easier said than done. The willingness to break the cocoon and get out to breathe the air of freedom remains the top most on the priority list for the procrastinated mind. On the field, you tend to lose yourself. The cluttered mind wanders unnecessarily. There is silence written all over you. Larger the field, the lonelier you would feel. You wonder, if you would ever get to reclaim your wonderful past once again. The desire grows!! Advice and criticism pour out from all parts of the world around you. Do this. Do that. Sadly you turn out to be deaf and resistant to all .
The cluttered mind pushes you to choose the easiest option – give up. It is understandable that each sportsman walks in with an expiry date. Any attempt to extend beyond the expiry date would only turn out to be futile. When you're particularly close to the expiry date, the mind traverses into a territory that questions your mere ability to perform and compete on a level playing field. Can you continue contributing to the team's success? Do you still love the game as much as you did five or ten years ago? The best solution to such a situation is to not even try answering them. On all probabilities, the answer would only be negative because when emotions run high, you lose the balance in your thoughts itself.
At the other end of the spectrum, as a green horn, you have a lot to prove. When you're hit hard by failures, it tests your mental ability to stand back on your feet once again. More than the technique, the mind is tested a lot at the top. Until you get into your comfort zone, life would be very hard. You might still think of – giving up – as an option. But think again! There is a long route of glory, success and joy waiting for you.
At the end of it, it is just a moment of magic that would change the fortunes. May be little luck would also help. A beautifully timed stroke or that out-swinger crashing on the timber unexpectedly or that lovely forehand spin across the court that you've missed for so long! The game is a lot like life. Success and good form don't always follow you. The beauty of sport lies in such challenges. The day you conquer failure and banish the darkness, you would emerge a much stronger personality. That day, you would see the man walking with a bucketful of satisfaction. That day, you would see the man with a relaxed mind and clarity of thought.
Until then, it is a gruesome duel within you.