World Cup Mid Term Report- India
712 //
10 Mar 2011, 21:07 IST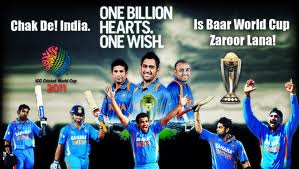 The Indians after their less than impressive display against The Netherlands stay undefeated and top their group. So what's the report on their World Cup so far?
I'll bring my Teachers' marker out and run a rule through them
Strengths
Duh!-The key one is the Indian batting which in every regard is exceptional. They have class, composure, grit, skill and brutal hitters. In a word in regards to batting they have it all and so much more! Another strength of the Indians is that they neutralise other typical Asian Teams. In the sense that a typical Asian Team is so reliant on spin, but against the Indian spin is about as useful as battling a dragon with a toothpick!

Weaknesses
As good their batting is their bowling is as bad……….
In the bowling unit only Zaheer Khan can be relied on to be a strike weapon and to a lesser extent Harbhahjan Singh. The rest are very much average plodders who rise to the task on occasion. Though more often than not get flayed or treated with contempt. Also the fielding is very much below average.


Possible Improvements Going Forward


1. The Fielding Has To Be Improved
In truth you can't make average bowlers better if they haven't the skill. But you can make them look better by supporting them on the field. A bit of desperation in the field not only lifts the bowlers prospects but frustrates the batsmen which may lead to a dismissal.


2. Play Ravi Ashwin
The Indian's have two options which they should look into. Either discard Piyush Chawla and include Ashwin. Or play them both in a three spin attack with the thought of pitches favouring spinners going forward. In Ashwin you have an off spinner bowler with a lethal carom ball. So he's very much unorthodox and against Teams he may be a factor with his shock value. Plus aside from this as seen in T20 he's a very accurate and efficient bowler that leaks few runs.


3. At every Chance Bat 2nd
This is on the back of having faith in the quality of their batting to chase any total against any line up. Also it shields their bowling somewhat in this knowledge of the batting strength. And the fact that a Team being on top of the bowling in defending a total isn't a factor. As seen against England, the attack went to water against Andrew Strauss's counter-attack and only the brilliance of Zaheer Khan saved them.


4. Pray For Fates Fortune In The Quarters Draw
The Indian's will more than likely finish 1st or 2nd in the group depending on the South African game. So they'd be praying to either get Australia or New Zealand in the Quarters rather than their old sparing partners from the other Hyderabad in Pakistan.

XFactors


1. Ashish Nehra and Ravi Ashwin
The inclusion of a for Nehra provides another string to the Indian bowling unit which they desperately need. If he can be a key contributor it can be a huge advantage for India. The shock value of Ashwin too can have a role to play for India in this Cup.

Prediction
I can't see India winning the World Cup on the basis of their bowling being rubbish. Granted their batting is awesome, but it can be neutralised by the better bowling Teams. I think them getting to the semis or even Final will depend on the future matches especially in the quarters where they'd hope to avoid Pakistan