You won't believe what a crazy fan did for Yuvraj Singh
4.20K //
12 May 2015, 09:37 IST
Yuvraj Singh's cricketing acumen and his personality, have always ensured that he attracts the attention of his fans. Add to that his swashbuckling looks and you see why he has a huge female following. With so many fellow fans to contend with, it must definitely be hard for his fans to get his individual attention.
At least that's what Huma Anjum(@HumaYuvi on Twitter) thought, and so she went the extra mile to get his attention. Huma works for UC Browser as a Product Manager and is, apparently a huge fan of the player. It all started when Huma took the liberty of uploading a quiz on UC Cricket of UC Browser, India's leading mobile internet browser.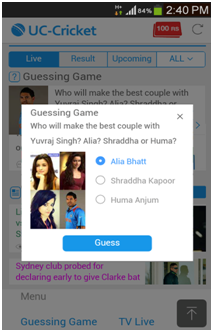 The quiz asked people to guess Yuvraj Singh's latest girlfriend, the options being Shraddha Kapoor, Alia Bhatt and yes, Huma Anjum herself.
People participating in the quiz got the surprise of their life when they clicked on any of the options, as whatever they did click, the answer was always Huma Anjum.
The news did not go down well with Yuvraj who took to twitter to retort to the company saying "Just noticed something on the phone!, Koi batayega ye Huma kaun hai?", but afterwards mellowed down and was polite in his response.
Huma then posted a video via Twitter apologising to the player for the incident. She also proclaimed her love for him and has expressed her hope that she'll be able to meet him one day. We can only hope Yuvraj takes the whole prank in jest and obliges his fan with a meeting.
Check out Huma's video message for Yuvraj here and tell us what you think about it: