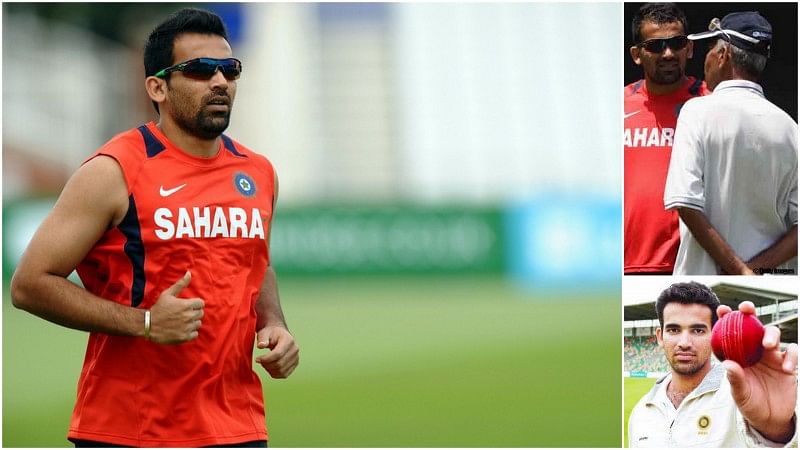 Sudhir Naik, the man who spotted the 17-year-old Zaheer Khan back in 1996, held forth to Midday on Thursday about the early struggles that the left-arm pacer had to endure, thus building his steely attitude and inculcating in him a fierce determination to succeed, traits with which he served India from 2000 till the glory of the 2011 World Cup, and a few years more.
The 37-year-old Indian bowling spearhead of the best part of the 21st century, who announced his international retirement on Thursday, had to stay with his father's aunt in a tiny hospital room in South Mumbai for many months in the mid-90s to realise his cricketing ambitions, as revealed by Naik. Zaheer had no proper arrangements to sleep, and would sleep on a bedsheet without a pillow.
"Zaheer was staying with his father's aunt. She worked at Saifee Hospital (Charni Road) and had a small room in the hospital. For the first seven to eight months, he did not have a proper place to sleep. He just slept with a chaddar (bedsheet); no pillow," said Naik.
"He must have played a lot of matches without breakfast and would prefer spending most of his time in the National CC tent or play tennis-ball cricket in Grant Road after practice. He would only go to Saifee Hospital to sleep."
Feared Zaheer would injure batsmen with his pace: Naik
It was Naik himself, a former India cricketer and the coach responsible for unearthing players like Zaheer and Wasim Jaffer, who stepped into Zaheer Khan's life at this difficult stage – he got him enrolled in National Cricket Club, got him a job at a textile factory that paid Rs. 5,000 per month, and convinced his father to let the youngster pursue his interest in cricket in Mumbai instead of going back home to pursue engineering.
The promise that the veteran coach had seen in the young Zaheer was in fact realised – he finishes his career as the second highest wicket-taking seam bowler ever to have been produced in India, only behind Kapil Dev. He would debut in the Ranji Trophy three years later in 1999, and get a national call-up the very next year.
With the job at Mafatlal Industries, Zaheer could afford his first cricket kit, a moment that the coach remembers as one where happiness shone from his face. Naik also arranged that shoes be arranged for him from the National CC's funds.
"I told his father that he should not think of Zaheer pursuing his engineering career. I wanted him to stay in Mumbai."
As to how Zaheer bowled when he first came in for trials as a 17-year-old, Naik said, "He was completely raw. There was no line and length, but he had very good pace. After bowling for about 40 minutes, I stopped him, fearing he would injure a few batsmen. I then made him bowl in a net, where he had to just focus on hitting a single stump. He was really good and I decided to continue with him."
---