Honkai Star Rail is the latest turn-based RPG from HoYoverse, emphasizing team building and individual character loadouts. One of the several 4-star characters for players to get their hands on is Natasha, a capable doctor from the Underworld city of Belobog. Natasha is a healer with a unique suite of skills that make her very useful in any team composition.
Read on to learn more about her ideal build as well as her skills in Honkai Star Rail.
Note: This article represents the author's opinions and is subjective in nature.
---
The best Natasha build in Honkai Star Rail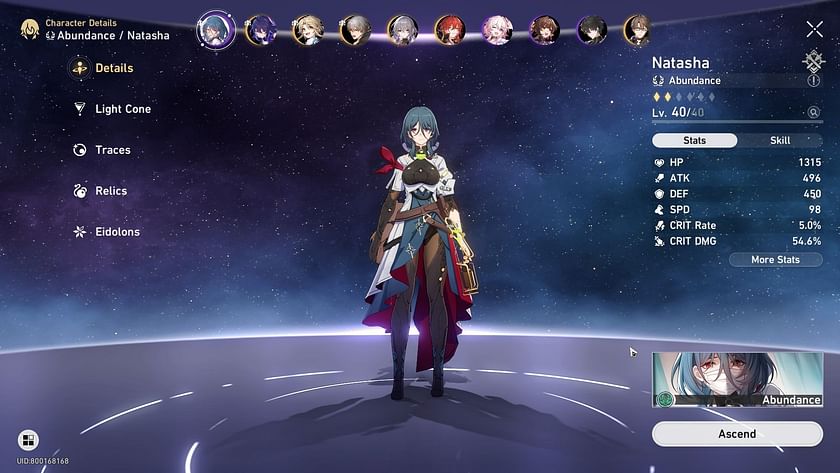 Natasha is a 4-star unit obtainable via the game's gacha, or after completing a part of the campaign in Jarilo-VI. She is a physical damage dealer following the Path of Abundance. Natasha can heal allies using both her ultimate and skill, and her best build, sorted into subcategories, includes:
1) Light Cones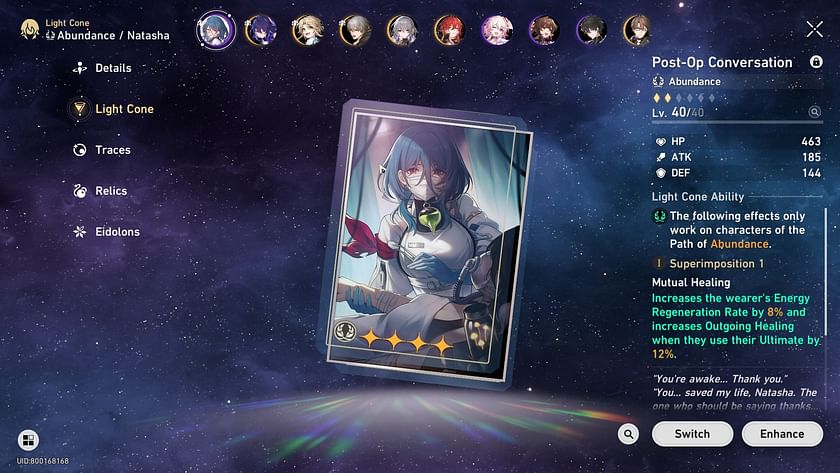 There are a total of three Light Cones recommended for Natasha based on her role in the team:
Time Waits for No One: This 5-star Light Cone increases Natasha's maximum HP and outgoing healing by a set value. Time Waits for No One is the ideal choice as Natasha's healing scales with her own HP. Additional perks of the Light Cone include bonus damage based on the HP regenerated.
Post-Op Conversation: This is Natasha's signature Light Cone and is locked behind the gacha. The 4-star Light Cone increases her energy regeneration rate by 8% and her total healing output via ultimate by an additional 12%, enabling her to use AoE heals faster.
Cornucopia: This 3-star light cone is a solid option for free-to-play players. This Light Cone simply increases Natasha's healing by 12% on both her skill and ultimate. The skill can be further augmented to a value of 24% when completely superimposed.
---
2) Relics and Ornaments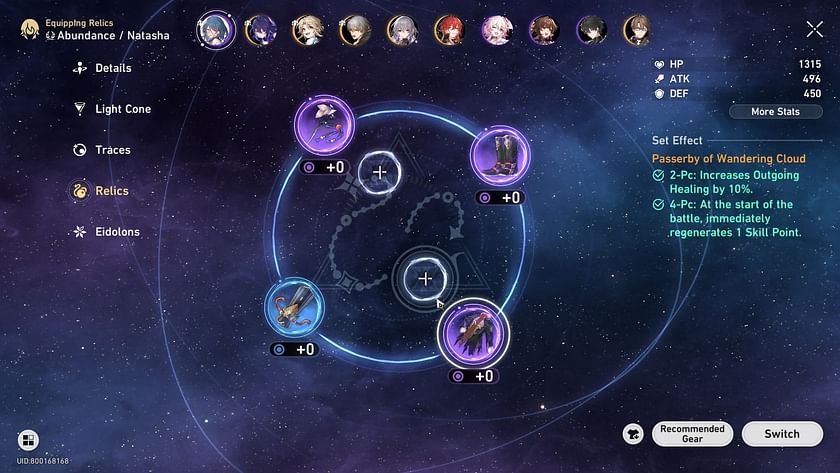 It is recommended to equip the Passerby of the Wandering Cloud Relic set for Natasha, which is obtainable by grinding through the many boss fights Honkai Star Rail has to offer. This particular set increases her outgoing healing by 10%, and equipping 4 of these Relics will activate yet another passive, which regenerates one skill point at the start of a battle.
For Ornaments, the Fleet of the Ageless is recommended. This particular set increases Natasha's maximum HP by 12% and provides an 8% attack buff to all allies when her speed is at 120 or above.
Make sure to prioritize Relics with values in both HP and Outgoing Healing.
---
3) Abilities to prioritize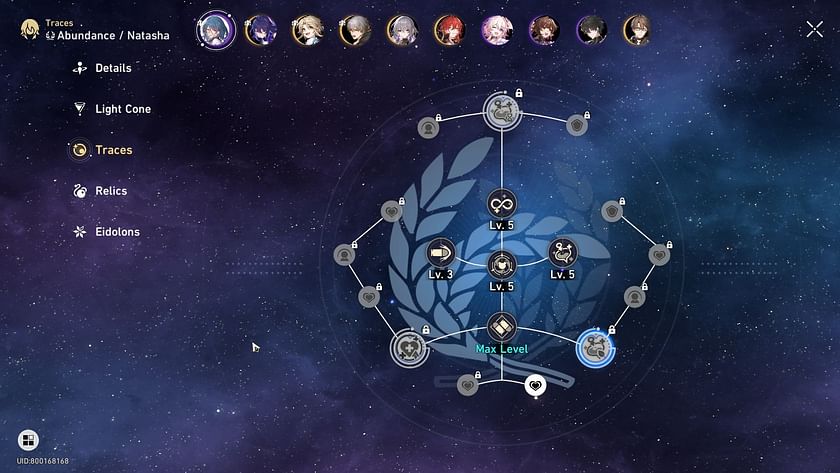 While Natasha's basic attack can deal a sizable amount of Physical damage, attention should be drawn to her skill and ultimate for healing purposes. Make sure to level up abilities and passives to reach her full potential.
---
4) Eidolons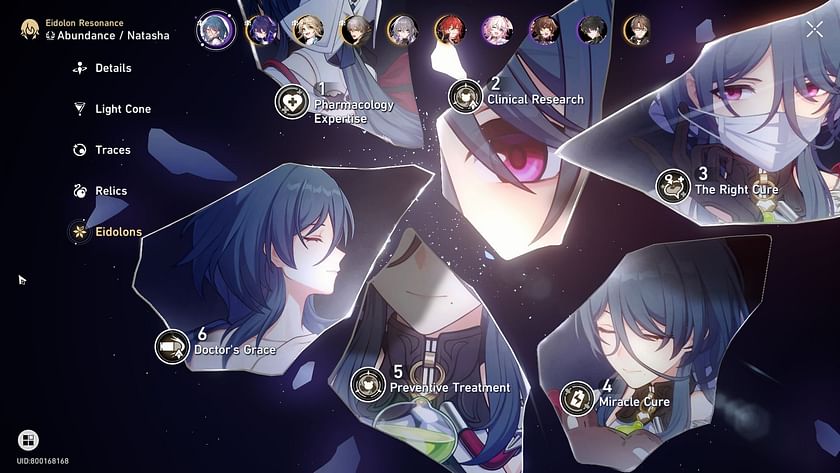 Like all characters in Honkai Star Rail, Natasha also possesses Eidolons - a way to fuse together duplicates of the same character to unlock additional skills. Natasha can unlock the following six Eidolons:
Pharmacology Expertise: Restores a set portion of HP to self after taking damage, once per battle.
Clinical Research: After using ultimate, grants continuous healing to all allies with 30% or lower HP for a single turn. Additionally, a set amount of HP is restored per turn for these units.
The Right Cure: Increases the skill level by two points, up to a maximum of 15.
Miracle Cure: Generates 5 Energy after being attacked.
Preventative Treatment: Increases the level of the ultimate by two points. Caps out at 15.
Doctor's Grace: Basic attack now deals additional physical damage equivalent to 40% of max HP.
Each Eidolon unlocked further improves upon Natasha's kit and is a worthwhile investment. However, players looking to use Natasha solely as a healer need not worry about the final Eidolon.
Honkai Star Rail was released on April 26, 2023, for PC and mobile devices. A PlayStation port is also in active development.
Edited by Ritoban "Veloxi" Paul