Genshin Impact 3.4 leaks from credible sources have revealed more about Alhaitham's debut banner. Travelers were already aware of Yaoyao as one of the four-stars being featured.
The new leaks have revealed the other four-star characters that will feature in the Phase I banners of the upcoming patch.
Keep in mind that HoYoverse is yet to officially reveal the four-stars that will be featured in the first half of the patch 3.4 update. Take these leaks with a grain of salt.; however, credible leakers have a good reputation in the Genshin Impact community for their accurate leaks.
---
Genshin Impact 3.4: New leaks reveal 4-stars for Alhaitham's debut banner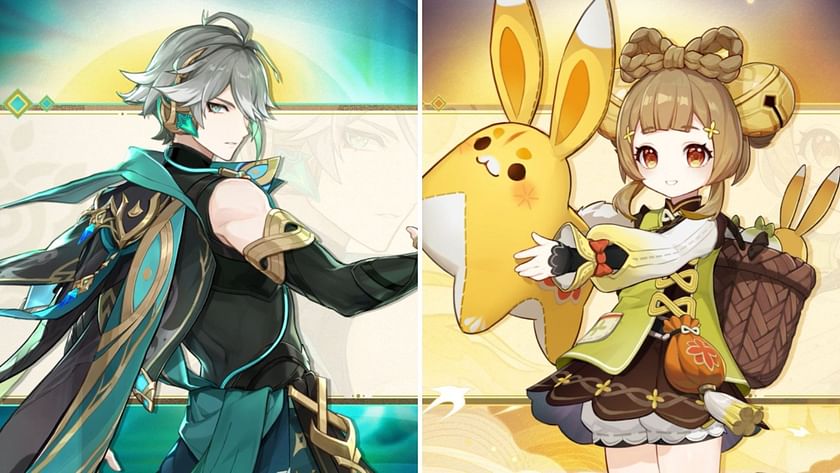 Genshin Impact officials have confirmed that Alhaitham will debut in the upcoming patch 3.4 update. It will launch globally in a few days, and players can finally spend Primogems on their debut banner.
The recent 3.4 livestream confirmed that Alhaitham and Yaoyao will appear on the same banner in the first half of the update.
However, the developers have yet to announce the other four-star characters from the banners. Credible sources took matters into their hands as they revealed banner leaks that revealed all the four-stars appearing on Alhaitham's banner.
Based on the banner leaks, here are the four-star units:
Yaoyao (Dendro)
Yunjin (Geo)
Xinyan (Pyro)
According to this credible leaker, Mero, the Phase I banners will feature Yaoyao, Yunjin, and Xinyan. Thesy will accompany Alhaitham and Xiao in the first half of the Genshin Impact 3.4 update. All three of them come from Liyue Harbor.
Yaoyao is a new four-star that wields Dendro vision and uses polearm weapons. Officials have confirmed her as the first Dendro healer, with her abilities scaled to her maximum health. Xinyan and Yunjin are old four-star units that have been on the roster for a while now.
Xinyan is a Pyro Claymore user and can use her abilities to create Pyro shields and deal AoE Pyro damage. Yunjin, on the other hand, is a Geo Polearm user whose abilities are scaled to her max DEF (defense). Her abilities allow her to provide buffs that increase the normal attack speed and damage of nearby party members in Genshin Impact.
Surprisingly, all three are excellent Support characters who can hypothetically work well with Alhaitham. Yaoyao has the potential to become a capable healer on paper when equipped with the ER% or HP% polearm and can also reduce enemies' Dendro Resistance.
Xinyan can provide a decent shield for active characters to tank light to medium damage from opponents. Lastly, Yunjin single-handedly provides various buffs from her abilities and constellations that will increase the active character's normal attack DMG and attack speed.
---
Release Date for Alhaitham's banner and its 4-stars
The new patch update is just around the corner, as officials confirm it is scheduled to launch on January 18, 2023. Genshin Impact will go through a maintenance update on the same day before the latest version is rolled out.
Edited by Anirudh Padmanabhan