On June 7, 2023, controversial Kick streamer Adin Ross chimed in on the recent drama surrounding Twitch's Branded Content Policy. According to the content creator, the Amazon-owned platform is "done" and "every single streamer" is now contacting him and expressing a desire to join Kick. Adin Ross added that Twitch stars Matthew "Mizkif" and Hasan "HasanAbi" are prohibited from livestreaming on Kick.
---
Adin Ross explains why Mizkif and HasanAbi are "not invited" to Kick
Adin Ross went live on his channel earlier today and took the opportunity to discuss the recent Twitch controversy, claiming that "every single streamer" now wants to join Kick:
"Look, chat, this is a big thing I want to say. Twitch is done. Done! If I told you guys how many streamers in my DMs and want to come to Kick... you guys will be like, 'What the f**k!' It's everybody! Every single... every streamer!"
The Florida native then said that Mizkif and HasanAbi are banned on Kick. He provided an explanation:
"There's two streamers that are banned from Kick. Mizkif, you can't come. You're not coming to Kick, bro. I'm sorry, you're not coming, bro! Me and Bruce (BruceDropEmOff), we don't want you here. You're not coming. That's first of all. F**k you! S**k a d**k! Hasan, you're not invited, either! I'm going to be honest, you're not coming. Those two are banned. Okay? They cannot come."
Fans wanted to know if Moroccan-Canadian sensation Imane "Pokimane" would be able to livestream on Kick. Adin Ross responded that she was not barred from the platform because he was not involved in a feud with her:
"Pokimane? I got no problem with Pokimane. She never directly said s**t to me. She kind of did, one time, saying that, 'Adin should be banned for year, two year,' or some s**t. You know what I'm saying? Didn't like that comment but... it is what it is. But, I feel you. You have to say these things because you signed a Twitch contract. I understand. No, don't put, 'L,' b**ch! No, no, no! Stop! She's under contract, she has to, chat!"
Adin Ross went on to say that prominent personalities like HasanAbi and Pokimane would never be suspended from Twitch:
"Why do you think Pokimanes and Hasans don't get banned? Hasan literally showed someone dying on stream. Didn't get banned. Someone else did it, they got banned. Didn't Pokimane accidentally show some p*rn, too, one time? What I'm trying to say is this, bro... they will never get banned on Twitch! They don't have equity. I was wrong about that. But, they'll never get banned."
---
Fans react to Adin Ross's claims that Mizkif and HasanAbi are banned from Kick
The streamer's clip was a hot topic of conversation on the r/LivestreamFail subreddit. Here's a snippet of some notable responses: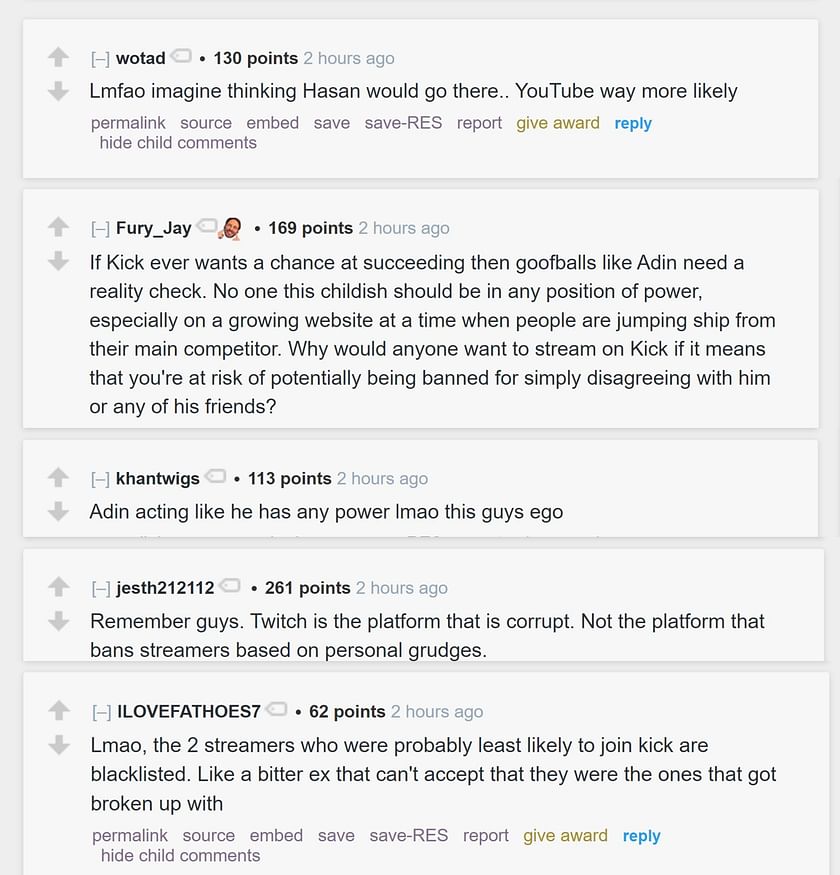 Numerous community members were astonished at Adin Ross' remarks, with some questioning why streamers would want to join Kick if they were at risk of being banned for seemingly disagreeing with the 22-year-old. Meanwhile, one Redditor claimed that Mizkif and HasanAbi were the "least likely" candidates to join the Trainwreckstv-backed platform.
Edited by Siddharth Satish