Alpha7 Esports became the champion of the PMPL Brazil 2023 Spring, capping off yet another successful PUBG Mobile event. The Brazilian giant amassed 210 points in the Grand Finals and was the only unit to surpass the 200-point mark. Alpha7 clinched 30% of their matches, meaning the squad took six Chicken Dinners in their 18 matches there. Tencent awarded them a cash prize of $14K for their spectacular performance.
The current Americas champion, Influence Chemin, claimed the second spot with 171 points. Law and Co. had only two Chicken Dinners, but the unit was consistent in several matches. However, Chemin fell 29 points behind the winner and gained $10K in prize money.
Defending champion iNCO Gaming ended up in third place with 160 points after demonstrating their insane exploits on Day 3. Despite having average results in the first leg, the side found their peak form in crucial matches.
Flamengo Esports, who entered the contest through the PMNC Brazil, exhibited exceptional gameplay against seasoned squads to acquire the fourth seat. Meanwhile, the league topper, Loops Esports, could not carry out their pace and ended up in the fifth spot, followed by Intense Game.
---
Prize Pool distribution of PMPL Brazil 2023 Spring
A total of $150K has been distributed among these 20 teams:
Alpha7 Esports - $14,000
Influence Chemin Esports - $10,000
iNCO Gaming - $9000
Flamengo Esports - $8500
Loops Esports - $8000
INTENSE GAME - $7000
Honored Souls - $7000
Corinthians - $7000
Death Wolves - $7000
SYFY - $7000
Zebra Master - $6500
Team Solid - $6500
Ground Zero Mercenaries - $6500
Rise Esports - $6500
Storm Gaming - $6500
Tuzzy E-Sports - $6500
Team Mandrakes - $6000
Smoke E-Sports - $6000
BRK Gaming - $6000
Knife in Skull - $6000
Influence Chemin has already been given a slot in the PMPL Americas Championship 2023 Spring as the side is the defending champion. Apart from them, the top five squads; Alpha7, iNCO, Flamengo, Loops, and INTENSE, have advanced to that upcoming championship.
Honored Souls, the League's runner-up, stumbled during their initial matches of the PMPL Finals and finished seventh. It was also a poor event for Rise Esports, who came 14th.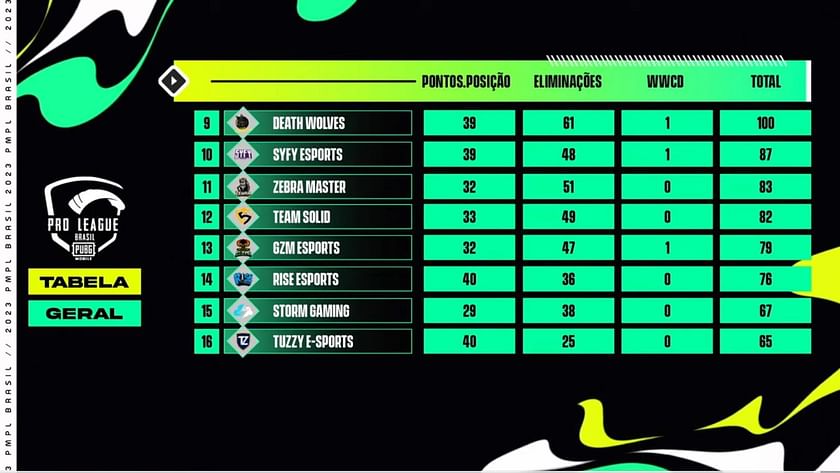 Revoo77K was awarded the MVP title for his 159 finishes in the PMPL Brazil Spring. Diego and Squashgm were behind him in the MVP rankings with 149 and 142 kills, respectively.