Zack "Asmongold" recently reacted to possible Diablo 4 leaks about the Paladin class making a return to the franchise after the second game. Asmongold is well-known for playing games such as World of Warcraft and Path of Exile, and has a large following in the RPG community. After watching a video discussing the potential leak, the streamer stated that he believes the Paladin class is likely to be added to Diablo 4.
"So I think, 100%, even if this isn't the Paladin, even if this isn't what the Paladin is going to be, definitely Paladin is going to be the new class."
---
"I feel like it just makes sense": Asmongold explains why he thinks the Paladin class will eventually get added to Diablo 4
Yesterday, Zack was streaming on his alternate Twitch account Zackrwarr, and towards the end of the stream, he reacted to a video titled DIABLO 4 EARLY PALADIN LEAK?! by Dark LORE Dash on YouTube.
The OTK co-founder revealed that he had no idea whether the leak was legit:
"Ah, apparently there is a Diablo 4 leak here. I don't know if this is a meme or something, I have no idea."
After watching for a bit, Asmongold explained why he thought that the next class to be added to Diablo 4 would not be a Crusader:
"I don't think they're going to do a Crusader, because they did a Crusader for Diablo 3, and realistically a Paladin and a Crusader? They are both guys that run around and they have a shield and they do holy damage. They are basically the same f*cking thing."
His chat also pointed out that the Templars were another similar class that use faith magic. The YouTuber then moved on to the alleged leaked picture of the Paladin class and came to the conclusion that it wasn't real but photoshopped.
Asmongold, however, announced that although he could not ascertain whether the photo of the leak was authentic, he found the idea plausible enough to be true:
"I could see this as being real, yeah, I'm not out on this. It looks very cool."
Timestamp 6:17:23
He even went on to justify why Paladin would be a good addition:
"I feel like it just makes sense, you know. Because you have Necromancer, you don't have, like, a holy class in the game. You don't even have a Monk, for example. You've got a Druid, but you kind of need a Paladin."
When someone in chat stated that the player base deserves the addition, Asmongold agreed, saying:
"'We deserve that'? Well, exactly! Right, because that's the one thing that Diablo has. You can't have a f*cking Necromancer without a Paladin. That's a bit one-sided, isn't it?"
He even talked about Rod Fergusson, General Manager for Diablo 4, possibly hinting that a shield-bearing class would be coming to the game during a Twitter exchange with a fan who pointed out that the Barbarians do not have the ability to use shields.
In a subsequent tweet, Fergusson did mention that it was not supposed to be a teaser and that he was only voicing the developer's vision for the Barbarian class.
---
Fans react to Asmongold's opinion on the leak
Here are some general reactions to the clip on YouTube: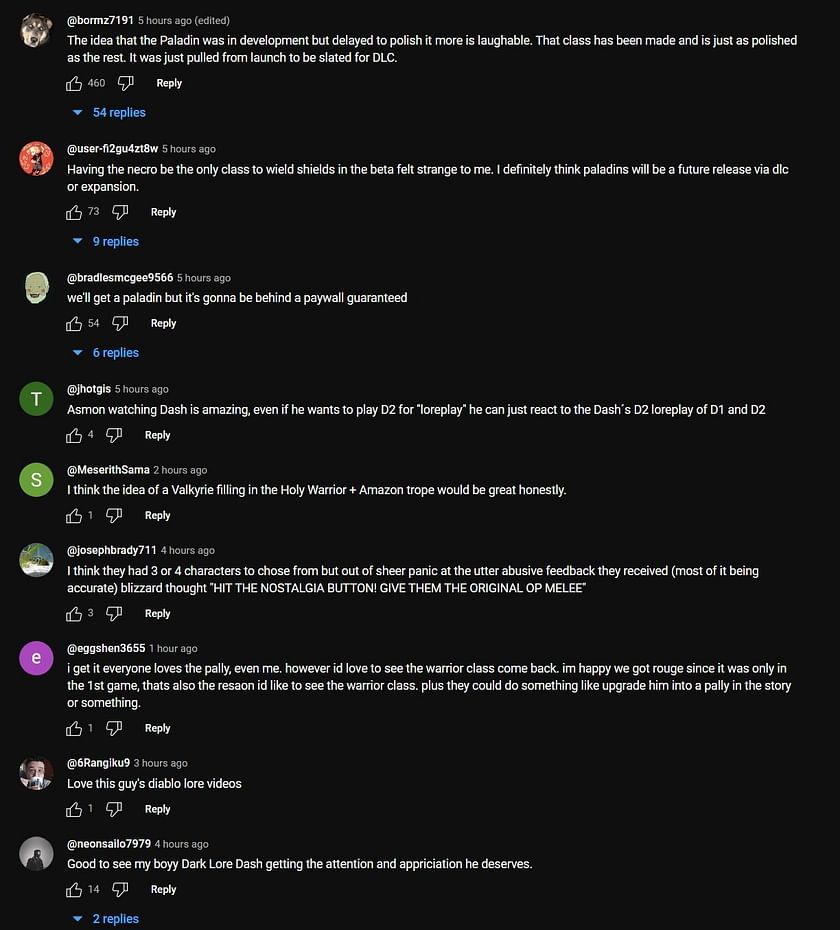 ---
Diablo 4 is set to release on June 6 following a couple of rounds of beta testing by players. Take a look at the post-beta review patch notes for more information on recent updates and fixes.
Edited by Siddharth Satish