During a livestream on his alternate channel, Zackrawrr, Twitch personality Zack "Asmongold" shared his thoughts on the current state of Lost Ark. While conversing with his audience, the streamer's attention was drawn to a viewer who urged him to participate in high-tier content before Lost Ark "dies." When Asmongold read this, he asserted that the Amazon Games-published title is still relevant.
He then started looking for statistics on a website called SteamDB, which revealed that Lost Ark's popularity had taken a massive toll. Sharing his thoughts on the situation, the 32-year-old content creator said:
"I really like Lost Ark. It's disappointing that it's in such a bad state. F**k! You know? There you go. F**k!"
---
"It's really sad to see this" - Asmongold on Lost Ark losing its popularity as a flagship MMORPG title
Asmongold was about an hour into his broadcast when he was talking about the recent news about Overwatch 2 scrapping the PvE mode. He then noticed a message from a Twitch viewer who wrote:
"Think you'll get to do Brelshaza hard (mode) before Lost Ark dies?"
Seeing this, the co-founder of One True King (OTK) suggested that Lost Ark was not on the path of losing its prevalence. He began researching statistics on the abovementioned website and was surprised to see only 47,320 players were in the game. A few moments later, Zack claimed that the situation "sucked":
"Jesus! That sucks, man! That sucks! It really does. Umm... I made a 50-minute video, explaining why this game is the way it is. And I don't think I really need to go and do that again. I think I made it very clear in that video, exactly what I think about the game. That's about it!"
Timestamp: 01:16:20
The conversation continued with Asmongold saying that he would soon play Lost Ark:
"I'll probably go and play it again, at some point. But, it's really sad to see this."
---
Fans react to the Twitch streamer's take on the current state of Lost Ark
The YouTube comments section featured more than 658 reactions. Here's a snapshot of some relevant ones: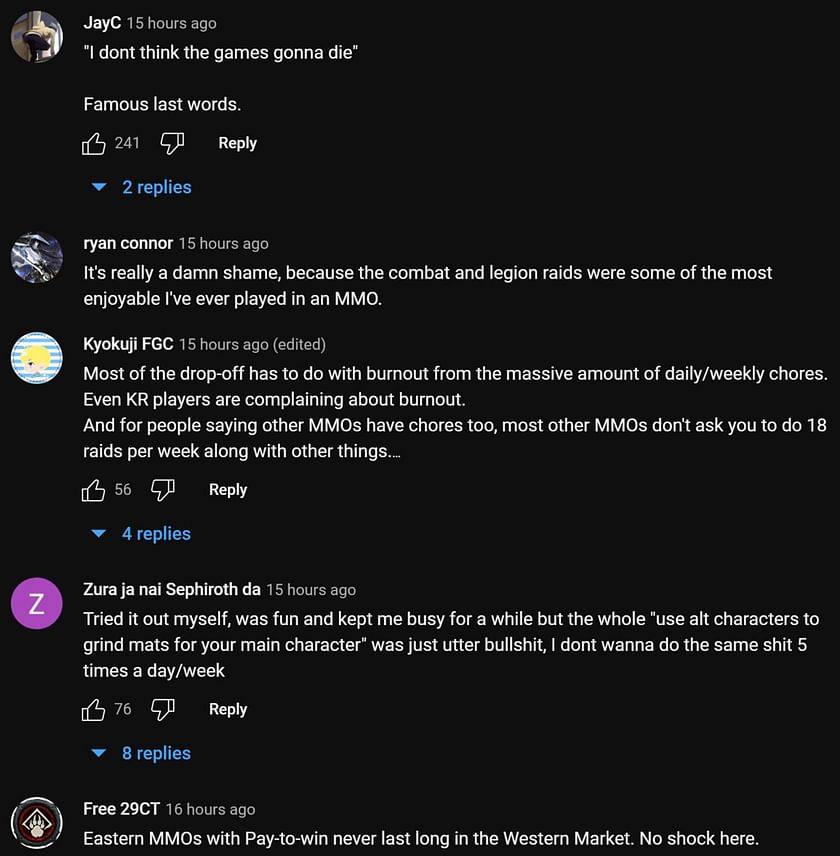 According to one viewer, the combat and raids in Lost Ark were among the "most enjoyable" pieces of content they came across in an MMORPG. Another community member speculated that the drop-off was caused by burnout from "massive amounts" of daily chores.