In a recent livestream, popular YouTube streamer Thomas "Sykkuno," who is known for his wholesome personality and kind-hearted demeanor, stated that he would prefer if his viewers simply enjoyed his stream and showcased their support through engagement and interaction instead of monetary donations.
He revealed that he already has a lucrative YouTube deal, which prompted him to urge his fans not to spend their money on channel subscriptions, but rather on themselves. Referring to his contract with YouTube, he stated:
"Doing perfectly fine moneywise"
---
Sykkuno encourages fans to prioritize themselves over channel subscriptions
In a recently broadcasted stream, Sykkuno expressed gratitude for his fans' support but then emphasized that he didn't want them to spend their money on him.
Instead, Thomas encouraged his viewers to enjoy the stream and support it by showing up and having a good time:
"Guys, you don't have to sub or anything. Just showing up to the stream is all I want. The fact is, and I'm not trying to brag or something, but doing perfectly fine moneywise, you know? Got a good deal, moved to YouTube."
(Timestamp: 00:15:21)
Speaking more about the topic, he continued:
"I think the best thing you can do for the stream is just the same thing that was always kind of the best thing to do, just show up and have a good time hopefully and don't be mean. That's pretty much it."
He reiterated that he didn't need the donations as such and urged his fans to spend the money on themselves rather than on his channel. He, however, mentioned that he was still appreciative of the fans who subbed.
---
Here's what the fans had to say
The r/LivestreamFail community provided their take on this clip, with many members expressing admiration for Sykkuno's selfless and caring nature. Some users commented that it was refreshing to see a streamer actively discourage his fans from spending money on him and to focus on themselves instead.
Here are some of the most relevant reactions: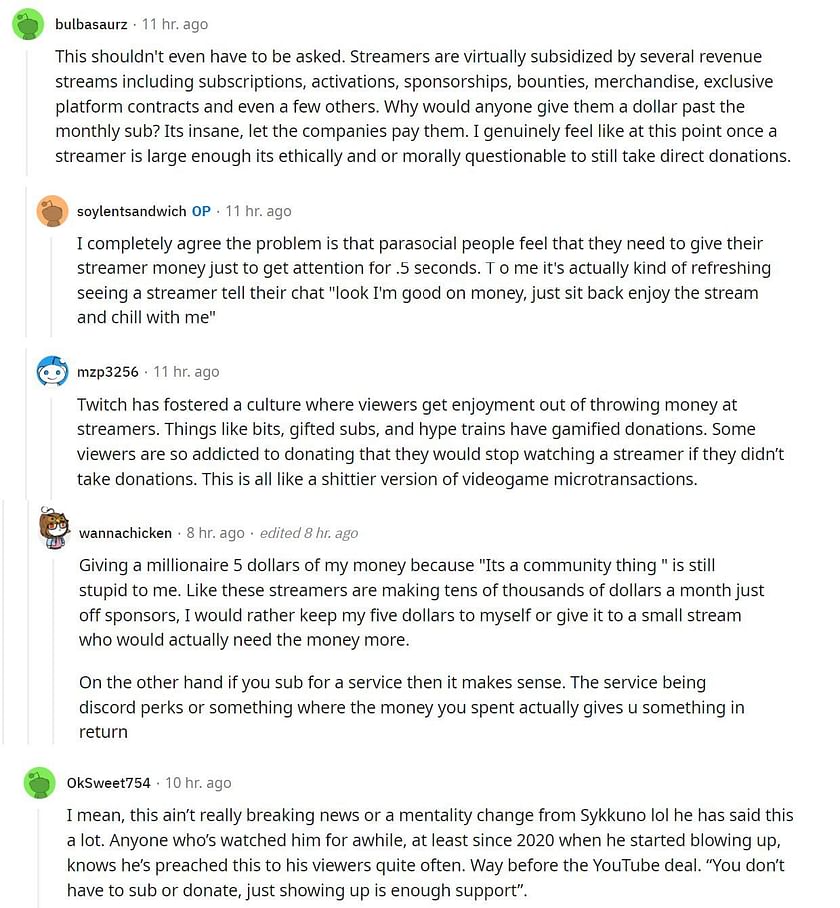 ---
For those unaware, in May 2022, Sykkuno announced a surprising move to YouTube, ending months of speculation about his future as a streamer. While the exact figure of his YouTube deal remains unknown, reports and comments from other streamers suggest that it was a significant increase from what he earned on Twitch.
Ever since he made the transition to YouTube, the American streamer has continued to build a loyal fanbase, cementing his status as one of the most popular and beloved streamers on the platform.