YouTube streamer Darren "IShowSpeed's" fanaticism towards Portuguese icon Cristiano Ronaldo is no secret to the viewers. In a live stream on January 17, the streamer revealed a special package he received from Ronaldo's team.
During the live stream, Darren unpacked the carton that contained several items from the CR7 brand, including undergarments, vests, packs of socks, jackets, and track pants. He also received a premium box of toiletries such as cologne, face wash, and aftershave cream.
For those unaware, IShowSpeed recently went to Saudi Arabia to watch Cristiano Ronaldo's Al-Nassr F.C. take on Messi's PSG. Despite losing, Ronaldo bagged a brace and the Man of the Match award.
---
"He knows me" - IShowSpeed reacts to receiving gift hamper filled with products from the CR7 brand
IShowSpeed's quest to meet Ronaldo may not have been fulfilled yet. The YouTuber, however, did get a pleasant surprise after receiving a parcel from Ronaldo's team. As mentioned earlier, the box contained products ranging from sportswear to cosmetics.
Before uncovering the carton, the streamer said:
"Ronaldo himself sent me a gift. We got a gift from Cristiano Ronaldo himself. CR7 himself. The GOAT. His signature is right here. He gave me a gift bro. He loves me. He knows me."
(Timestamp: 00:13:33)
After a moment, he clarified:
"Okay, okay, y'all saying cap? His team sent me this. Alright, you know what? I'm about to open it. Ronaldo's team sent me this. Let's see what's in here."
Unboxing the package, he discovered various items, among which included an undergarment that the streamer instantly tried on: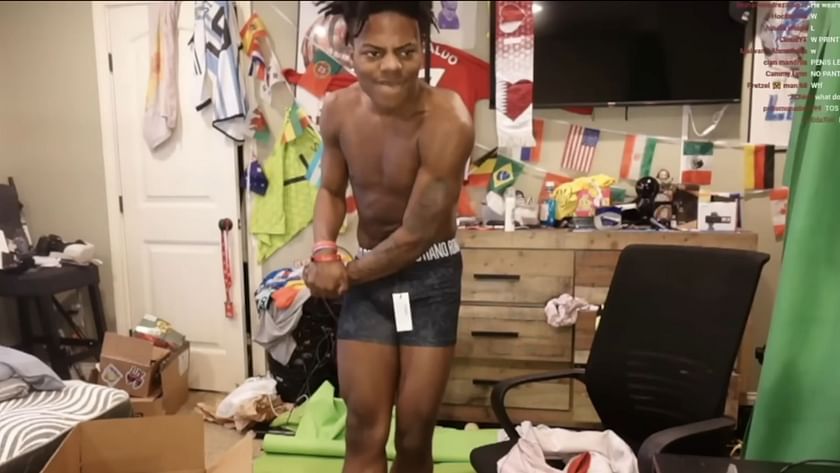 Reflecting on the product, he comically asserted:
"I feel like Ronaldo y'all. I'm wearing the same underwear that Ronaldo wears. This is the underwear that Ronaldo puts on everyday. My b*lls and his b*lls are touching each others."
He also extended gratitude towards the gesture:
"Ronaldo, I really appreciate these gifts, bro. I love you so much, bro. This really like from the bottom of my heart, I love you man. Like these gifts genuinely make me happy."
---
Fans react to the gift
Barely any stream goes by without IShowSpeed expressing his adulation for the great man. Seeing the streamer receive the gift prompted a lot of reactions. Here are some of the notable ones: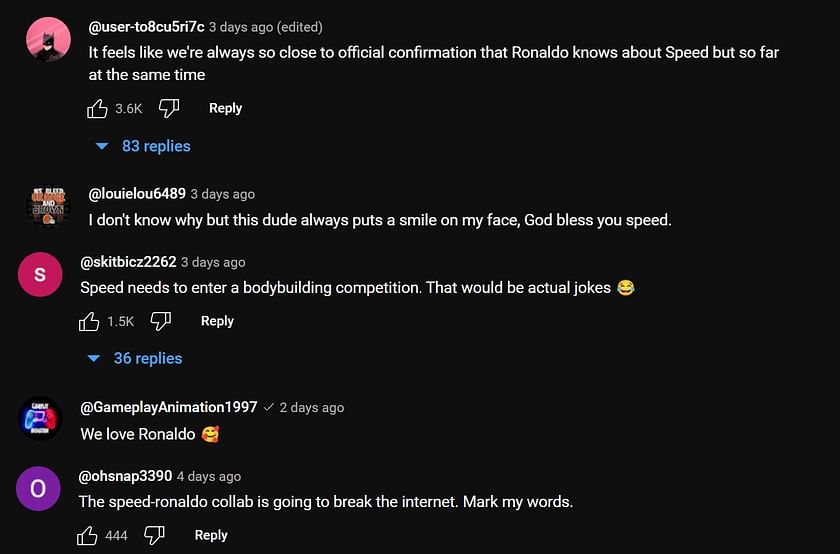 ---
This is not the first time the streamer has received a gift from Ronaldo. While in London in November 2022, Darren received a football jersey kit autographed by the then-United player. To read the full story, click here.
Edited by Anirudh Padmanabhan