Italian team Reply Totem became the champion of the Snapdragon Brawl Stars Masters, which had a total cash prize of $200K and was held on May 13 and 14 in Chiba, Japan. The three-man squad dominated the event and was undefeated in all their matches.
Maru and Co. outclassed Tribe Gaming NA, a superstar lineup, in the Grand Finals with a score line of 3-2. Fans witnessed an exciting contest between the two sides. Joker from Totem secured the MVP title in the final. The Italian squad was rewarded $100K in cash prize.
---
Snapdragon Brawl Stars Masters: Prize pool distribution and overview
Each of the eight participants in the event was granted a share of the prize pool based on how they fared:
Reply Totem - $100K
Tribe Gaming - $40K
Crazy Raccoon - $22,000
STMN - $12,000
SK Gaming - $8,000
Help Me - $8,000
Revenant Esports - $5,000
Marcos Gaming - $5,000
---
Group Stage overview
STMN had a superb run in Group A as the North American side was victorious in both their matches. Crazy Raccoon, with two wins and one loss, ranked second. SK and Marcos Gaming were third and fourth respectively and couldn't reach the second phase.
Totem's perfect teamwork saw them lead the Group B table, while Tribe Gaming came second in the first leg. Help Me and Revenant were unable to deliver and failed to book their positions in the Brawl Stars Masters Playoffs.
---
Playoffs overview
The top two squads from each group reached the Playoffs. In the semifinals, Tribe Gaming outclassed STMN in the opening battle with a score of 3-2. It was a high-intensity match, and the winner was decided only in the final round. On the other side, Totem Esports outplayed Japan's Crazy Raccoon and acheived a 3-1 score line.
STMN and Crazy Raccoon went up against each other in the third place decider match, and the latter came out on top to secure a podium spot Snapdragon Masters.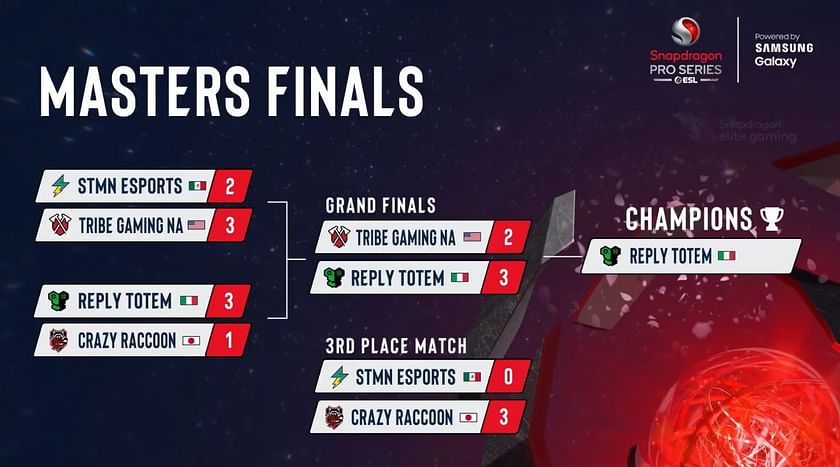 In the Bo5 Grand Finale of the Brawl Stars battle, Tribe Gaming won the first round but lost the second and third to Reply Totem. The North American brigade then claimed a much-needed win in the fourth round, but Totem emerged victorious in the decider and fifth round.
Edited by Mohini Banerjee