Twitch streamer Felix "xQc" is no stranger to splurging cash. In a recent stream, while exploring an AI-generated animation show on Twitch, the streamer purchased a thousand-dollar Patreon package that would see him get his own character on the show.
For those wondering, the channel he was checking out is called WatchmeForever. With over 36K followers at the time of writing, the channel streams Nothing, Forever, an AI-generated show. Viewers can support the channel through their Patreon page, which has two membership levels costing $4.99 and $999, respectively. The latter allows users to see a character based on themselves.
xQc was piqued by the idea and purchased the highest membership tier. It remains to be seen when the creators introduce the Juicer on Nothing, Forever.
---
"Oh my f**king god! I did it" - xQc reacts after purchasing $1000 Patreon membership
xQc made a generous gesture to a freelance animated channel on Twitch by purchasing a Patreon membership for a thousand bucks. The streamer was intrigued by the proposition of having his own character on the show Nothing, Forever. Reacting to the deal, he said:
"Wait, for a thousand bucks, you get a character. Chat, that's a lot of stones. Chat, is that a good investment?"
(Timestamp: 16:30:31)
After thinking it over for a brief period, the streamer went ahead and bought the package, after which he said:
"Oh my f**king god! I did it."
---
What the internet said about the purchase
The clip was shared via the streamer clips channel on YouTube, which garnered many comments. Reacting to the streamer's latest acquisition, fans said: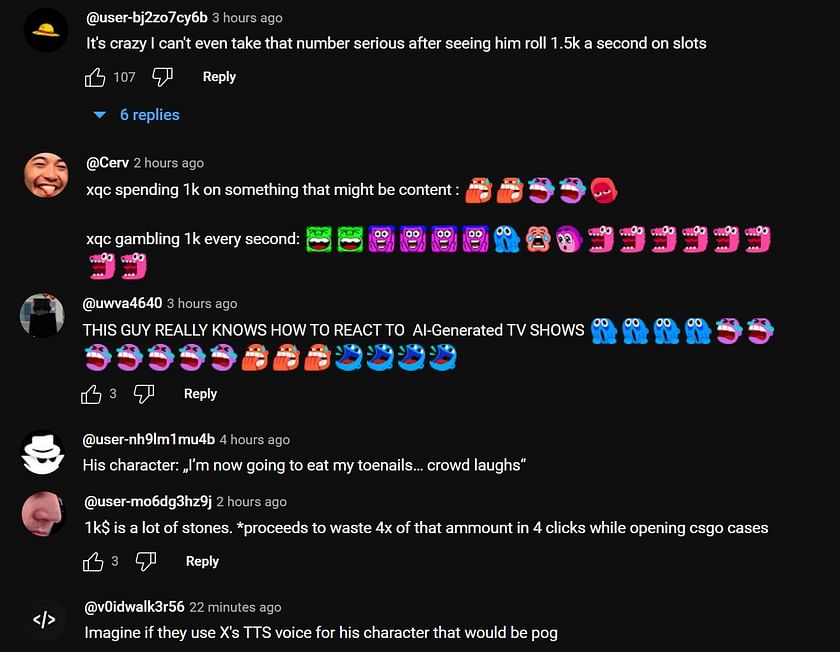 ---
What is Forever, Nothing?
On Twitch, Forever, Nothing is an AI-generated 24/7 show. The channel's description reads:
"Nothing, Forever is a show about nothing, that happens forever. Kinda like popular sitcoms of the past, except that it never stops."
Continuing:
"Everything you see, hear, or experience (with the exception of the artwork and laugh track) is always brand new content, generated via machine learning and AI algorithms."
The website also adds:
"Much of our generative content is provided through OpenAI's GPT-3 and does not reflect views held by the creators of Nothing, Forever."
---
The Patreon page suggests that purchasing the highest membership would warrant a considerable amount of time before the buyer sees their character on the show. That said, fans will be on the lookout for xQc's appearance on Nothing, Forever.
Edited by Dinesh Renthlei