Adrian Newey: The man behind Vettel's success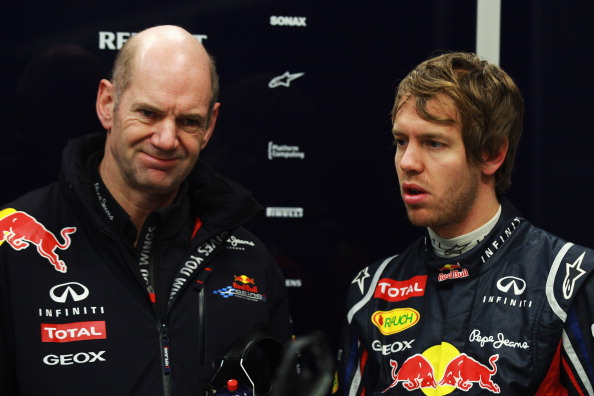 Sebastian Vettel has been dominating the F1 circuit for the last two years now. His 2nd world title last year was all but wrapped up by the halfway point in the season. This has led some observers to claim he has ascended into the pantheon of the all-time greats. He is the youngest ever race winner, youngest ever world champion and has secured back-to-back world championships, so the adulation he is receiving is well deserved. In my opinion, however, judgement must be reserved until he has won races in a car which isn't 2,367 times better than anything else in the field.
So whilst legendary status might have to wait for Vettel, I instead present to you, Adrian Newey, race engineer of Red Bull racing team. However you would see it, the success of a team will always rely more heavily on the pace of it's car than of the drivers. So why, I ask, are the drivers valued so much higher than the technicians? Newey has won 8 world championships, with three different teams. No driver in the history of the sport can live with those stats. He is the man chiefly responsible for Red Bull's utter dominance over the last two years. Sure, Vettel has driven well, but all he has really had to do is beat Mark Webber (which, no disrespect Mark, any prospective F1 legend should have no trouble doing). Indeed, in 2010 it seemed that Vettel had squandered the title despite driving by far the best car (he was also regularly beaten by Webber). If Red Bull had failed to clinch the drivers' crown that year it would have been criminal, and Newey would have been made the scapegoat.
I firmly believe that if Webber had a lesser driver as a team-mate, he would have won the last two drivers championships. I actually think there are many drivers on the grid who would have walked away with the crown had they been placed in the RB7. This shows just how good Newey is. Like I said, before that a world-class driver can transform a lesser team, well that statement certainly applies to a world-class engineer.
When Newey arrived at Red Bull in 2006, after McLaren refused to meet his salary demands (a decision Martin Whitmarsh is probably still having very vivid nightmares about.) they were very much stuck in the midfield. Look at where they are now. Newey has almost single-handedly transformed the fortunes of a struggling team. Trying to name a driver who has had the same effect is rather difficult.
It would be very interesting to see what Red Bull would do if faced with the decision to keep either Vettel or Newey. I would go with Newey every day of the week, every week of the year.