| | |
| --- | --- |
| Full Name | Max Emilian Verstappen |
| Date of Birth | September 30, 1997 |
| Nationality | Dutch |
| Height | 5 feet 11 inches (180cm) |
| Current Team(s) | |
| Role | F1 Driver |
| Past Team(s) | |
| Family | Jos Verstappen(father), Sophie Kumpen (mother) |
| Championship Held | 2021, 2022, 2023 |
Max Verstappen: A Brief Biography
Max Verstappen: A Brief Biography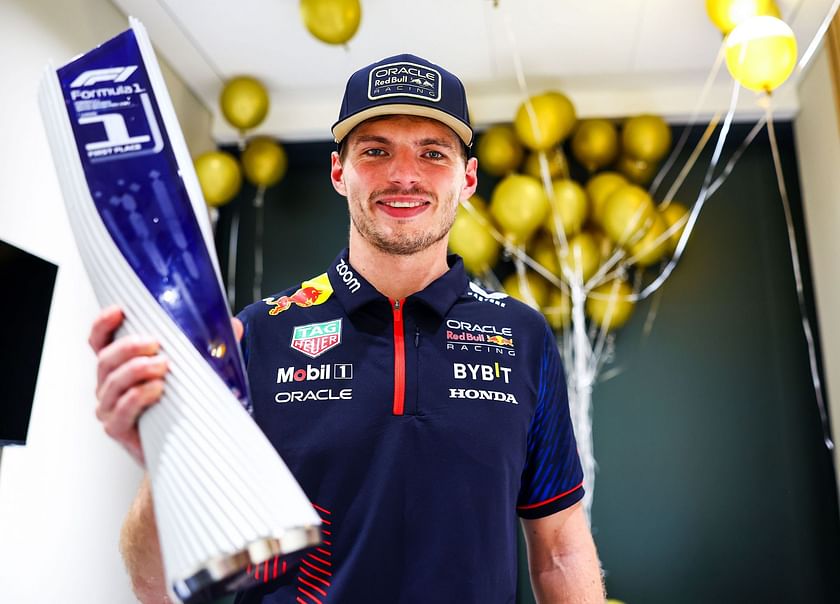 Red Bull has found their current golden boy in Max Verstappen and rightfully so. Max Verstappen has always been a force to be reckoned with. Since his karting days, he showed the world he was here to make a mark. He comes from a racing family with his father, Jos Verstappen, a Formula 1 driver himself, and his mother Sophie being a racing car driver as well.
Since winning his first World Championship title in 2021, he has dominated the sport like no other. If he was not winning a race, Max was certainly placing his car on podiums in almost all races. With three F1 titles under his belt, Verstappen is the one to bring the good old days back to Red Bull Racing.
Verstappen has always been a young talent waiting for his time to shine and he was able to achieve that. He was the youngest driver to ever race in Formula 1 at the age of 17. He has also been the youngest race winner and kept pushing his team for much more since.
Max Verstappen Personal Information
| | |
| --- | --- |
| Name | Max Emilian Verstappen |
| Age | 26 years |
| DOB | September 30, 1997 |
| Nationality | Dutch |
| Mother Name | Sophie Kumpen |
| Father name | Jos Verstappen |
| Profession | F1 Racing Driver |
| Net Worth | $210 million |
| Height | 1.80 M (5 feet 11 inches) |
| Weight | 72 kg (159lb) |
| Education | Havo School |
| Relationship Status | Kelly Piquet (Girlfriend) |
Max Verstappen Early Life
Max Verstappen was born to Jos Verstappen and Sophie Kumpen in Hasselt, Belgium on September 30th, 1997. With how racing oriented his family is, it comes as no surprise that Verstappen grew passionate about racing as well. When he was just four years old, he saw a kid go karting and asked his parents to let him kart too. They were both very reluctant at first but finally gave in after a lot of groveling from the youngster.
On his first day itself, Verstappen was a natural. He was able to cover the track easily despite having a rent-a-kart. His father, Jos Verstappen, bought his son a new kart the next day and so it started. He soon won his first race at just seven years old. At nine, he became the Netherlands and Belgium Karting champion. His father was actively part of his son's career and did everything from making the chassis to optimizing the engine for his go karts.
Max Verstappen Personal Life
Verstappen's personal life is a reflection of his professional life. In his free time, he still loves racing, be it physical or sim. He loves karting, something he has been doing almost all his life. His love for racing extends to sim racing which he has been doing for more than ten years.
He is part of Team Redline for his sim racing which is also affiliated to his racing company, Verstappen Racing. Apart from this, Verstappen loves spending time with his family and friends and always yearns to reunite with them after being on the road for Formula 1 for a long time.
Max Verstappen Family Background
Max Verstappen belongs to Hasselt, Belgium and was born to Jos Verstappen and Sophie Kumpen. Following Jos and Sophie's divorce in his early years, he lived with his father, while his sister Victoria Verstappen remained with their mother. Verstappen's family expanded with three half-siblings from his father's later marriages. Both of his parents have been an active part of his family and are seen cheering him on from the sidelines for most races.
Max Verstappen Girlfriend
Max Verstappen is currently in a relationship with Kelly Piquet. She is the daughter of three-time Formula 1 champion Nelson Piquet. They have been together for the past three years, with Kelly often seen supporting Verstappen in the Red Bull garage during race weekends.
Their relationship reportedly began in 2020, after knowing each other since 2016. They officially confirmed their relationship through a social media post in January 2021. Since then, they have shared multiple posts expressing their affection for one another.
Max Verstappen Kids
Max does not have any kids of his own but is very close to his partner's daughter, Penelope.
Max Verstappen Social Media
Max Verstappen has a great following on his social media platforms. He has more than 10 million followers on his Instagram handle @maxverstappen1. He also has a Twitter account with the username @max33verstappen. He shares his thoughts and updates on his race weekends and also other things he gets off the track. He has his own website for selling his merchandise.
Max Verstappen Net Worth
Max Verstappen has an estimated net worth of around $210 million. He was able to get a massive pay bump in his salary after winning the title in 2021. It was reported that his salary was 18 million dollars in 2021. According to Forbes, his salary currently is around $55 million. This is a huge raise in his salary which also landed him on the Forbes's most paid athletes list. He also has a huge portfolio of endorsements that also boost his net worth. As a three-time F1 world champion, Verstappen is one of the most marketable athletes and hence, a lucrative investment for brands.
| | |
| --- | --- |
| Year | Net Worth |
| 2023 | $210 million |
| 2022 | $155 million |
| 2021 | $110 million |
Max Verstappen Brand Ambassador
Verstappen is a perfect candidate for brands who wish to reach the world of Motorsports. So it comes as no surprise that he has endorsement deals with brands like Heineken, Puma, Jumbo Supermarkets, Tag Heuer, Red Bull, G-Star Raw, and CarNext.com. He has been part of ads for Heineken, Carnext.com, Hond and Ziggi.
Max Verstappen Investments
Max Verstappen utilized his close relationship with Red Bull to launch Verstappen.com Racing X Red Bull. This was a joint venture which targeted to cover all aspects of motorsports from karting to sim racing. This is a passion project for him and is reported to become fully operational in 2025.
Max Verstappen Career Stats
Verstappen rose from karting ranks to Formula 3 series and then directly to Formula 1. Even with his entry into Formula 1, he became the youngest-ever driver to race in the series. He has had 185 starts in the series. Out of which, he has won 54 races and gotten himself on the podium 98 times. He has also been able to secure 32 pole positions as well as 29 fastest laps. Out of the 154 races he has not retired, he scored points in 151 of these races.
During his single year in the Formula 3 European series, he was able to get 10 race wins and 16 podiums. This was an amazing feat for the young Dutch and landed him that Formula 1 seat with Toro Rosso.
Max Verstappen Achievements
Max Verstappen has his name etched in history. He holds multiple records that he has broken and made his own. As he continues to break these records, some of his records till the Las Vegas GP 2023 are:
Youngest Driver to ever race in Formula 1 ( 2015, Malaysian GP)

Youngest Driver to score points in Formula 1 (2016, Spanish GP)

Youngest driver to win a race in Formula 1 (2016, Spanish GP)

Youngest Driver to set the fastest lap in Formula 1 ( 2016, Brazilian GP)

Most Podium finishes in a single season (18 podiums, 2021)

Most race wins in a single season ( 20 wins, 2022)

Most consecutive race wins in a season (10 race wins, 2023)

Three Formula 1 World Championships (2021, 2022, 2023)

Third most race wins in Formula 1 history (54 race wins)
Verstappen has also won the Laureus Sportsman of the Year in 2022. He also won the Best Driver ESPY Award in 2023. In 2016, the Lorenzo Bandini Trophy was awarded to the Dutch.
Max Verstappen Contract
Max Verstappen's current contract with Red Bull is reported to be worth more than $240 million. He signed this contract in 2022 and it is a five year deal. This means Verstappen will definitely be racing for Red Bull till at least 2028. This deal has made him the highest-paid Formula 1 driver on the grid with a whopping salary of around $55 million.
He also became one of the most-paid athletes in the world according to Forbes. Verstappen has been part of the Red Bull family since his start in Formula 1 when he drove for Toro Rosso in 2015. He moved to Red Bull in the middle of the 2016 season and since has been part of the team.
Max Verstappen Diet
As part of a very strenuous sport, Verstappen has to be conscious and maintain his body. He hates to workout so he makes sure he enjoys it as much as possible. He makes his workouts easier and more personalized to his needs. Despite being on a strict diet, Verstappen prioritizes enjoying his food and also indulges in his love for fizzy drinks ever so often.
He makes sure to eat healthy and stay hydrated. He has also said that being one of the heavier drivers on the grid, he has to make sure he does not slip up with his diet as it can cause extreme weight gain.
Max Verstappen House
Like most of the Formula 1 drivers, Verstappen also resides in the posh country of Monaco. His fans can also take a virtual tour of his lavish house on Red Bull's website and learn a lot more about the Dutchman.
Max Verstappen Cars
Max Verstappen was driving a Formula 1 car much before he was able to get his driver's license. He has a luxurious and expensive car collection. Some of the cars in his collection are:
Renault R.S.01

Aston Martin Valkyrie

Ferrari Monza SP2

Aston Martin DBS Superleggera

Aston Martin DB11

Aston Martin Vantage

Porsche 911 GT3 RS
*last updated on 27th November, 2023.
A. Max Verstappen is 26 years old. (September 30, 1997).
A. Max Verstappen's father is Jos Verstappen, a former Formula One driver.
A. Max Verstappen's helmet design features the colors of the Dutch flag and his initials MV.
A. Max Verstappen has won 54 races in his Formula One career so far.
A. Max Verstappen drives for Oracle Red Bull Racing.
A. Max Verstappen has won 3 Formula 1 world championships.