Ayrton Senna: The Pele of Formula One
1.63K //
17 Mar 2011, 03:11 IST
Statistics would suggest that  Juan Manual Fangio, Michael Schumacher or Alain Prost were better drivers  but when you ask the people who have followed the sport closely, they'll tell you a completely different story.
Ayrton Senna is undoubtedly the best driver in Formula one racing history. The courage, the ruthlessness and the fearlessness with which he drove had never been seen before and we may not as well be seen in the future. With 65 pole positions, 41 race wins, 3 world championships in just 161 starts, he was just miraculously fast. It was his hunger for victory that compelled him to push himself beyond the limits.
The Brazilian had his first karting experience just at the age of 4 when his father bought him his own kart. There was no stopping him from then. He very quickly climbed up the ladder, winning  the British Formula 3  world championship ,  then joining the Toleman  F1 team in 1984  before moving on to the Lotus -Renault team . There in his early days he gave a hint of what was about come, winning 6 Grand Prixs over the next 3 seasons. He was a true master of the wet conditions and he showed this rare ability in the 84' Monaco GP with his best result of the season  Senna started 13th on the grid, passed Niki Lauda for the 2nd position on just the tenth lap and was quickly catching on Prost with 4 sec per lap when the race was stopped on the 31st lap due to safety concerns.  Even his first two GP wins, the Portuguese GP and  the Belgian GP in 85' came on a wet track.
He was a racing genius and a born winner.  In his own words, "You either commit  yourself as a professional racing driver  or you come 2nd or  you  3rd or you come 5th.   And I am not designed  to come 3rd ,, 4th or 5th , I race to win.  And if you no longer go for the gap that exists, you are no longer a racing driver".
His best was still to come when he joined McLaren- Honda in 88'. The new McLaren with the turbocharged 1200hp Honda engine (450hp more than the f1 cars of today) was a car entirely on a different level. And with the daredevil seated in the McLaren MP4/4, McLaren won 15 out of 16 races that season with Senna winning  his first  driver's title.  He later on won the 90' and the 91' seasons with McLaren as well and dominated his rivals by sheer force of his personality.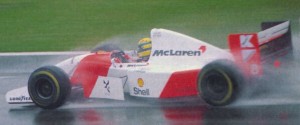 As his contemporaries say, he had an extraordinary god given talent that hasn't been witnessed anywhere else. He had a sixth sense of where the grip was before he turned into a corner. That was the reason why you saw him dancing in his car even when driving along a straight track.  The fans absolutely loved him for he gave them their every penny's worth. He was stunning every time he stepped into the car with his trademark yellow helmet.
Senna also had a big heart. When his competitor, Eric Comas' car crashed heavily into a corner, Senna was the first to reach to the scene and rushed to help Comas not caring about his own life. The more daring he was out there on the circuit, the more compassionate and caring he was off the track. He had donated millions to the disadvantaged and the underprivileged street children in Brazil, a fact which only came out after his tragic death in the 94' San Marino GP. He suffered fatal head injuries after his car crashed against a concrete wall because of a steering column failure at a high speed turn. Brazil observed a 3 day mourning in honour of their hero.
I certainly do respect greats like Fangio, Mansell, Prost, and Schumacher but there was something there in Senna that made him shine out from everyone else. Even the giants of his time respected his toughness. For me he was another Brazilian legend, the "PELE" of Formula One.