Dual DRS zones for all but Monaco and Suzuka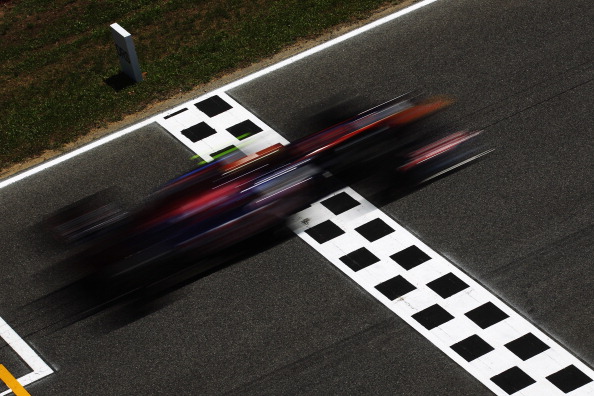 DRS has played a significant role in deciding the outcome of races over the past couple of years and was brought to the limelight to increase overtaking. It does a brilliant job in doing so but sometimes it makes us feel, is it worth it? I'm being rational here, overtaking is meant to be a different task all together now i.e push a driver until a designated zone and the driver behind will have an advantage in easing past the one in front. Some drivers will be cautioned not to mess it up until the Zone's arrival and some hardly risk themselves to get alongside even though their car is fast enough.
Yet it won't be an easy task for drivers to get it right, but sometimes it's less dramatic. Downforce setups depend solely on race strategies and in which position the car is on the grid. DRS also will be considered in that. One of the minor yet impacting rule tweaks for this season is that the cars are not allowed to use the Drag Reduction System other than the restricted zones in any part of the race weekend. This has been brought in as concerns were raised over driver safety while the DRS wing is deployed. As for me, the change shouldn't have come along.
In the Practice and Qualifying, teams had to work their way to find an optimum balance between Qualifying and Race setup and also factoring in the DRS system. The amount of ride height, angle of attack and size of the rear wing elements act as decisive factors in organising the setup. During Practice sessions, even the slightest of errors will get punished once a driver doesn't pull the DRS switch at the right moment, for instance, if it happens before the end of a corner, he will be destined to lose the car completely and end up on the wayside.
It won't be the case now as DRS can be used only through the allotted areas in Qualifying as well. Considering safety though, it is a move step that's been welcomed. The likes of Mercedes, who pioneered Active DRS system by installing the front of the car and tried to perfect it the whole season, have to stick with other plans because of this rule change along with Active DRS being effectively outlawed for this season.
Many outfits have tried to exploit 'Passive DRS System' in testing and it would pave the way for an interesting turnaround as the development race rolls on in due course. For this season, almost all tracks will have a couple of DRS zones at their disposal – barring the streets of Monaco and the fast and fluid Suzuka. The races at Albert Park, Monza, BIC and Yas Marina Circuits will retain dual DRS zones from 2012 with no modifications. The Circuit Gilles Villeneuve will be available with its 2011 configuration of two Zones, one at the pits and other at final straights. Interlagos, COTA, Marina Bay, Shanghai, Spa, Korea and Nurburgring circuits will have respective pit straights added to the zones from last year to make it two each.
Here is the full-table:
| | | |
| --- | --- | --- |
| Track | 2012 zones | 2013  Modifications   |
| Australian GP – Albert Park | Pit straight and second straight | Pit straight and second straight |
| Malaysian GP – Sepang International Circuit | Pit straight | Pit straight and final straight |
| Chinese GP – Shanghai International Circuit | Longest straight | Longest straight and pit straight |
| Bahrain GP – Bahrain International Circuit | Pit straight | Pit straight and straight to turn 11 |
| Spanish GP – Circuit de Catalunya | Pit straight | Pit straight and straight to turn ten |
| Monaco GP – Monte-Carlo | Pit straight | Pit straight |
| Canadian GP – Circuit Gilles Villeneuve | Pit straight | Pit straight and final straight |
| British GP – Silverstone | Wellington straight | Wellington straight and Hangar straight |
| German GP – Nurburgring | Straight before chicane | Pit straight and straight before chicane |
| Hungarian GP – Hungaroring | Pit straight | Pit straight and second straight |
| Belgian GP – Spa-Francorchamps | Kemmel straight | Kemmel straight and pit straight |
| Italian GP – Monza | Pit straight and straight to Ascari | Pit straight and straight to Ascari |
| Singapore GP - Marina Bay Street Circuit | Straight to turn seven | Straight to turn seven and pit straight |
| Korean GP – Korean International Circuit | Longest straight | Longest straight and pit straight |
| Japanese GP – Suzuka | Pit straight | Pit straight |
| Indian GP – Buddh International Circuit | Pit straight and longest straight | Pit straight and longest straight |
| Abu Dhabi GP - Yas Marina circuit | Two longest straights | Two longest straights |
| United States GP – Circuit of the Americas | Longest straight | Longest straight and pit straight |
| Brazilian GP – Interlagos | Reta Oposta straight | Reta Oposta straight and pit straight |