F1 2013 - Malaysian GP - Winners and sinners
1.19K //
25 Mar 2013, 13:39 IST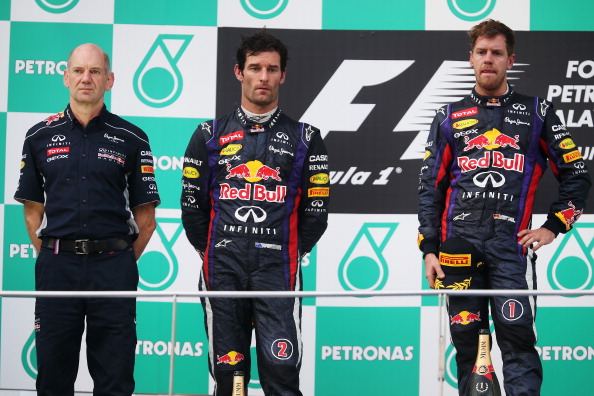 The 2013 season is two races old. The usual suspects are in and around the podium. Sebastien Vettel won the Malaysian Grand Prix. Mark Webber came in second. A Red Bull 1-2. Lewis Hamilton came in third; Nico Rosberg, fourth. A Mercedes 3-4. A great result for the two teams, it would seem. A great result, it was. However, the result only told a part of the story. The story of the result is the fascinating bit.
Vettel was quicker than Webber. It is only logical that he pass him. Fair enough. However, is it a fair fight if Vettel was quicker than Webber if the latter was running at eight tenths his speed? Not by design but by choice, of course; a choice that the team was informed of and which, one suspects, the team approved.
Red Bull was in a brilliant position with a return of a maximum possible points from the Malaysian Grand Prix. It is quite obvious that the team was most happy with the performance. However, as with all other teams, tyre wear has been an issue. Thus, they were in complete agreement with Mark and perhaps told him to run the engine at a slower pace to conserve tyres. And fuel. Mark did. Seb knew about this. Of course, he did. There can be no other explanation. Yet, he took the opportunity when he saw it, putting his and his teammate's race in jeopardy by going perilously close to the pit lane when trying to overtake Webber. Rash, to say the least.
However, it could be viewed from a couple of angles. One, look at it from Vettel's stand point. He was quicker than Webber. No doubt. However, he had explicitly been told that he was to take it easy. He did not. It is easy to see why, actually. Sebastien Vettel has been called Baby Schumi and not for nothing. There is a single mindedness that one detects in the young German; a single mindedness to win, even if it means doing things that border on the unethical, so to speak.
I messed up today, I apologise for that but right now I want to say the truth. I wasn't aware of it otherwise I wouldn't take that much risk to pass someone I'm not supposed to pass at that moment.
The way Seb saw it, he had a pass and he took it. Simple as that. He claims that he did not ignore the message that the team gave him on purpose but simply misinterpreted it. If that were indeed the case, how then can one explain the passing move, which was, any which way you look at it, deliberate? Vettel knew exactly what he was doing and he knew exactly what the consequences of his actions would be. He did it anyway.
I think it's not an easy situation for me. Obviously I'm the black sheep right now. Obviously I put myself in that position so, as I said, all I can say is apologies to Mark. I know that right now, obviously, having just come out of the car, it's probably difficult to explain everything but the pass was deliberate, obviously I wanted to pass him, you could see that, otherwise you wouldn't even try, but I didn't mean to ignore the strategy or the call. I made a mistake, simply.
Why did he do it? Well, if one were to look at the philosophical angle, one could always say that team orders kill the sport and Seb was merely making a point. If that were the case, he is a hypocrite, simple as that. After all, he has been the beneficiary of team orders in the past so he can't be philosophical half the time.
The more likely explanation is that he did it because he could. What does one mean  by that? Well, simple. He is the reigning World Champion. He has been for the past three years. He is Red Bull Racing's main man. Vettel knows that Red Bull will be loath to lose him; they need him and if they do let him go, there is no shortage of teams that lie in wait to get the German. Hence, he is in that position that if it comes down to deciding between Mark and him, the team will, almost certainly, choose him. Or so he believes.
There are winners and then there are sinners. Champions, unfortunately, seem to be both. Maybe not in equal parts but both, nonetheless. The official line of Red Bull Racing is that both drivers are equal but, as in Orwell's Animal Farm, apparently, some drivers are more equal than others.