F1 News: Force India drive crucial, says Hulkenberg
726 //
18 Jul 2011, 19:34 IST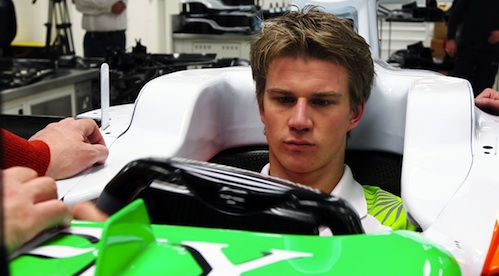 Force India test and reserve driver Nico Hulkenberg has said that it is very crucial for him to drive in the Force India car because it is the only way to make a comeback on the Formula One grid in 2012.
The German driver has said that it is frustrating to drive as a reserve driver and it is also not enough for him. However, he said that it is better to drive in the Friday morning as there aren't any options left for him right now.
Hulkenberg made his Formula one debut with the Williams team in 2010 season. In his debut season he impressed everyone with his aggressive driving. Hulkenberg also claimed the maiden pole position for the Williams team in the Brazilian GP. However, even with that result he wasn't able to save his race seat in the Williams team.
After the end of the season Hulkenberg was replaced by Pastor Maldonado who was backed by the sponsorship of oil giant PDVSA. Nico then moved to Force India and signed the contract which gave him the drive during Friday morning practice session at every grand prix in 2011.
Hulkenberg said that the timing of the decision was not perfect but it was the only option left for him and also said that he is lucky that he is getting at least a Friday outing with the team. Hulkenberg also said that it is very important for him to get a race seat in 2012 otherwise it will be very difficult for him to get a race seat in future.
The timing of the decision was not perfect, because all of the other seats were already taken. The test driving is not much and it's frustrating, but it's better than nothing. Luckily I can at least drive on Fridays. This one season is not fatal to my career, but next year I have to have a race seat. Otherwise it's difficult for me.
Source: f1sa.com