Max Verstappen during his career will be showered with a lot of adjectives, but one of the first words that comes to mind and will always hold true is - precocious. Having just turned 22, he is going to be the youngest to compete in a hundred Grands Prix. It shouldn't come as a surprise as he started at just 17. This is uncommon in a sport that is exremely hard to break into, but was partly made possible because he came from a family of immense and varied sports pedigree. Dad Jos was an F1 driver (now his manager) drove for Benetton, Tyrrell, and Minardi among others in a career that spanned from 1994 to 2003. Mother Sophie Kumpen raced karts, uncle Anthony Kumpen is a NASCAR Euro champion and their father Robert Kumpen was chairman of the Belgian football club Genk from 1993-95. Younger sister Victoria-Jane Verstappen, having done some karting herself, working behind the scenes with Red Bull Netherlands.
Nonetheless, Max has been one of the best things to have happened to F1 in the turbo-era. He started off as an experiment, having vaulted the Formula 2 program to be given a seat in Toro Rosso in 2015 after finishing third in his maiden Formula 3 season behind Esteban Ocon and runner-up Tom Blomqvist. All his learning has been in the fast lane in the extremely competitive world of Red Bull and Toro Rosso.
Talked about as the World Champion of the future since at least 2016, he holds a string of firsts in F1 – The youngest driver to compete in Formula 1 at the 2015 Australian Grand Prix for Scuderia Toro Rosso, the youngest driver to lead a lap, the youngest driver to set the fastest lap, youngest driver to score points, the youngest driver to secure a podium, youngest race winner, the youngest multiple Grand Prix winner, the youngest to win the same Grand Prix multiple times, the youngest to win the same Grand Prix in successive years, and the 100th polesitter in the sport's history.
Counting this weekend's United States Grand Prix, he now has 100 Grands Prix and 7 wins under him. Here's a look at his 5 seasons in F1:
2015: The Toro Rosso Debut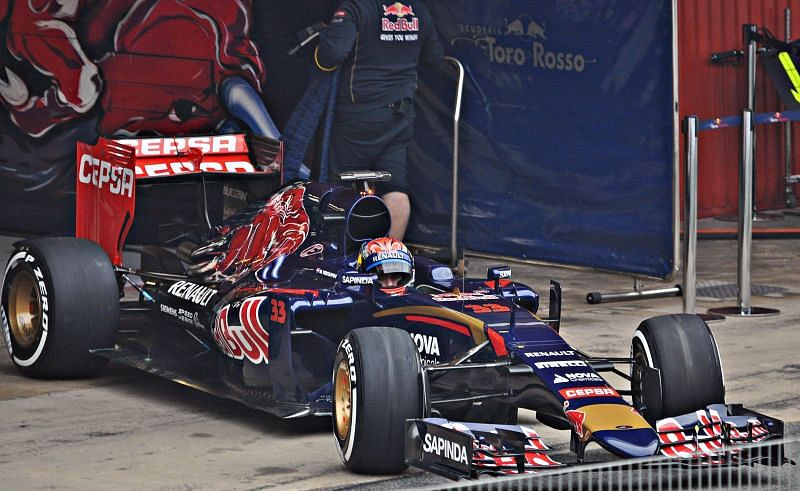 When a teenager (17) is jettisoned from Formula 3 straight into Formula 1, without even winning the junior title, the circumstances can't be usual. The hype was massive, and so were the concerns of handing a drive too quickly to a rookie – though outlandishly talented he might be. The learning curve for a rookie in F1 is massive, intimidating, dizzying. Verstappen had no luxury of honing his skills in junior categories – yet the confidence in him shown by Red Bull was immense.
They had nowhere to go too. Sebastian Vettel was departing to Ferrari, and Daniil Kvyat was promoted to Red Bull and there were 2 slots to be filled at Toro Rosso. And so, they took a punt on a young Carlos Sainz Jr. and an even younger Verstappen. Both had fathers as racing drivers, both were Red Bull academy products, and both were evenly matched throughout their debut season.
Championship: 12th | Points: 49 | Podiums: 0 | Wins: 0
2016: The Surprise Red Bull Elevation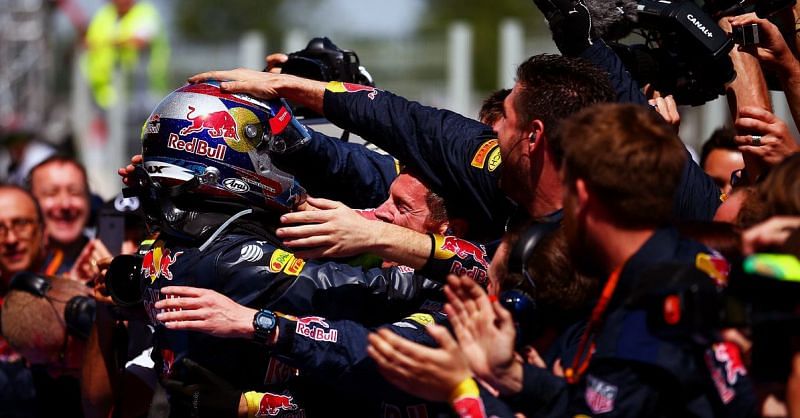 He won his first Grand Prix before getting his driver's license. No one in the world can lay claim to that record. Red Bull's Russian driver Daniil Kvyat, having finished ahead of Daniel Ricciardo the previous year, was having a bumpy start to the season, crashing and torpedoing. It came as a shocker to the paddock when just 4 rounds in, he was demoted to Toro Rosso and Verstappen was handed a surprise elevation to the senior Red Bull team.
Fortuitous though it might have been as the two Mercedes drivers (Hamilton and Rosberg) took each other out, Verstappen registered his debut win in his very first race with Red Bull at the 2016 Spanish Grand Prix. Six more podiums followed in the season, which included a stellar drive in the rain in Interlagos, Brazil, which effectively extinguished any doubts about his talent.
Championship: 5th | Points: 204 | Podiums: 7 | Wins: 1
2017: The Verstappen Effect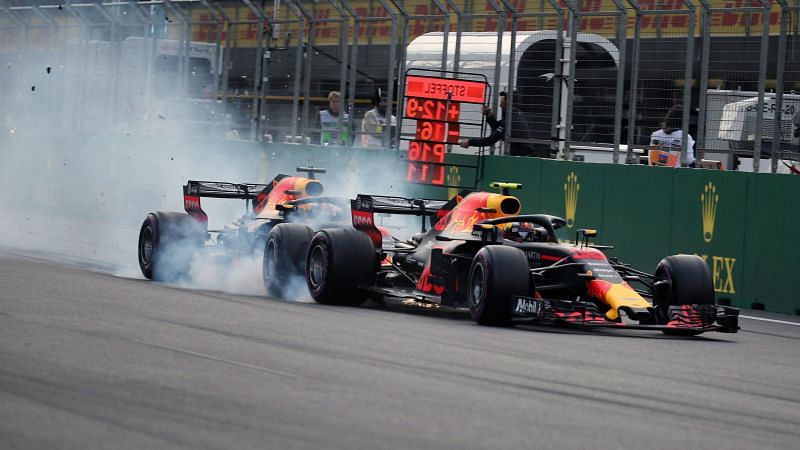 In his first full season with Red Bull, Verstappen was often found to be and correctly labelled as brash. He often wouldn't drive within the rules, even managing to grate on the ice-cool nerves of Kimi Raikkonen (who has driven against Jos Verstappen) by moving under braking in resolute, border-line dangerous defence of his racing position. The podiums were lesser than 2016 because he had a terrible season with unreliable machinery with 7 DNFs and finished behind his teammate Ricciardo. He was frequently called to the steward's office and overall the lady luck was not with him.
This was until Malaysia, where he picked up his first win of the season, shortly followed by another win in Mexico, thus finishing the year on a high. With his speed and flair for wheel-to-wheel racing, he consistently became a threat to the front running Mercedes and Ferraris, who came to grips with the threat he posed.
Championship: 6th | Points: 168 | Podiums: 4 | Wins: 2
2018: Equal footing with Daniel Ricciardo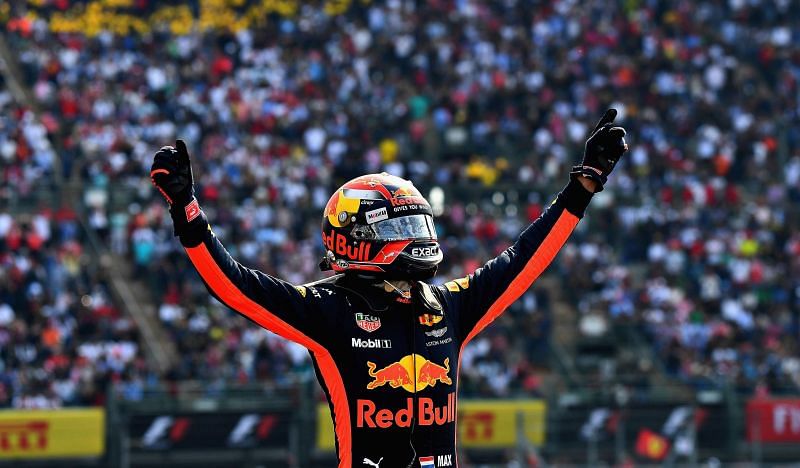 The intra-team battle between the genial Aussie Daniel Ricciardo and supremely competitive Max Verstappen created sparks in the first year and fireworks in the second inevitably leading to a conflagration in the third. Daniel Ricciardo felt that the team was siding with Max, given his youth and backing his ambitions of becoming the youngest ever F1 World Champion.
There was no clear number at Red Bull one now. No one was ready to concede a millimetre on the racetrack or a millisecond on the lap times. Both won twice, Ricciardo in China and Monaco and Verstappen in Austria and Mexico. There was hardly anything to separate them, but the most talented driver line-up on the grid was to be broken shortly. He finished ahead of Daniel who had a string of DNFs (8) through no fault of his own and in a sensational decision, that shook the driver market, went to Renault on a handsome 2-season deal.
Championship: 4th | Points: 249 | Podiums: 11 | Wins: 2
2019: Undisputed number 1 Red Bull driver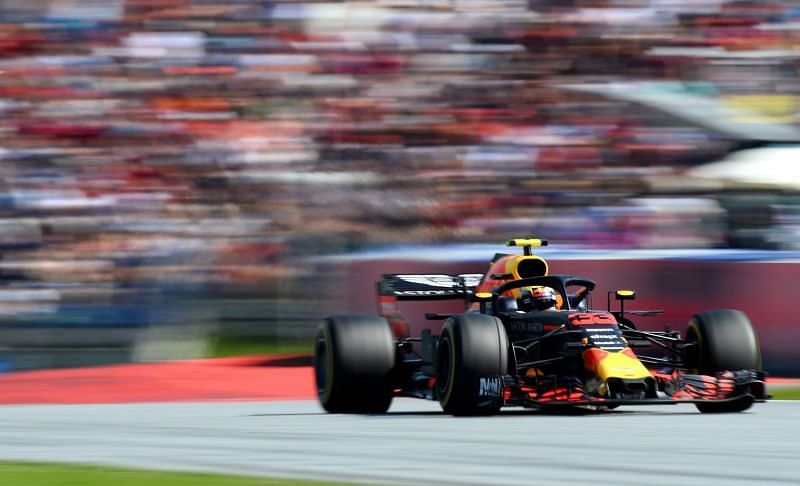 Max Verstappen is well on his way to his highest points finish in a season as a Red Bull driver. But that is not going to satisfy him. The 5 seasons of Max Verstappen has given us many unmistakeably stardust moments. Often it is a who-would-have-thunk that, other times is a certified classic move, and the rest are a mix of audacious, capricious, and devious. He splits opinions, sharply. That's what makes him a box-office star in F1. That's what draws a legion of fans dressed in Dutch Orange cheering his moves, especially around European circuits. He is ready for a title brawl, given an opportunity with a consistently quick and reliably competitive machinery.
The rise of Charles Leclerc has given him a worthy adversary for duels of the future. And old foe Carlos Sainz Jr. has done some fine maturing over the years. The next 5 seasons of Max Verstappen are going to provide fascinating storylines.
Championship: 4th | Points: 235* | Podiums: 7 | Wins: 2
All statistics as of November 4, 2019
Edited by Kingshuk Kusari