How can the Indian Grand Prix be made more exciting?
827 //
06 Nov 2012, 18:32 IST
The Buddh International Circuit hosted the second Indian Grand Prix this year. Like last year there was lack of on track action and drama as compared to some other races such as the 2012 Abu Dhabi Grand Prix. So, let's take a look at how Indian GP can be made more exciting.
The biggest problem is the lack of overtaking spots and that has played a massive role in lack of drama and action on track. So, how can this be solved? One way to solve it is to introduce chicanes particularly through sector 2 and 3 where it is almost impossible to overtake.
Second is to introduce two DRS zones one after another.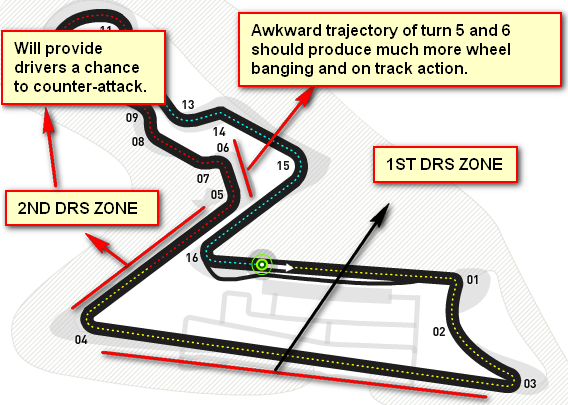 With the introduction of two DRS zones there will be much more on track action as when a driver gets passed through the first DRS zone he will have a chance to overtake the driver who passed him through the second DRS zone thus contributing to more wheel to wheel action.
Also, the placement of second DRS zone can lead to some wheel banging and minor crashes which obviously aids to the fun.
Another important point to note is that the corner after the second DRS zone i.e turn 5, has a very awkward trajectory and during both 2011 and 2012, cars have crashed heading into this corner. Best example being the Massa/Hamilton crash in 2011. So, with the availability of DRS there is likelihood of more such crashes through turn 5.
Only thing that the organisers have to keep in mind is to place the second DRS zone right after the first. This was the main reason why we saw so mand overtakes and wheel to wheel racing in Abu Dhabi this year.
Other thing which Pirelli should do is to bring supersoft and soft tyres as the track surface in India is very smooth and there is very little degradation on the hard and the soft tyres. So, introduction of supersoft would aid to the show and would make for some interesting strategies.
Now, many of you maybe thinking that Indian Grand Prix doesn't need these changes as it was exciting. But the world audience, particularly those in Britain and Europe, have branded Indian Grand Prix as one of the boring races of the year.
And they woudn't be wrong in doing that either as they have much more experience watching formula 1 and this year we have witnessed more exciting races.
All in all, I believe that with these minor tweaks the Indian GP can be made more exciting.