How Vettel chased and overtook Webber at Malaysia [Strategy Analysis]
873 //
27 Mar 2013, 11:35 IST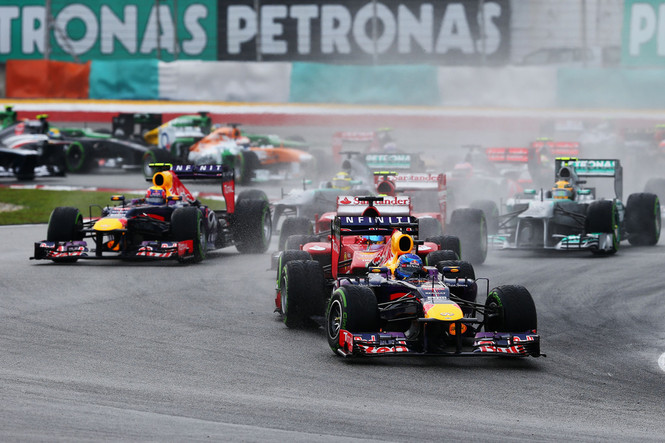 The showers during qualifying and just before the race made the Malaysian Grand Prix an interesting one from a strategic point of view. Teams started the race under the intermediate tyres but soon disposed them off for slicks. But instead of opting for faster options tyres and then doing the remaining stints with more durable prime tyres, teams tried various strategies in this respect. A wet qualifying session meant that teams had plenty of fresh tyres for the race and they exploited this to their maximum advantage. Many drivers, including Sebastian Vettel, did the final stint on medium(option) tyres to overtake as many drivers on low fuel. Mercedes did only one of the four dry stints on hard tyres. Lotus was one of the teams to do only two three dry stops (four in total), further showing the Enstone based team's ability to manage their tyres.
In this strategy analysis, we dive deep into Sebastian Vettel's race, explaining how he lost first place during the first round of pitstops, second place in his second stop, before fighting his way back to the top in a rather awkward fashion.
First Pit Stop – A Little Too early
All drivers started the race on intermediate tyres as it had rained just 30 minutes before the race. Usually, the driver who switches first to slick tyres on a drying track benefits but that wasn't the case in this year's Malaysian Grand Prix. Sebastian Vettel was the first driver to dispose off his slick tyres at the end of lap 5, but he made the call a little too early. When a driver comes out of the pits on fresh tyres, it takes him time to take the tyres reach their optimum temperature. And that became a major problem for Sebastian Vettel as the first sector was still quite wet. By the time he reached the dry part of the track, he had lost too many positions and more importantly, time, to Mark Webber, who emerged in the lead after pitting on lap 7.
Down to 3rd – The third pit stop
Lewis Hamilton, who was running 3rd, pitted on lap 30 for a short but quick stint on medium tyres. A quick out lap meant that he was able to overtake Sebastian Vettel, who pitted three laps later. However, Mercedes informed Hamilton that he was low on fuel and Vettel regained second position by lap 39.
The Crucial Fourth Stop and Thereafter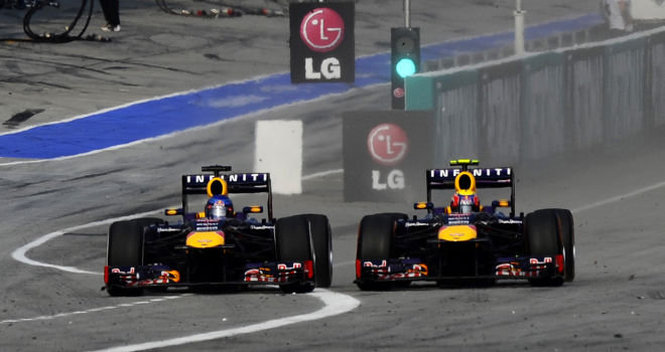 Mark Webber controlled the race until Vettel decided to pit earlier than the former during the fourth round of pit stops. That proved to be the decisive moment as it brought down Webber's lead to a mere 0.5 seconds. Moreover, Vettel was on the faster medium tyres as compared to Webber's hard tyres. Despite team instructing drivers not to overtake after their final stop, Vettel went on to overtake his Australian teammate in a rather close fight which lasted for over a lap. Had Webber pitted earlier than Vettel, his lead would have stayed at around four seconds. Two questions which remain are whether Vettel would have been able to overtake Webber if there were no team orders and if he would have, did he had enough life in his medium tyres to complete the whole race with Mark Webber at bay.
While Vettel's move was certainly not right, it did help him gain 7 extra points which might prove crucial in taking him to a fourth consecutive title. Had he finished in 2nd place, Vettel and Webber would have tied at the top of the standings with 33 points. And we don't see Alonso retire every race; the last time he did(Japan 2012), it swung the championship in Vettel's favour.
Tyre strategies – Vettel, Webber and Hamilton
Sebastian Vettel

Stint 1 – Intermediate tyres
Stint 2 – Medium tyres
Stint 3 – Hard tyres
Stint 4 – Hard tyres
Stint 5 – Medium tyres

Mark Webber

Stint 1 – Intermediate tyres
Stint 2 – Hard tyres
Stint 3 – Medium tyres
Stint 4 – Hard tyres
Stint 5 – Hard tyres

Lewis Hamilton

Stint 1 – Intermediate tyres
Stint 2 – Medium tyres
Stint 3 – Medium tyres
Stint 4 – Hard tyres
Stint 5 – Medium tyres
Lap Charts (click for larger image)