Interview with Jehan Daruvala: Nico was the one who chose me for the academy
1.15K //
12 Nov 2012, 13:36 IST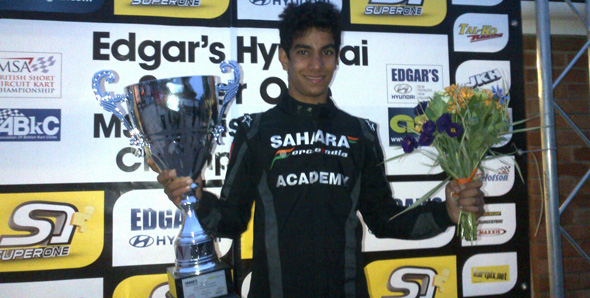 Only 14 years of age, the young prodigee from Sahara Force India academy has proved his worth by becoming the first ever Indian to win the CIK FIA Asia Pacific Championship in Macau. This young lad from Mumbai has become the favourite of all the great Indian racers and will hope to continue his impressive form behind the wheels.
You recently won the CIK FIA Asia Pacific KF3 championship. Are you happy with your performance?
Yes, I am glad that I was able to finish it off as a winner as this was my last race of the championship.
When you were first selected for Sahara Force India academy, did you think you could make it till here?
Yes, I was pretty confident about myself because I was the only one to be selected from among thousands.
How did you get into Karting?
I was 10 and my father used to take me for Karting. I fell in love with it right away and from then on used to kart everyday.
How much credit would you like to give to Sahara Force India academy for your win?
It's been an absolute privilege to be with them. I was sent to Europe and Silverstone to train for three months for the Championship which really helped me a lot. Also, the Rayo academy in Mumbai has helped me to improve my driving skills.
You are only 14 years old. How do you manage to keep up with your education?
I study in Bombay Scottish school in Mumbai. Yes, it's tough sometimes but when I don't race I cover up all the work. My teachers are very supporting and I also have very helpful friends. Whenever I am in Mumbai, instead of hanging out, I study.
How is it like to be in the paddock of F1?
It's amazing to hang around here as you get to see so many great racers and the environment is very inspiring.
Do Nico or Paul give you advice?
Yes they do sometimes. Nico was the one who chose me for the academy and he told me that I am pretty talented but that's not enough and everything depends on how hard I work. It was pretty encouraging as he's a very good driver.
So what are your future plans? I am guessing F1?
F1, of course. But as of now, I am focusing on Karting and will then move on to GP's. I will have to take it step by step.