Malaysian GP - Raikkonen suffers penalty, drops three spots
916 //
23 Mar 2013, 19:37 IST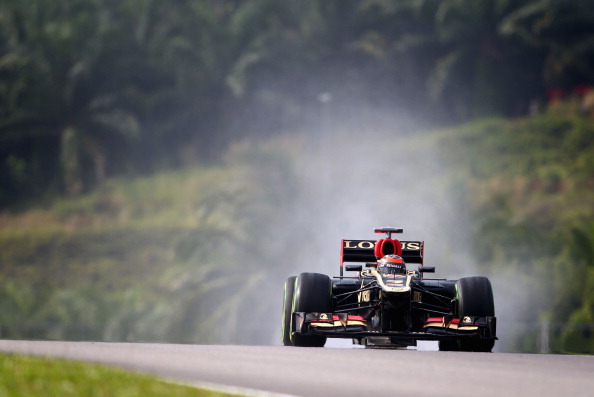 Kimi Raikonnen was handed a three place penalty for holding off Nico Rosberg during Q3 of the Petronas Malaysia Grand Prix in Sepang. The Iceman was supposed to start on the fourth row of the grid after finishing seventh during the final qualifying, just behind Rosberg. However, stewards picked him for investigation after a complaint from the Mercedes team. The 27-year-old Rosberg, from Wiesbaden in Germany had carted his Mercedes around the 5.543 km lap in 1'52.519 to slot himself just behind Red Bull's Mark Webber.
The stewards reviewed the video and technical sheets before determining that there was enough evidence to believe that the Iceman drove in a manner that caused an impediment to the Mercedes between corners 12 and 15 on the circuit. It is the space on the circuit that takes the drivers on to the longest straight that ends at turn 1. The section starts with a flat out left that leads the drivers into a flat right at turn 13. From there, the drivers break hard on the demanding Sunway Lagoon, Turn 14 which is an almost blind apex to the right. After the drivers make the turn to the right, they enter the long back straight that ends at turn 15 which is a left hair pin leading to the main straight that hosts the galleries. It is in this driver intensive sector 3 that Raikkonen is supposed to have hurt Rosberg with his driving.
The penalty pushes Raikkonen down to tenth on the grid, behind Jenson Button, Adrian Sutil and Sergio Perez who will move up to positions seventh through ninth on the starting grid on Sunday. Raikkonen, winner at the first race of the season in Melbourne, admitted that the Lotus struggled in the wet conditions that caused a few heartaches during qualifying. "We weren't quick enough on the intermediates so I don't think we could have found much more time in the wet today," the Finn said. "For sure I wanted more but it is what it is and I hope we'll do better on Sunday. It's obviously disappointing to lose three places on the grid, but we'll have to see what happens in the race. I have no idea what the weather will do, but it will be the same for everyone."
With the weather always a factor at Sepang, the state of the car might be the bigger worry for Raikkonen rather than his position on the grid.